Hawkeye Fan Shop — A Black & Gold Store | I-Club Events Page | Ferentz Transcript (PDF)
IOWA CITY, Iowa — University of Iowa head football coach Kirk Ferentz held his weekly news conference Tuesday in the Stew and LeNore Hansen Football Performance Center. Here are a few highlights as well as the complete transcript: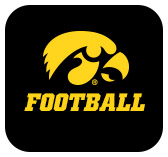 Injury Update
Junior wide receiver Brandon Smith is back running around, senior linebacker Kristian Welch is getting closer to returning, and senior tight end Nate Wieting is back in the fold.
 
"It's encouraging that Brandon is out (on the practice field) running with the trainers and starting to move around, change direction… those type of things," said Ferentz. "We'll see how fast it comes along, but it's at least encouraging.
 
"Hopefully Kristian is getting closer. We'll have to see how the week pans out. Friday was Nate's first day practicing again; he had a nagging injury. He's able to work this week, so he's back in the mix."
 
Wideout Weapons
Ferentz was impressed by Minnesota's receiving corps last season when the Gophers had one of the top units in the Big Ten.  This season, the group is a year old, a year better.
 
Minnesota's Tyler Johnson is third in the Big Ten with 50 receptions and fifth in receiving yards (730).  His teammate, Rashod Bateman, is leading the conference with 847 yards and ranks ninth with 38 receptions.  The duo has combined for 15 touchdowns.
 
"We had great respect for the receivers last year," said Ferentz. "I thought they were one of the better groups in the Big Ten, if not the best. They are all excellent receivers, they can take balls and run with them, but they also will throw the ball deep and do it successfully. They do a good job."
It Wasn't Us
Saturday marks 17 years to the day when University of Iowa fans tore down goal posts in the Hubert H. Humphrey Metrodome in Minneapolis after the Hawkeyes defeated Minnesota, 45-21, on Nov. 16, 2002. It gave Iowa a Big Ten championship with an 8-0 record.
 
It remains one of the most memorable postgame reactions in the rivalry between border-state schools that play every season for the Floyd of Rosedale traveling trophy.
 
Ferentz emphasized that he was not involved with the goal post incident.
 
"We had nothing to do with that, just for the record," he said. "No fingerprints, no DNA, no nothing."
Hard to be Undefeated
The Hawkeyes buzzed through the 2002 conference season unscathed, including wins at Penn State, a 25-point win at Michigan, and a 62-point performance against Northwestern the week before playing Minnesota. Iowa was also 8-0 in Big Ten play in 2015, so Ferentz understands how difficult it is for maintain an undefeated record, especially in November.
 
The seventh-ranked Gophers enter Saturday's game 9-0 overall, 6-0 in the Big Ten.
 
"That's hard to do," Ferentz said. "We haven't done it a lot, not many teams have if you take Alabama and Clemson out of the mix.
"It speaks really that they're wired in. They're playing well weekly and finding a way to win. It's a little bit more challenging than just saying it."   
 
Sounding Board
The Hawkeyes are coming off a 24-22 loss at No. 16 Wisconsin on Nov. 9. Ferentz was asked how he reconciles losses at home.
 
"We don't have a dog," Ferentz said. "We do have a cat."
 
Then he returned to the question.
 
"Fifty-five years ago I might have been guilty of some egregious act, but I think I've grown out of that," Ferentz said. "Losing is losing, winning is winning, but if you can't deal with both — I'm not saying accept both — but if you can't deal with both, you need to get out. I have figured that out, at least, in my lifetime that all you can do is try to prepare your best, compete your best, and then knowing you're going to make mistakes. That's the way football is, and that's the way everything is in life."
 
Iowa football hosts Minnesota in the battle for Floyd of Rosedale on Saturday, Nov. 16.  Fans are encouraged to wear black for the Blackout game, and it is the annual military appreciation celebration. Active duty military and veterans are eligible for a military ticket discount. Click HERE for tickets and pre-paid parking and additional game information.