Hawkeye Fan Shop — A Black & Gold Store | 24 Hawkeyes to Watch 2019-20 | Hawkeyes in the NFL | Photo Gallery
By MAGGIE WESLEY
hawkeyesports.com
IOWA CITY, Iowa — From growing up watching his dad play, to earning a spot on a Big Ten roster, to now pursuing a career in coaching, graduate assistant Dylan Chmura comes to the Hawkeye football program with passion for a game that has sculpted his life journey.
After being disqualified for concussions in his final year of eligibility at Michigan State University, Chmura decided to take on a different role on the sidelines. He is in his first year at Iowa assisting the Hawkeyes offensive line.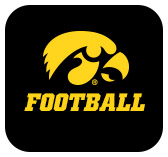 "I just wanted to stay around the game. I love the game and it's been a part of my life for as long as I can remember," Chmura said. "I student-assisted at Michigan State; just tried to get my feet wet and learn the game from a different perspective. After that I got connected with Ryan Grubb, offensive coordinator, and head coach Jeff Tedford at Fresno State in California. I was out there for the last two years when I got reconnected with Coach (Tim) Polasek, who recruited me a little bit back when I was in high school. I got the opportunity to come up to Iowa."
Chmura was recruited by some of the top football programs in the country, Iowa being one of them. He was ranked on the incoming recruit list as one of the nation's top tight ends. Although he ultimately went to Michigan State, Chmura will never forget his visit to Iowa and meeting head coach Kirk Ferentz. When it came to where he would land next, Iowa was always an aspiration.
"I wanted to work for coach Ferentz because of the type of program he runs and the type of person that he is," Chmura said. "You want to be around people who have similar goals as you and I understood that right away. It's the same thing I saw eight years ago. He's a first-class person and coach with a first-class program. Character is a really big thing here and that's how he structures his entire staff and team. Getting the opportunity to learn under him and understand how the program works as successfully as it does, is one of the reasons I wanted to be a part of the Iowa family."
A graduate assistant coaching job is an opportunity to get an inside look at what it takes to become a higher-level coach. As a GA, you are completing a graduate program while working alongside the team. While earning his master's in sports and recreational management, Chmura takes on daily responsibilities for the offense.
"Right when I get here in the morning, I make sure coach Polasek and the offense have everything that they need to start their meetings off, whether that is a look tape or checking the practice cards so that we have the right looks out at practice," Chmura said. "After practice, I'll make a cut up that we can watch as a staff. Later in the day, we'll prep for the next day's practice. I'll go in and draw some of the diagrams we have for the week with some of the plays. Then, I assist in the practice cards as much as I can for the other guys. Finally, I close it out at the end of the night and make sure everything is double checked so we're ready to go for practice the next day."
Chmura has been here less than a year, but the knowledge he has gained would say otherwise.
"I think Iowa does such a great job with attention to detail. It's really helped me grow and understand even more down to the tee what needs to be done," Chmura said. "I learned a great deal from Coach Ferentz, Coach Polasek, Coach Brian Ferentz, and the entire offensive staff. I know it's going to help me as I continue to progress and move on."
The Hawkeyes return to Kinnick Stadium to host No. 7 Minnesota on Saturday, November 16. Kickoff is set for 3:05 p.m. (CT). The game is televised on FOX.
 
Iowa football hosts Minnesota in the battle for Floyd of Rosedale on Saturday, Nov. 16.  Fans are encouraged to wear black for the Blackout game, and it is the annual military appreciation celebration. Active duty military and veterans are eligible for a military ticket discount. Click here for tickets and pre-paid parking and additional game information.