IOWA CITY, Iowa – – Former University of Iowa standout Mike Reilly, who passed away on Oct. 18 at the age of 77, will be represented by his three sons, Jim, Steve, and Bob, as honorary captain when Iowa hosts Minnesota at Kinnick Stadium on Saturday (3:05 p.m., FOX).
Jim, Steve, and Bob Reilly are all University of Iowa graduates, and will represent their father and the Reilly family. Mike earned All-Big Ten and All-America honors while with the Hawkeyes, completing his career in 1963. Mike served as Iowa's honorary captain in 2003 when the Hawkeyes defeated Buffalo, 56-7. He is the fifth person to be named honorary captain more than once.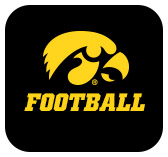 Mike joined the Iowa program after an all-state career at Dubuque (Iowa) Senior High School and played offensive guard and linebacker. Mike earned first-team All-Big Ten and All-America honors as a senior, and was named Iowa's Most Valuable Player. He is a member of the National Iowa Varsity Club Hall of Fame and was named to Iowa's All-Time Team in 1989 as part of the celebration of 100 years of Iowa football.
Mike was drafted by the Chicago Bears in the fourth round of the 1964 NFL Draft. He played five seasons with the Bears before concluding his playing career with the Minnesota Vikings, helping Minnesota earn a spot in Super Bowl IV.
Following his playing career, Mike returned to banking in Dubuque prior to his retirement in 2004. Mike was part of WMT radio broadcasts of Iowa football games for 17 years.
Jim followed in his father's footsteps to Iowa, lettering as a linebacker from 1985-88. Jim collected 209 career tackles, including 139 in 1988, a total that ties as the sixth-best in single-season history. He was a team captain as a senior and earned honorable mention All-Big Ten recognition, helping Iowa to a four-year record of 35-12-3.
Steve is a Hawkeye golf letterman (1985-88). He worked as a golf professional early in his career before entering private business. As a player, he won the 2005 Iowa Section PGA Championship. He was later named the Iowa Golf Association Golf Professional of the Year while at Waterloo's Sunnyside Country Club.
Bob was an all-state linebacker at Dubuque (Iowa) Wahlert High School and played linebacker for the Hawkeyes in 1989. He has worked for Coca-Cola in the state of Iowa for the past 25 years.
Jim will accompany the Iowa captains to midfield for Saturday's pregame coin toss. He will also be with the Hawkeyes in the locker room before and after the game.