Hawkeye Fan Shop — A Black & Gold Store | Box Score (PDF) | I-Club Events Page | Photo Gallery | Freshman Spotlight: Tyler Goodson
By DARREN MILLER
hawkeyesports.com
IOWA CITY, Iowa — Maurice Goodson made the 12-hour drive from Suwanee, Georgia, to Kinnick Stadium on Friday with a son and nephew in tow.
 
It wasn't an ordinary road trip for the Goodsons. Maurice was on hand to cheer an older son, Tyler, a true freshman running back for the University of Iowa, who was making his first collegiate start Saturday. Tyler didn't disappoint, running for a game-high 94 yards on 13 carries as the 23rd-ranked Hawkeyes (7-3 overall, 4-3 Big Ten) defeated previously unbeaten and seventh-ranked Minnesota (9-1, 6-1), 23-19.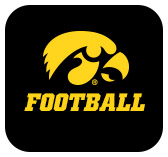 Goodson entered the battle for Floyd of Rosedale as Iowa's third-leading rusher with 342 yards and one touchdown on 69 carries. Early in the week, running backs coach Derrick Foster met with Goodson to go over Iowa's offensive game plan for the Gophers. It would feature Goodson in a starting role.
 
"I had no words," Goodson said. "I started smiling and coach started smiling. I'm glad I gained the trust of the coaches for them to put the ball in my hands and give me the best opportunity to make plays and score touchdowns for this team."
 
Goodson picked up four yards on the game's second play from scrimmage. The following snap — with Iowa faced with third-and-2 from its 33 — Goodson foreshadowed what was in store for the remaining 58 minutes.
 
Quarterback Nate Stanley faked a handoff to the fullback while Goodson jabbed to his right. The 5-foot-10, 190-pounder then switched directions on a dime, took a pitch from Stanley and sprinted left for a 26-yard gain. The Hawkeyes scored five plays later and never trailed.
 
Even that exciting run wasn't the play Hawkeye fans will rewind their DVRs to see over and over and over again. That came on Iowa's second series. Faced with second down from Minnesota's 10, Goodson took a handoff and was heading off right tackle. A Gopher lineman was in the hole, so Goodson bounces away, then dodges from a Gopher end before seeing daylight. At the 3, Goodson is sandwiched between defensive back Jordan Howdan — he breaks that tackle — and Benjamin St-Juste — he plows over him into the end zone for a score.
 
"Everything was clamped in, so I bounced outside," Goodson said. "A guy comes, I give him a 1-2, stiff-arm, another guy comes, I give him a stiff-arm and step out of the tackle. As I got down to the goal line, I put my head down and hoped for the best."
 
When the first quarter ended, Iowa had a 13-0 lead and Goodson had 75 rushing yards on eight carries.
Nothing was getting in Tyler Goodson's path to the end zone.@tgood1110 | @HawkeyeFootball pic.twitter.com/QR57E2M32i

— Iowa On BTN (@IowaOnBTN) November 16, 2019
 
"We felt (Goodson) gave us our best chance to do things," Iowa head coach Kirk Ferentz said. "I've said all along, we like all three of our backs. The guys that are playing are doing a great job. We just thought (Goodson) might be the best answer for (the Minnesota) game. We'll assess as we go."
 
Ferentz was also impressed with Goodson's ability to protect Stanley whenever Minnesota blitzed.
 
"Pass protection is the most difficult thing for a freshman," Goodson said. "A lot of (blitzing defenders) have been through their program a couple years and are stronger than you. You have to work on fundamentals, but coach Foster does an excellent job with that, and it pays off in the game."
 
Goodson is the fifth true freshman running back to start in the Ferentz era, joining Greg Garmon (2012), Jordan Canzeri (2011), Marcus Coker (2010), and Brandon Wegher (2009).
 
Watching that in person is definitely worth a 12-hour drive from Suwanee, Georgia.