Hawkeye Fan Shop — A Black & Gold Store | 24 Hawkeyes to Watch 2019-20 | Hawk Talk Monthly – November | Fight For Iowa
By: RICK BROWN
hawkeyesports.com
 
IOWA CITY, Iowa — When Lute Olson is enshrined into the College Basketball Hall of Fame on Nov. 24 in Kansas City, Missouri, no one will be happier than Ronnie Lester.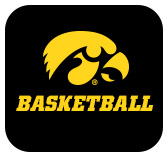 "It's a well-deserved honor," said Lester, an All-America point guard at the University of Iowa under Olson. "He's a class guy. He was a great role model for me, not only as a coach, but also as a father and family man."
 
Olson spent nine seasons at Iowa, rebuilding a once-proud program before leaving for Arizona following the 1982-83 season.  Olson was 589-187 in 24 seasons with the Wildcats, including 11 Pac-10 titles, four Final Fours, and the 1997 NCAA title.
 
But Olson's Hawkeye legacy still resonates today. He is the last coach to lead Iowa to a share of the Big Ten regular-season title, in 1978-79. He's the last coach to lead the Hawkeyes to the Final Four, in 1980, and he was instrumental in the building of Carver-Hawkeye Arena, which opened in the middle of the 1982-83 season.
 
Olson rebuilt an Iowa program that never finished better than sixth in the Big Ten over the four seasons before he arrived, including a 41-55 record overall and a 20-36 mark against Big Ten competition.
 
Lester, a star at Dunbar High School in Chicago, was a pivotal piece of Olson's Hawkeye renaissance.
 
"I think I made a great decision for me, going to the University of Iowa and playing for coach Olson," Lester said. "I'd do it all over again."
 
Lester arrived on the Iowa campus in the fall of 1976, and left as a first-round NBA draft pick in 1980. He was a four-year starter at point guard. He scored 1,675 points, still seventh on Iowa's all-time list, in a 99-game career. Lester played just 17 games as a senior because of a knee injury.
 
There was great chemistry between Lester and Olson from the beginning.
 
"I enjoyed playing for coach Olson, because you knew what he expected," Lester said. "Being a point guard, you're an extension of that coach and what he wants done on the floor. It took me awhile as a freshman to get used to playing for coach, his system and what he expected from his point guard. Once I got those things down, I knew I could have success under coach Olson."
 
Lester was a three-time most valuable player at Iowa, and his No. 12 was retired late in his senior season.
 
"Coach was fair with everyone," Lester said. "You loved him for that. I think that's where his success comes from. He held everyone accountable, no matter who you were. You had to play by the rules."
 
Olson had a 168-90 record in his nine seasons at Iowa, making him the program's winningest coach at the time.
 
"My nine years in Iowa City was really a special time in my life," Olson said recently.
 
Olson was 92-70 in Big Ten play, including runner-up finishes his last three seasons. His final five teams made the NCAA Tournament.  He was named National Coach of the Year by The Sporting News and the National Association of Basketball Coaches in 1980, and was Big Ten Coach of the Year in 1979. Six of is last seven Iowa teams won at least 20 games.
 
His 1979-80 team was one of the most successful in program history, finishing 23-10 and playing through the knee injury Lester suffered in late December.
 
Lester returned and the Hawkeyes rallied, marching all the way to the Final Four and a semifinal meeting with Louisville, but Lester reinjured his knee in the first half and Iowa fell, 80-72.
 
"Had he been healthy, we would have won it," Olson said. "We say that. That was a special group."
 
Olson did reach college basketball's mountaintop in 1997. Lester watched from a distance, cheering on his former coach and thinking about how close his Iowa team had come 17 seasons earlier.
 
"You look back on it and you think, "What if?' " Lester admitted. "They say things happen for a reason. There are injuries in sports. I can't complain."
 
Lester takes pride in the fact that he played for Lute Olson.
 
"You see the success he had, and he was well deserving of that success," Lester observed. "He was not only a good coach, but a good person. You root for people like that. I rooted for his teams at Arizona and I'll always root for coach Olson. He has been a very positive part of my life."
 
Olson was elected to the Naismith Basketball Hall of Fame in 2002. When the Collegiate Basketball Hall of Fame was organized in 2006, it added all the previous Naismith inductees, but the organization has since decided to re-honor those coaches.
 
Olson's time comes later this month and it takes place in Kansas City. That's where he coached his final game at Iowa, a 55-54 loss to Villanova in the Sweet 16.
 
Lester, who played on an NBA World Championship team with the Los Angeles Lakers in 1985, was a vice-president in that organization and later scouted for the Phoenix Suns. He is now retired and living in Tampa, Florida. He still talks to Olson at least once a month.
 
"We talk about everything," Lester said. "Life, family, current events. A little bit about basketball."
 
On Nov. 24, Lester will be one of many former Olson players watching as their former coach is enshrined.
 
"Being connected with coach Olson, I feel good about that," Lester said.