Hawkeye Fan Shop — A Black & Gold Store | Hawkeyes in the NFL | 24 Hawkeyes to Watch 2019-20 | Photo Gallery
By MAGGIE WESLEY
hawkeyesports.com
IOWA CITY, Iowa — A native from Blue Springs, Missouri, graduate assistant Keeston Terry joins the University of Iowa football program following a two-year assistant stint with Pittsburg State.
Terry signed to play at the University of Kansas under head coach Turner Gill in 2010. He transferred to Pittsburg State in 2012 where he played three seasons under head coach Tim Beck. After spending two seasons coaching the cornerbacks, Terry found a connection to the University of Iowa.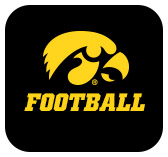 "My defensive coordinator, Dave Wiemers, at Pittsburg State was Kelton Copeland's head coach and offensive coordinator at Emporia State, where Copeland played quarterback," Terry said. "We were going through spring ball when I received a message from coach Wiemers asking if I would be interested in the graduate assistant spot at the University of Iowa. I knew it was a once-in-a-lifetime opportunity. He got me in contact with Kelton. I went up on a Wednesday for an interview and found out I had gotten the job that Friday. I got done with spring ball for Pittsburg State on Saturday and then moved up to Iowa City on Sunday."
Terry assists with the Hawkeye wide receivers alongside Copeland. His day-to-day responsibilities challenge him and test his attention to detail. He has learned simple, yet beneficial tips that he will carry with him wherever his career takes him next.
"For my position's responsibilities, I help Kelton out with cut ups from practice and charting the receivers on their progress," said Terry. "During the game, I help with personnel, signaling, and any type of adjustments Kelton needs on the field. For the offense, I help in any way I can whether it is film breakdown or running the scout team. What I've learned through this process is to manage your time wisely, be very detail-oriented and don't be afraid to ask questions."
Although Iowa was never on his radar, being a coach was something he was always sure about.
"I wanted to go into coaching to give back to the game and the guys who put so much time into doing it," Terry said. "I wanted to be the type of coach that I needed when I was a player. I am trying to fill that gap for those guys so they can be at the top of their game and be content when they get done playing."
Terry's time in Iowa City is just beginning as he finishes his first season with the program. He looks back at his year at the University of Iowa with gratitude and excitement for the future.
"It has been a great experience. I've learned a lot from coach (Kirk) Ferentz, just through his demeanor and how he leads, not just with the staff, but overall with the university," said Terry. "That goes a long way. It's fun to work with someone you respect and is so successful at the same time."
The Hawkeyes host their final home game of the season against Illinois on Saturday. Kickoff is set for 11:01 a.m. (CT) at Kinnick Stadium. The game is televised on BTN. Tickets are available at hawkeyesports.com/tickets.