Hawkeye Fan Shop — A Black & Gold Store | Hawk Talk Monthly — November | 24 Hawkeyes to Watch 2019-20 | I-Club Events Page
IOWA CITY, Iowa — The University of Iowa Athletics Department announced Monday that season ticket prices for the 2020 football season will remain the same as 2019 and go on sale Monday. General public season tickets for seven home games will be $415, with faculty/staff season tickets remaining at $345. University of Iowa student season tickets are $150 for the seven home games and $130 (does not include the Wisconsin game over Thanksgiving break).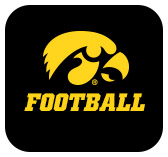 "The atmosphere in Kinnick Stadium is special, it's our fans who make our game experience something to be part of," said Charlie Taylor, associate athletics director of strategic communications and marketing. "For 2020, we have developed a menu of ticket packages and prices based on input from fans."
The new Upper North Endzone Season Ticket will be located in Sections 331-341 (ADA and bench seating) for $335 per seat.  These seats are located on the third level of the north end zone and include an $80 savings over other sections.
A new Young Alumni Digital Pass will be launched to UI graduates from the last three years for $225 per seat.  This digital pass will include the same features as the Fight for Iowa season pass for $225, which includes a $25 contribution to the I-Club.  The Fight for Iowa Pass will return for $275 per seat.  Both digital season ticket passes will go on sale April 13, 2020.
Fans who have already placed a $75 (per seat) season ticket deposit will have access to seats prior to currently available seat locations on Dec. 9 new season ticket on-sale.  They will also be entered into the April select-a-seat process for the opportunity to upgrade their location based on I-Club priority point status.  Fans can click here to place their deposit.
Mini-plans will return and go on sale June 3, 2020.  Details and pricing will be released closer to the on-sale date.
 
Ticket Delivery Information:
Season ticket holders can download tickets directly into their mobile devices, just as an airline or concert ticket.  The option for mobile delivery will be available in the renewal process and to new season ticket holders.  The ticket fee for digital delivery is $5, compared to a $10 for traditional paper tickets.  Changing for the 2020 season, print-at-home PDF ticket delivery will no longer be an option. 
"Use of print-at-home tickets has decreased by more than 80 percent, and fans are moving away from them," said Taylor.  "Digital tickets are more secure from ticket fraud and can be transferred by the original ticket holder. The print-at-home tickets have created scanning challenges which extends the wait time in lines prior to kickoff.  As we continue to upgrade the ticket scanners, our goal is to reduce wait time and deliver secure tickets with the quickest entry to Kinnick Stadium on game day."
Season Ticket and I-Club Information:
The season ticket renewal process launches Nov. 25 and ends March 31, 2020.  Seat selection for season ticket holders to have the opportunity to move seat locations will take place online in April. 
 
All renewal and new season ticket holders will be provided an opportunity to upgrade and/or select seating locations based on availability, and will receive selection information in early April. This process is based on priority point totals and I-Club Fund annual contribution membership levels.
Season ticket holders earn ticketing priority over the public for additional single-game tickets, mini-plans, away-game tickets, special events, and postseason events, in addition to saving nearly $75 over the cost of single-game prices.  Season ticketholder benefits include early access to single game ticket sales, away game ticket sales, postseason bowl tickets, and other special events throughout the year.
One of the most critical forms of athletic support is the per-seat contribution to the I-Club Fund required for seats and contributor parking on game day. To receive all I-Club membership, ticketing, and contributor parking benefits, we ask all contributions to be made to the I-Club Fund by March 31, 2020, by visiting jointheiclub.com to ensure proper mailing of season tickets and parking passes. Your support of the I-Club helps invest in the highest priority for Iowa Athletics: our student-athletes. Look for your renewal information from the I-Club via email in late January and hitting mailboxes beginning early March.
2020 Football Ticket Packages/Prices
Season ticket                                                                                                             $415 ($59.29 avg. per game)
Upper North Endzone season ticket
(Sections 331-341 ADA and bench seating)                                                           $335 ($47.86 avg. per game)
Faculty/Staff season ticket                                                                                     $345 ($49.28 avg. per game)
Fight For Iowa digital pass                                                                                      $275 ($39.29 avg. per game)
Young Alumni digital pass ($200 with $25 contribution)                                    $225 ($32.14 avg. per game)
Mini-plans                                                                                                                   TBD
UI Student season ticket (7-game)                                                                        $150 ($21.42 avg. per game)
UI Student season ticket (6-game)                                                                        $130 ($21.66 avg. per game)
2020 Iowa Hawkeye Football Ticket Key Dates:
Nov. 25         Season ticket holder renewal process begins
Dec. 9           Football season tickets on-sale
March 31     Season ticket renewal, parking and I-Club per-seat contribution deadline
April 10        Season ticket holder seat upgrade process begins
April 13        Fight for Iowa and Young Alumni digital season passes on-sale
June 3         Mini-plans on-sale
June 25       Group tickets on-sale
July 6           Single game ticket on-sales begin
2020 Single Game Prices/ Themes
Start times and television information for the 2020 football schedule are not yet available.
| | | | | |
| --- | --- | --- | --- | --- |
| DATE | COST | OPPONENT | GROUP DAYS | THEMES |
| Sept. 5 | $50 | Northern Iowa | Spirit Day | Kinnick Kickoff |
| | | | Education Appreciation | |
| Sept. 12 | $95 | Iowa State | | Iowa Corn Cy-Hawk Series |
| Sept. 26 | $50 | Northern Illinois | Band Jam | Gold Game |
| Oct. 3 | $65 | Michigan State | | ANF Celebration |
| | | | | Black & Gold Stripe Game |
| Oct. 24 | $65 | Northwestern | | Homecoming |
| Nov. 14 | $80 | Nebraska | | Hy-Vee Heroes Military Appreciation |
| | | | | Blackout Game |
| Nov. 28 | $80 | Wisconsin | | Senior Day |
The home for Hawkeye Football 2020 tickets is:  hawkeyesports.com/2020football.
Fans may call 1-800-IA-HAWKS or email tickets@hawkeyesports.com for more information. Fans interested in premium seating may email premium@hawkeyesports.com for more information.