Hawkeye Fan Shop — A Black & Gold Store | 24 Hawkeyes to Watch 2019-20 | Photo Gallery | Hawkeyes in the NFL
By MAGGIE WESLEY
hawkeyesports.com
IOWA CITY, Iowa — Once a Hawkeye, always a Hawkeye… that statement rang true for graduate assistant Miles Taylor after he finished four years with the Hawkeye football program.
With his time as an undergraduate, he saw action in 2014 as a true freshman. By 2015, he was a 14-game starter at strong safety.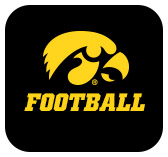 In 2017, an injury resurfaced for Taylor right before the Pinstripe Bowl. With a desire to stay a part of the program, Taylor was given the opportunity to intern for 2018-2019 season. This guided him into the graduate assistant role.
"It was the best experiences I've ever had playing football," Taylor said. "One of the best experiences of my life just being on the team here. To play for Coach Ferentz, a great coach and great man, and playing under Coach Phil Parker, was truly a blessing."
Growing up in Silver Spring, Maryland, Taylor learned the game from his brothers and father who all played football. Taylor's father played at James Madison and his younger brother, Kyle, spent time in the Iowa football program. The passion for the game runs deep in the Taylor Family. When coaching became a possibility for Taylor, it was a no brainer.
"What made me go into coaching were watching the coaches that I had in high school and college," Taylor said. "I wanted to be like Coach Parker. I wanted to get the players to be the best players they could possibly be on and off the field and pushing them to be better men. I thought coach Parker and my high school coaches did that very well. I love football and I love being around the game."
Taylor works with Parker now, breaking down film and assisting the defensive line in any way possible. The role has already taught him more about the game than when he was a player.
"There's a bunch stuff that I did not know as a player that I know now as a GA," said Taylor. "The defensive line, the front, the gaps with the linebackers, all their fits and reads. I'm picking up valuable information and being a sponge in the defensive staff room, whether it's from Coach Parker, Coach Wallace, Coach Bell, or Coach Niemann. The biggest things I've seen is just being detailed in all your work and doing things the right way."
Taylor is in his first year of the graduate assistant program. Only two years ago he was playing alongside most of the players still on the team. When asked about the dynamic of how the players see him now, he explained that he has always helped coach the players, no matter his position. His passion for the game has always been evident to others.
"There's a line now. I'm in a coach role and they understand this is my job," said Taylor. "It's business when I'm in the building and they know that. They respect me as a coach. They know that I care and love the game and a lot of them saw that when I was playing. They saw the passion I have for the game. It resonates with them when we're watching film or I'm trying to help them. They realize that I'm here for a reason."
The Hawkeyes take on Nebraska in Lincoln on Friday, Nov.29. Kickoff is set for 1:31 p.m. (CT). It will be broadcasted on BTN.