Hawk Talk Monthly — January | 24 Hawkeyes to Watch 2019-20 | McCaffery News Conference Transcript (PDF)
By RICK BROWN
hawkeyesports.com
 
IOWA CITY, Iowa — Fran McCaffery is in his 10th season as the men's basketball coach at the University of Iowa, but he remains a Philadelphia guy at heart.
 
He grew up in the City of Brotherly Love, and returns to his roots when the Hawkeyes play No. 21 Penn State in a top 25 Big Ten duel Saturday at Philadelphia's famed Palestra.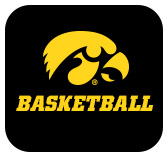 Nicknamed "The Cathedral of College Basketball," the Palestra has weaved its way into McCaffery's basketball DNA.
 
McCaffery fell in love with basketball as a kid on the playground of the Samuel Pennypacker School at 1858 East Washington Lane, right across the street from the McCaffery home.
 
That hoops love blossomed at the Palestra. Jack and Shirley McCaffery and their sons, Fran and Jack, were a fixture there. When Fran was growing up, the Palestra hosted college basketball doubleheaders every Saturday.
 
"We'd go to high school games on Friday night and college games at the Palestra on Saturday," Fran recalled. "The cool thing about it is that you could see teams from all over the country, playing against the local Big Five teams. The first game would start at 7 p.m., and the second game at 9:30. You weren't home until well after midnight."
 
Often, dinner was a hot dog and a soft pretzel at the Palestra.
 
"That was all you needed," McCaffery said.
 
Several years later, Fran's father went to work at the Palestra. He started out as a ticket taker. Fran jokes that attendance increased by 200 fans a game.
 
"Everybody he knew got in free," McCaffery said.
 
Later on, Fran's father became part of the Palestra's security detail. He was in charge of the officials' locker room, and would escort them to the floor for the start of the game and back at halftime and after the game.
 
Fran's parents would see him play at the Palestra, too, during his college career at Penn. The Quakers played all their home games at the Palestra. It is a building where Fran's younger brother, Jack, has covered countless games as a Philadelphia sports writer.
 
McCaffery, a Philadelphia prep star who was nicknamed "White Magic" by an African-American sportswriter named Julius Thompson, started his college career at Wake Forest but transferred after one season.
 
He sat out the 1978-79 season when Penn reached the Final Four. Fran's 1979-80 season was cut short when he tore an Achilles tendon four games into the season and required surgery. He played in 27 games in 1980-81 and 28 games in 1981-82.
McCaffery also spent the 1982-83 season as a member of the Penn coaching staff before being hired at Lehigh as an assistant.
 
Saturday's game will be the fourth time McCaffery has appeared as a head coach at the Palestra. His 1987-88 Lehigh team opened the season with a victory at Penn. His first game as Siena coach was a loss at Penn to start the 2005-06 season. His Siena team also beat St. Joseph's at the Palestra in 2008-09.
 
"I was also back there a number of times on the bench at Notre Dame (as an assistant to Digger Phelps)," McCaffery said. "Digger always wanted to go back because he got his coaching career started at Penn."
 
Needless to say, McCaffery will be coaching in a place that is rich with personal memories when his Hawkeyes face Penn State at 1 p.m. (CT) Saturday.
 
"My dad worked there," Fran said. "My mom would go to the games. My brother worked there as a sportswriter. It's a big part of our family, without question. You knew all the people when you went to games there. It's such a tight-knit basketball community. That's where everybody went."
 
Iowa will be the visitor Saturday, but it will feel like home to the Hawkeyes' head coach.
 
"I'll have a lot of people there," McCaffery said. "My brother will be there. All my cousins will be there. Twenty of my high school buddies are coming, and some of my former players from different places."
 
When the game was scheduled for the Palestra, McCaffery was excited about the prospect of having sons Connor and Patrick play in a building he holds so near and dear to his heart. Connor will start, but Patrick is sidelined with health issues.
 
"I thought that having my boys play there would be a great experience," McCaffery said.
 
Fran's parents have both passed away, but they'll be on his mind when he walks into the Palestra.
 
"There's no way I won't be thinking of them," McCaffery said. "No way."