Hawk Talk Monthly — January | Hawkeye Fan Shop — A Black & Gold Store | 24 Hawkeyes to Watch 2019-20
By SAM BASLER
hawkeyesports.com
EDITOR'S NOTE: This story first appeared in Hawk Talk Monthly, the official online e-magazine of the University of Iowa Athletics Department. To read the January issue, click HERE.
IOWA CITY, Iowa – When the University of Iowa women's tennis season ended in the quarterfinals of the 2019 Big Ten Championships — the best finish for the Hawkeyes since 2014 — it represented another step in the right direction with head coach Sasha Schmid at the helm.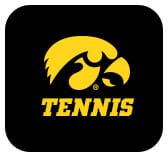 "We finished last year peaking, but ran out of time to get to our best tennis. I think that left us hungry," said Schmid. "Last year we were literally points away from making the semifinals of the Big Ten Tournament. That leaves everybody sad, but motivated."
The majority of Iowa's roster from that tournament loss return in 2020, including senior Elise van Heuvelen Treadwell, a three-time All-Big Ten selection. It is a battle-tested group that has Schmid feeling optimistic.
"It is the best singularly-dedicated, on-the-same-page group I have had," Schmid said. "I believe in every one of them. They are older, they have been working hard and it's a great group with great chemistry."
 This year's team, Schmid said, is focused on controlling the controllable. For the players, that focus has come in three areas.
"There are a lot of talented players out there, but it comes down to being in control of your fitness, being in control of making balls, and being in control of being emotionally calm," Schmid said.
Van Heuvelen Treadwell is the unquestioned leader of a group that includes juniors Danielle Bauers, Danielle Burich, and Ashleigh Jacobs, sophomores Michelle Bacalla and Samantha Mannix, and freshman Erika Dodridge.
"Elise is an important part, and what seemed to ignite her last fall was that she bought into these areas. We talked a lot about her setting an example for her teammates," Schmid said. "If I have her pushing herself to limits where we have to bring out the trash can, then everyone starts rethinking that 'I could really push myself.' So that alone has made this come alive."
The Hawkeyes saw their hard work pay off last fall. Dodridge, the lone freshman, won her draw at her first college tournament in September. Van Heuvelen Treadwell advanced to the quarterfinals of the ITA Central Regional Championships.
Iowa looks to build on a strong summer and fall when it kicks off their season Jan. 18 in Florida with a neutral-site matchup against South Alabama. That will be followed by a road match with Florida International on Jan. 20.
With a hungry and focused team, the Hawkeyes believe they have a recipe for success.
"To a certain extent it's a leap of faith (for the players) to say I'm going to do these things and it's going to lead to something," Schmid said. "We tapped into these at the end of the year, we were getting them, and it did move the needle forward for our program. Now let's double down on that."