Hawkeye Fan Shop — A Black & Gold Store | Fight For Iowa | Hawk Talk Monthly — January | McCaffery Transcript (PDF)
By JAMES ALLAN
hawkeyesports.com
IOWA CITY, Iowa – Luka Garza says he has to be smarter to combat a game plan like Nebraska implemented during Tuesday's 76-70 road loss in Lincoln.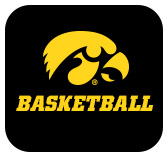 Garza called the Huskers' defensive scheme one of the most unique he has faced since high school because of the number of players they were sending at him to load the paint. 
 
"Usually teams don't do that against us because of our ability to shoot the ball," said Garza, who finished the game with 16 points and 18 rebounds in 36 minutes.  "It was a tough one because shots weren't falling. 
 
"Usually those shots are going to fall, especially when you give Wiesy (Joe Wieskamp) 10 3s, he's going to hit more than one."
 
Head coach Fran McCaffery says there is no simple solution to combating the double teams, but he says the Hawkeyes must continue to go to their leading scorer.
 
"We have to keep recognizing when he is open, he has to get it," said McCaffery. "We can't stop going to him because they're doubling him, but we've seen it all already. There's nothing he's not used to, and if there's two on one, then you have an advantage somewhere else."
 
Garza says he can beat the double and triple teams by getting better position earlier.  He also says the Hawkeyes can counteract the attention by pushing the ball in transition.
 
"If you push the ball, get it into the paint or get it to me quick, it is hard for them to set up their scheme," said Garza. "We weren't pushing it fast enough (at Nebraska). Our transition game is our strength and we weren't pushing the ball as fast as we needed to."
 
Garza also believes Tuesday's shooting performance – a 4-for-33 game from 3-point range — was an aberration.  The Hawkeyes averaged 8.4 3-pointers (in 22 attempts) prior to the off night in Lincoln.
 
"If you give our team that many open shots (moving forward), we're going to hit more than four next time," said Garza.
 
The Hawkeyes will be back in the friendly confines of Carver-Hawkeye Arena on Friday night, hosting No. 12/14 Maryland at 6 p.m. (CT).  
 
"This one is going to be a fun one," said Garza. "A team like Maryland provides a lot of challenges with their athleticism. They're a tremendous team. I am excited for the opportunity for our team."
 
Friday's game will be Iowa's third home game since Dec. 9.  The Hawkeyes have played eight of 10 games away from Iowa City since Thanksgiving where they have traveled more than 8,500 miles and played in three different time zones.
 
"It's good to be home," said senior Ryan Kriener. "My travel bag has been sitting in the corner of my room ready to go over and over again."
 
"It's tough to play on the road in those hostile environments," said Wieskamp. "You're getting those teams best efforts with the crowd behind them. It's going to be nice to have the home crowd behind us tomorrow night and a couple of games moving forward."
 
Iowa will play four of its next five games in Carver-Hawkeye Arena. Tickets are available at hawkeyesports.com/tickets.