Hawkeye Fan Shop — A Black & Gold Store | 24 Hawkeyes to Watch 2019-20 | Complete Notes (PDF) | I-Club Events Page | RESULTS(PDF)
IOWA CITY, Iowa — The 18th-ranked University of Iowa men's swimming and diving team defeated No. 17 Notre Dame, 159.50-140.50, Saturday afternoon at the Campus Recreation and Wellness Center. The Hawkeye women split a pair of duals, posting a Big Ten dual win over Illinois, 223-86, but falling to the Fighting Irish, 209.50-99.50.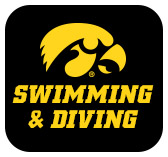 TOP OF THE PODIUM
Senior Joe Myhre (20.18), sophomore Aleksey Tarasenko (20.28), senior Steve Fiolic (20.59), and senior Will Scott (20.80) dominated and secured the top four spots in the 50 free. Tarasenko (44.84) and Myhre (45.38) also took first and second in the 100 free.
 
Freshman Will Myhre (54.96), junior Daniel Swanepoel (55.09), and senior Weston Credit (56.03) took first, second and fourth in the men's 100 breast.
 
Senior Michael Tenney grabbed a win in the 200 fly in a time of 1:47.57, while freshman Sergey Kuznetsov recorded his first win as a Hawkeye in the 100 fly with a speedy 47.97. Tenney took third in 49.13.
 
Tarasenko tied Notre Dame's Cason Wilburn for first in the 200 free with identical times of 1:37.35.
 
SILVERS ALL AROUND
Sophomore Andrew Fierke finished second in the 1,000 free, posting a time of 9:25.79.
 
Senior Allyssa Fluit (1:49.17) and sophomore Lauren McDougall (1:50.44) took second and third in the women's 200 free. Fluit tallied another second-place finish in the 500 free, posting a time of 4:53.93.
 
Freshman newcomer Kennedy Gilbertson placed second in the 100 back with a time of 55.90. Gilbertson again posted a second-place finish in the 200 back in 2:00.66. Sophomore Anze Fers Erzen nabbed second in the men's 200 back in 1:47.24.
 
Senior John Colin also secured a second-place showing in the 100 back with a blistering time of 49.77.
 
Keeping the string of seconds alive, freshman Aleksandra Olesiak grabbed silver in the 100 breast and junior Kelsey Drake closed another silver medal for Iowa in the 200 fly in a time of 2:00.74.
 
Tenney captured Iowa's final silver of the meet in the 200 IM with a time of 1:50.32, followed by Anze Fers Erzen at fourth in 1:51.27.
 
DIVING
Junior Anton Hoherz took the crown on the 1-meter springboard with a score of 320.10, followed by freshman Michael Huebner in third (281.50).  Junior Jayah Mathews dove to the top spot in the women's 1-meter with a score of 321.10.
 
Sophomore Sam Tamborski dove to a bronze on the 3-meter springboard with a score of 303.85. Freshman Mohamed Neuman was second on the 3-meter for the men with 347.05, followed by Hoherz at 346.95 points.
 
RELAYS
The 400-free relay team of Fluit, senior Hannah Burvill, freshman Maddie Ziegert, and sophomore Lauren McDougall placed first with a time of 3:27.27. The men's relay team of Joe Myhre, Fiolic, Scott, and Tarasenko also took first in 2:57.84.
 
The 200-medley relay team of Colin, Will Myhre, Kuznetsov, and Joe Myhre topped the field in 1:28.86. The women's relay team of Gilberston, Sage Ohlensehlen, Drake, and Sarah Schemmel garnered second in a time of 1:43.43.
 
FINAL SCORES: WOMEN
Iowa 223, Illinois 86
Iowa 99.50, Notre Dame 209.50
Notre Dame 244, Illinois 56
 
FINAL SCORES: MEN
Iowa 159.50, Notre Dame 140.50
 
HEARING FROM HEAD COACH MARC LONG
"We got a great ranked win for the men over Notre Dame. They were ready for a fight and raced well. We'll clean things up as we head into a packed few weeks of racing. We haven't raced since that first week in December so we're happy with the performances today. In this situation in January, we're trying to get the win, which is what we did today.
 
"The women got a Big Ten win, which is always good. We're battling every team with some people not being at full strength and that's just part of the deal this time of year. We're proud of their racing and their efforts."
 
UP NEXT
The Hawkeyes return to action Jan. 18, traveling to Evanston, Illinois, to face Northwestern. Competition is set to begin at 11 a.m. at the Norris Aquatics Center.