24 Hawkeyes to Watch 2019-20 | Hawk Talk Monthly — January | Hawkeye Fan Shop — A Black & Gold Store
By RICK BROWN
hawkeyesports.com
IOWA CITY, Iowa — Four decades have passed since the University of Iowa's 1979-80 men's basketball team made its magical run to the Final Four.
 
"Forty years," said Kevin Boyle, a sophomore and starting forward on that team. "Unbelievable."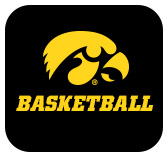 The Hawkeyes punched their ticket to the Final Four with an 81-80 victory over Georgetown in the NCAA East Regional final at the Spectrum in Philadelphia.
 
"It's something I'll never forget," said Bobby Hansen, a freshman guard on that team.
Steve Waite's three-point play with five seconds remaining got Iowa to college basketball's promised land for the third time in school history. It was also the exclamation point to possibly the greatest half of basketball an Iowa team has ever played.
"You couldn't have played a better half," Lute Olson, the coach of that team, says now. "Georgetown must have been frustrated, because they played really well, but we played perfectly. We didn't make any mistakes."
 
The box score paints a portrait of that perfection. Georgetown led at halftime, 42-32, then shot 60 percent from the field and made eight of nine free throws in the second half… and lost.
 
The Hawkeyes shot 70.8 percent from the field during the second half, making 17 of 24 attempts. On two of those misses, Waite got the offensive rebound and scored.
Iowa also made all 15 of its free-throw attempts and had just one turnover in 20 minutes of high-pressure basketball.
 
"We had to play that way if we were going to beat Georgetown, because they were really good," said Ronnie Lester, the Hawkeyes' senior All-America point guard.
Iowa's march to the Final Four is a story of confidence and mental toughness in the face of adversity.
 
Lester injured his knee in the eighth game of the season, at Dayton, He would miss 16 games. Freshman forward Mark Gannon played just 13 games because of a knee injury. Senior guard Kenny Arnold played with a broken thumb, and Hansen injured his left hand and wore a brace.  Assistant coach Tony McAndrews was injured in a plane crash returning from a recruiting trip.
 
"We had to keep going," Hansen said. "You did whatever you could to help the team be successful."
 
Time after time, Iowa had to adapt to the challenges those injuries created.
 
"Kenny moved to the point," Lester said. "Bobby got a chance to play more as a freshman than he probably would have. Vince Brookins stepped up. Waiter and K (Steve Krafcisin) were great all year (in the post). Kevin was solid the whole year. We had a lot of guys step up."
 
But Iowa's NCAA bid hung in the balance heading into the final regular-season game, against Illinois at the Iowa Fieldhouse. Lester's No. 12 was retired before the game, and he returned to the starting lineup. The Hawkeyes won, 75-71.
 
Iowa's sports information office had released ticket information for a possible NIT home game before tipoff. Afterwards, Olson campaigned hard for a team that finished fourth in the Big Ten at 10-8.  He said it would be "a great injustice" if his team wasn't included in the NCAA field of 48 teams.
 
"That Illinois game got us in the tournament," Hansen said.
 
Lester took a cautious approach to the start of NCAA play, a game against Virginia Commonwealth in Greensboro, N.C.
 
"I was still coming back, and I wasn't in real good shape to be honest with you," Lester said. "I was just trying to fit in and help where I could. I didn't want to come in and try to do more than I was capable of. We had a lot of guys who were playing well. That's what you need in basketball, which is a team game. One guy can't beat a good team. But if you have five or six or seven guys playing well, you have a chance against anybody."
 
Iowa beat VCU, 77-64, then took care of North Carolina State, 77-64, to join Syracuse, Maryland, and Georgetown in Philadelphia.  The Hawkeyes made it three straight double-digit victories by taking care of Syracuse, 88-77. Georgetown was next.
 
The Hoyas took command, racing off to a 42-32 halftime lead and increasing it to 46-32 with 18:40 remaining.  Iowa stood resilient.
 
"Coach Olson and his staff did a great job of keeping us in games, even when we were down," Lester said. "We competed, and that's what the coaches instilled in us. Being able to compete and keep competing until the game was over. That's what we did in that game."
 
The shots started to fall and Iowa's best weapon was something lost in today's game, the mid-range jumper. Ten of Iowa's 17 second-half field goals came on jump shots ranging from 15 to 20 feet. Brookins and Boyle made three each, Arnold a pair, and Lester and Hansen one each.
Brookins shot 65 percent from the field in Iowa's four-game NCAA run to the Final Four, including a perfect seven-for-seven performance against North Carolina State and 10 of 17 shooting against Georgetown.
 
"When you have guys making shots, all you have to do is give them the ball," said Lester, who had nine assists and no turnovers in that game.
 
Boyle said the team had complete confidence in Lester, even though he wasn't 100 percent.
 
"He was controlling the floor," Boyle said. "He played within himself, and got everyone involved. He was starting the offense and breaking pressure."
 
Iowa chipped away at the Hoyas' 14-point lead with precision, scoring on 24 of its last 28 possessions.
 
"Vince got hot, and then you had Ronnie running the show along with Kenny," Hansen said.
 
Iowa caught Georgetown with 5:42 remaining when Hansen buried an 18-foot jumper to tie the game at 70-70. The game was tied at 72, 74, 76, and 78.
Olson called timeout with 2:05 remaining and Iowa in possession of the ball. There was no 3-point shot or shot clock then. Olson called another timeout at 1:14 and one more with 14 seconds remaining. That set the stage for one of the most memorable possessions in Iowa history.
 
A possession that didn't go as planned.
 
"The play was designed for me to handle the ball, but they double-teamed me," Lester said.
 
Sleepy Floyd, who scored 31 points for Georgetown that game, guarded Lester as he made the inbounds pass from in front of Iowa's bench. Boyle broke toward the timeline and caught the ball in the backcourt. He was to give it back to Lester, but Floyd and Eric Smith double-teamed him. Boyle's basketball instincts took over.
 
"Kevin was good at making plays for others, too," Lester said. "He could handle the ball and make a play, and that's what he did in that situation."
 
Boyle raced up court with five dribbles, hesitated slightly and then took a sixth as Georgetown center Ed Spriggs flashed at him. Pull up and shoot, or pass? Boyle weighed both options as the clock ticked.
 
"It's like that two-on-one drill, where you're taking it hard trying to draw the defender to you and you dish it off," Boyle said. "If he doesn't come at you, you shoot it."
 
Boyle saw Waite to his left, jumped and passed it to him. Waite took two dribbles around Spriggs, scored and got fouled by Craig Shelton, who got his hand caught in the net as he tried to block it.
 
"I told Waiter, 'If he wouldn't have caught his hand in the net, your shot would have been in the second row,' " Boyle said.
 
Georgetown called back-to-back timeouts with five seconds remaining in an attempt to freeze Waite, a 63.3 percent free-throw shooter.
 
"I kept yelling at him, 'Make it and we're going to the Final Four,'" Hansen said. "He said, 'Shut up, I got this.' Then he went up there and drained it."
 
Georgetown scored with a second to play on a tip-in. Iowa in-bounded the ball and headed to the Final Four in Indianapolis.
 
Fans swarmed the airport in Cedar Rapids later that night to welcome the team home.
 
"When the plane landed you could see them outside the fence at the airport.," Lester said. "There were cars lining the airport road back to the interstate."
 
The team didn't know that 11,000 fans waited for them in the Iowa Fieldhouse. The Hawkeye wrestling team had won a third straight NCAA title that day as well, and the fans welcomed them home at 10:30 p.m. The basketball team made it there shortly before midnight.
 
"It was something we'll never forget," Boyle said.
 
Lester still marvels at all the people who wanted to share in the moment.
 
"It was one of the most unbelieveable experiences I had at the university," Lester said.
 
Then it was on to the Final Four, where Iowa faced Louisville in the national semifinals. Lester scored Iowa's first 10 points, but reinjured his knee 12 minutes into an 80-72 loss.
 
That team, 23-10, still has the second half of the Georgetown game as its one shining moment. It was the most memorable game Boyle ever played in.
 
"No question about it," he said.