Hawkeye Fan Shop — A Black & Gold Store | 24 Hawkeyes to Watch 2019-20 | Game Notes
By DARREN MILLER
hawkeyesports.com
IOWA CITY, Iowa — The weight of carrying a Division I women's basketball team on her back hasn't taken its toll on University of Iowa senior Kathleen Doyle. In fact, she says it is in her job description.
 
"As a point guard, you have to make things happen at times, so I have to do that when I can," Doyle said. "I'm just trying to do my best and help us win games."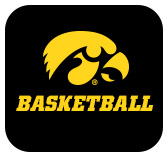 She has done that, averaging 18.2 points and 6.2 assists while the No. 19 Hawkeyes have forged a record of 15-3 overall, 6-1 in the Big Ten. They are tied with Northwestern for first place in the league, and defeated the Wildcats, 77-51, on Jan. 5 in Evanston, Illinois.
 
In seven conference games, Doyle leads the Big Ten in scoring (22.4 points per game) and assists (5.7 per game).
 
"I can speak to what she has done for our team and what she has done thus far," Iowa head coach Lisa Bluder said. "She is putting us on her back right now and taking us. She is willing us to victories. With her ability to score, get to the rim, and pass the ball well."
 
Twice Doyle has scored more than 30 points in a game (33 against Illinois, 31 against Indiana). Five other times she has scored at least 20 points. Doyle has two 10-assist games and seven more games of seven-or-more assists.
 
"It is also her attitude out there, her fight, her competitiveness," Bluder said. "You hang on that. I will go to battle with that kid any day, because I know she is going to give everything she has."
 
Doyle and Bluder recognize that the Hawkeyes are much more than a one-player band. Sophomore center Monika Czinano, everyone's surprise player of the year, averages 15.9 points per game and shoots 71.5 percent from the field. Her accuracy from the floor is second-best among Division I players.
 
Senior Makenzie Meyer averages 15 points and has made 50 3-pointers, 25 more than anyone else on the team. Senior Amanda Ollinger averages a team-high 8.8 rebounds, and junior Alexis Sevillian has come up clutch several times during Big Ten play. Add an improving group of freshmen and it's easy to see why Iowa has won 30 consecutive home games and six straight overall since dropping the Big Ten opener at Nebraska on Dec. 28.
 
Recently, victories have come in dramatic fashion. The Hawkeyes have overcome double-digit deficits in their last three games against Indiana, Minnesota, and Wisconsin.
 
"We have to come up with a better start," Bluder said. "We have had starts that haven't been the best for us. We need to be focused right from the beginning."
 
Iowa hosts Ohio State (11-7, 4-3) on Thursday on Mediacom Court in Carver-Hawkeye Arena. Tip-off is 7 p.m. (CT).
 
"Do not be deceived by (Ohio State's) record," Bluder said. "We're thrilled we're playing at home and we look forward to a good battle."
 
In three Big Ten home games, the Hawkeyes are averaging 7,009 fans per game.
 
"We have been winning and winning brings out fans," Bluder said.
Single-game tickets are available for purchase online HERE, in person at the University of Iowa Athletics Ticket Office in Carver-Hawkeye Arena, or by calling 1-800-IA-HAWKS.