Hawkeye Fan Shop — A Black & Gold Store | 24 Hawkeyes to Watch 2019-20
By DARREN MILLER
hawkeyesports.com
IOWA CITY, Iowa — University of Iowa women's basketball fans will be treated to a spectacular 1-2 punch Sunday when the No. 19 Hawkeyes take on Michigan State on Mediacom Court in Carver-Hawkeye Arena.
 
Before the game they get to salute senior guard Kathleen Doyle, who played on Team USA at the Pan-American Games in Lima, Peru, from Aug. 6-10. Team USA, coached by Michigan State head coach Suzy Merchant, went 4-1 and won a silver medal. Doyle averaged 20.6 minutes and 6.0 points; she shared the team lead with eight steals.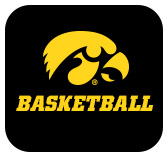 "It will be a special moment," Doyle said. "I had a great experience with Team USA and a lot of that was because of (Merchant). It was great getting to know her."
 
In 19 games this season, Doyle averages 18.6 points and 6.2 assists per game. She is shooting 47 percent from the field and 79 percent from the line. In conference-only games, Doyle leads the Big Ten in scoring (22.9) and assists (5.9).
 
Iowa (16-3 overall, 7-1 Big Ten) puts its 31-game home winning streak on the line against Michigan State (11-8, 4-4). Tip-off Sunday is 3 p.m. (CT).
 
Following the game, the University of Iowa will retire the jersey No. 10 worn by All-American and National Player of the Year Megan Gustafson. During her four-year career as a Hawkeye, Gustafson scored 2,804 points (20.8 per 135 games) with 1,450 rebounds (10.7) and 232 blocked shots (1.7). She shot 66 percent from the field and 77 percent from the line.
 
"She is such a hard worker and great teammate, it made it fun to play with her," Doyle said. "I'm excited to see her. It's one of your friends coming back home, so it is exciting."
 
Iowa head coach Lisa Bluder said Sunday will be "significant." Bluder said her staff frequently communicates with Gustafson via FaceTime, but she is eager to once again see her in Carver-Hawkeye Arena.
 
"I'm excited to have her in the arena again, the ceremony part is just a formality to me," Bluder said. "It is a great honor for her, but for me, the best thing is that I get to see (Megan) again."
 
Iowa sophomore Monika Czinano remembers checking in for Gustafson for a final time as a Hawkeye on March 24, 2019. It was the closing moments of Iowa's 68-52 win over Missouri in the second round of the NCAA Tournament.
 
"I gave her a hug and we were both starting to tear up," Czinano said. "I have to go in and play and she said, 'This is like me passing on the torch.' That was special, and I was like, oh my gosh, oh my gosh, oh my gosh, and then I had to go play.
 
"I didn't know what it took to be a good player in the Big Ten or what that looked like throughout the season. Megan was the first to text me on an off day, asking if I wanted to shoot with her. She showed me her workouts and what she did to become the player she was. That was huge for me."
 
Gustafson's No. 10 (which was worn throughout the years by eight other Hawkeyes) is the second Iowa women's basketball number to be retired. In 1990, the No. 30 worn by Michelle Edwards was also retired.
 
Single-game tickets are available for purchase online HERE, in person at the University of Iowa Athletics Ticket Office in Carver-Hawkeye Arena, or by calling 1-800-IA-HAWKS.