Hawkeye Fan Shop — A Black & Gold Store | Hawk Talk Monthly — February | 24 Hawkeyes to Watch 2019-20
By SAM BASLER
hawkeyesports.com
 
EDITOR'S NOTE: This story first appeared in Hawk Talk Monthly, the official online e-magazine of the University of Iowa Athletics Department. To read the February issue, click HERE.
 
IOWA CITY, Iowa — Samantha Gillas started playing tennis competitively when she was 7 years old. Now the sophomore is the newest member of the University of Iowa women's tennis team.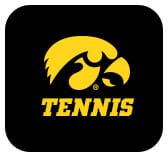 Gillas joined the team in January after transferring from Virginia Tech at semester.
Gillas hails from New Braunfels, Texas, where she attended New Braunfels High School and was an individual and team state champion. Her sister, Lilly Kimbrell, played tennis for Georgia.
 
A multi-sport athlete in middle school, Gillas played basketball, volleyball, soccer, tennis, and ran track. She narrowed her activities to basketball and tennis in high school, but always gravitated toward tennis.
 
"Tennis kind of just stuck," Gillas said. "Especially since my parents knew a lot about it, so they taught me."
 
Having transferred after competing for the Hokies in the fall, Gillas, is currently ineligible to compete for the Hawkeyes. She filed a waiver with the NCAA for immediate eligibility and is waiting to hear if she will be eligible to compete this spring or next fall.
 
While she awaits a decision, Gillas is recovering from an injury and remains committed to, "rehab, staying healthy, staying on top of my schoolwork, and trying to be involved in the team and the community."
 
Gillas is no stranger to waiting. Having suffered an injury in high school, she was forced to sit out her junior basketball and senior tennis seasons.
 
"It was hard," Gillas said. "Not only physically, but mentally, just getting back into the mindset and repetition."
 
While at Virginia Tech, Gillas compiled a record of 28-12 in singles at the No. 2 and No. 3 positions. She also had seven doubles wins in the spring. Gillas even won the Honor Flight of the Hokie Fall Invitational. She was an ITA Academic Scholar and All-Academic Atlantic Coast Conference, and she served on the student-athlete advisory committee.
 
Gillas credits focusing on controlling what she can with helping her stay mentally engaged while she waits.
 
"I think it's important, because a lot of times, especially with being injured and transferring, I want everything to work out, but it's not in my hands," said Gillas. "It's doing the things that I can so if I do get my waiver approved, or even if I end up playing starting next fall, that I am ready to go; that I did everything I could at the moment to be the best person and player."
 
Regardless of if her Hawkeye debut comes in the spring or next fall, Gillas says she is looking forward to getting back on the court, being healthy, and embracing the team culture and community, while representing Iowa.
 
"I think it's cool to be a student-athlete, and know that people look up to you, and know that you can do good things," Gillas said.