Hawkeye Fan Shop — A Black & Gold Store | 24 Hawkeyes to Watch 2019-20 | I-Club Events Page | RESULTS (PDF) | NOTES (PDF)
IOWA CITY, Iowa — The University of Iowa swimming and diving team completed a full sweep during its Senior Night celebration against Western Illinois at the Campus Recreation and Wellness Center.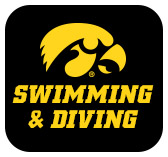 INDIVIDUAL WINS
Iowa started off its string of dominance early, sweeping the podium in both the men's and women's 400-medley relay events.
 
Sophomore Aleksey Tarasenko (50.21), freshman Will Myhre (50.54), sophomore Dolan Craine (51.42), and freshman Preston Planells (53.12) placed on top in the men's 100 IM.
 
FIRST TIME WINNERS
Freshman Payton Lange won the 200 free (1:52.93) and 100 free (52.32) and was a member of the winning 200-free relay along with Grace Reeder, Erin Lang, and Ariel Wooden.
 
Senior Weston Credit won the men's 200 free in 1:42.78, followed by junior Thomas Pederson in 1:43.11.
 
Freshman Kennedy Gilbertson won the women's 100 IM in 58.38, followed by fellow freshmen Christina Crane (1:01.49) and Georgia Clark (1:04.44).
 
HEARING FROM SENIOR WILL SCOTT
"I've grown up in Iowa City and I'm a third generation Hawkeye athlete. I was presented an opportunity to swim here and the way it came to be is actually a funny story. I came on an unofficial visit here during my junior year of high school and met a guy named Joe Myhre, who turned out to be my teammate and fellow All-American."
 
HEARING FROM SENIOR FORREST WHITE
"I wouldn't change this for the world. The feeling of getting to work hard with these guys is unbelievable. I think the sky is the limit for us and I think championship season is going to be great for us. This meet gives us a little break and lets us relax a little bit. But, it's great to see guys get up on the blocks and swim events they normally don't and still see them hit fast times."
 
HEARING FROM HEAD COACH MARC LONG
"Time goes in the blink of an eye. Even though it looks like the end of the season, there's a lot of racing left. This team has good chemistry. The seniors have been through a lot and it's great to have a class like that that can provide such great leadership."
 
UP NEXT
The Hawkeyes both head to the Big Ten Conference Championships in the coming three weeks. The women's Big Ten Championships are hosted in Iowa City at the Campus Recreation and Wellness Center from Feb. 19-22, while the men travel to Bloomington, Indiana, from Feb. 26-29.