Hawkeye Fan Shop — A Black & Gold Store | Hawk Talk Monthly — February | 24 Hawkeyes to Watch 2019-20 | I-Club Events Page
IOWA CITY, Iowa — When Michael Tenney races, he is rarely out of contention. 
 
University of Iowa head coach Marc Long took note of Tenney's in-race acumen during his freshman season.  It happened again and again. Tenney would stay the course until he tracked down an unassuming opponent.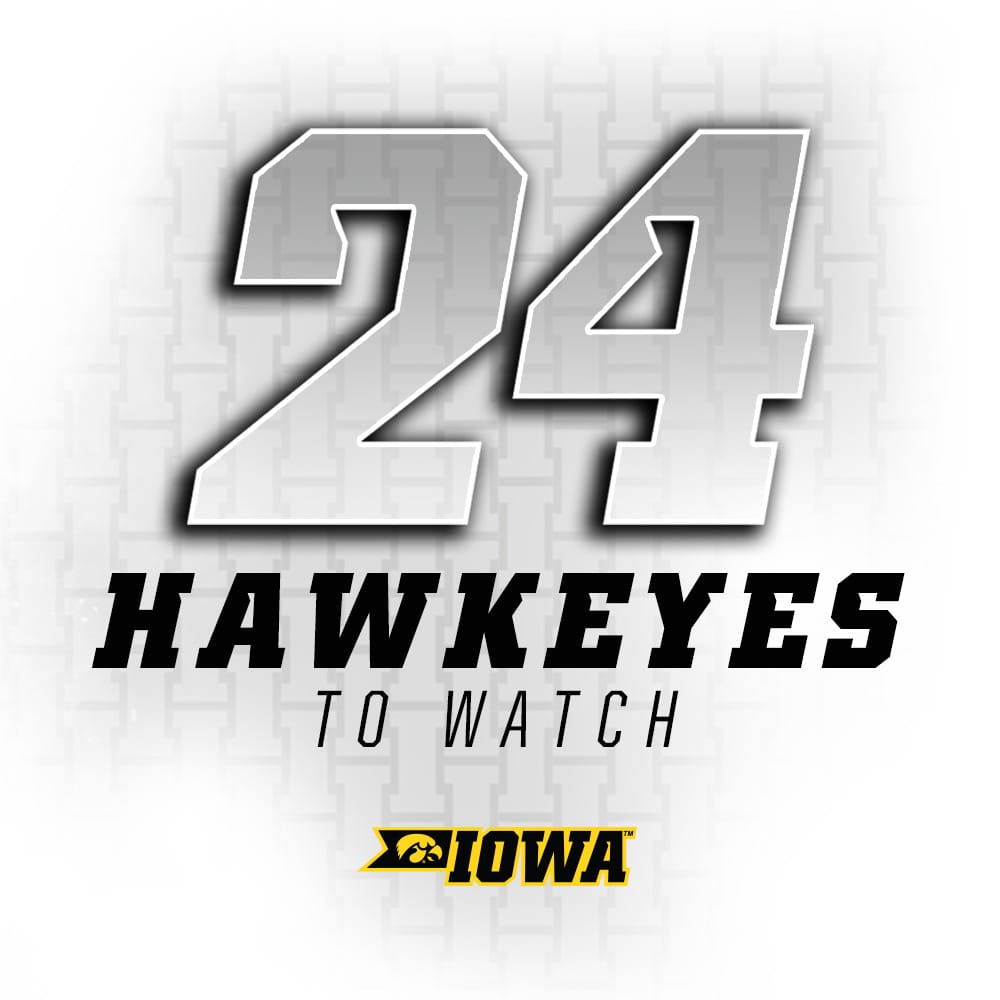 Over time, a phrase was born.
 
"A few year ago, we came up with the term, 'You got Tenney'd,'" said Long. "It means he is going to get you at the end of the race.  You can never shake him.  He's a great competitor and can be unassuming, but if you slip up at all, he's going to run right over you."
 
Tenney made his way to the pool when he was 5 years old.  A year later he competed in his first race.  His love for racing and competing has grown since.
 
"I feel like the training is different (in swimming) in its own way because you're worrying about yourself," he said. "When you stop or you're at the wall for rest, you get to joke around with the team and just have fun."
 
Tenney grew up in Chino Hills, California, (outside of Los Angeles) where he was a two-time conference champion, winning the 200 free as a junior and 500 free as a senior.  He placed in the top seven of the California state meet three times, including a fourth-place finish in the 500 free as a senior.
 
Because he grew up on the West Coast, Tenney wanted a new experience. After looking at schools across the country, he found the right fit in Iowa City, Iowa.
 
"I wanted to experience living in the Midwest or somewhere other than California," said Tenney. "When I came on my recruiting trip, I flowed well with the team. It felt like my vibe."
 
There was a learning curve, especially during that first winter.
 
"I didn't have many winter clothes," he said. "I had to get a couple of those, but fortunately, the team was able to help me out when I needed help."
 
Tenney proved to be a valuable addition because of his versatility.  He has the sprinting speed to anchor a relay and the endurance to swim distance freestyle.  Tenney has also been one of the team's top flyers, while also competing in individual medley events.
 
"We're going to miss his versatility next year," said Long. "That versatility is gold. Whatever event we put him in, he's going to race and be there."
 
Tenney's versatility has been on display on the summer club meet circuit where he has been the high-point male scorer at the end-of-summer sectional meet three straight years. 
 
"My only real weak stroke is breast," said Tenney. "I have never focused on one stroke specifically, I have been doing every stroke a little bit. It kind of came all together.
 
"(At Iowa), I am able to swim most events, depending on where we need it."
 
Tenney ranked second on the team in both the 1,000 free and 400 IM as a true freshman.  The following season, he posted NCAA "B" qualifying times and was second on the team in the 200 fly and 200 IM, and he posted three "B" cut times — in the 500 free, 200 fly, and 400 IM — as a junior.
 
This season, Tenney is leading the team in the 200 fly with an NCAA "B" qualifying time of 1:45.76.  He is aiming to improve on his career-best time (1:44.72) at the upcoming Big Ten Championships in hopes of extending his season.
 
"Hopefully in the 200 fly, I can drop time and make NCAAs," said Tenney, who ranks second in school history in the 200 fly and fifth in the 400 IM. "For the team, I want us to go out at Big Tens and have the same energy as we do in dual meets.  That will shoot us up a couple of spots in the Big Ten standings."
 
Tenney will focus on long course training when his Hawkeye career concludes in preparation for the 2020 Olympic Trials in Omaha, Nebraska. Then it's back to California to figure out where he wants to utilize his degree in the mechanical engineering field. 
 
"It has meant a lot to be a part of this program," said Tenney, who will graduate in May. "I have made a lot of friends I will connect with the rest of my life. I have experienced so many different things, it's indescribable.
 
"With the way everything turned out, (coming to Iowa) was the best decision I could have made."