Hawkeye Fan Shop — A Black & Gold Store | Hawk Talk Monthly — March | 24 Hawkeyes to Watch 2019-20
IOWA CITY, Iowa — Wednesday would have marked the 10th of 15 spring practices for the University of Iowa football team. Instead, head coach Kirk Ferentz spent 42 minutes from his home on a Zoom conference with media.
 
Here are a few takeaways:
 
8 Weeks to Prepare
With the unique and uncertain situation facing college athletics, no one knows when sports will resume. When they do, Ferentz hopes to have at least eight weeks of camp before kickoff.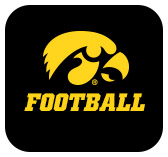 "I remain hopeful that whenever they set the date for the start of the season, we'll have at least eight weeks to try to get our team pulled together and some semblance of game readiness," Ferentz said. "Four weeks specifically for the strength and conditioning staff and then four weeks more in football mode.
 
"If it's six weeks, we'll make that work, but those are things we don't know and don't have the answers to at this point."
 
Hitting the Books
Yes, school is still in session — although virtually — and Ferentz and his staff continue to emphasize the student in student-athlete.
 
"The bigger area of focus is academics," Ferentz said. "Some guys may have had an online class or two, now they're taking a full menu. It's making that adjustment and making sure they're being punctual, attentive, doing the things they have to do academically. Making sure everybody does a quality job that way is still our biggest focus between now and getting through finals week."
 
No Need for a Playbook (Yet)
Ferentz is encouraging everyone in the football program to stay in contact to share ideas and concepts but getting down to the Xs and Os can wait.
 
"I'm not convinced that football meetings are going to be all that productive," he said. "It's putting it on the back burner at this point, so that's kind of where we're at right now trying to focus on the priorities we think we can address the best."
 
Everyone is in (Creative) Improvement Mode
Because of social distancing restrictions, it isn't always easy for student-athletes to lift or improve their cardiovascular capacity. Desperate times cause creative measures.
 
"Our strength and conditioning coaches have done a good job designing programs that fit for whatever resources the players have available to them," Ferentz said. "Some guys have racks in their garages; I talked to somebody two days ago who built one with his brother out of 4x4s. People have gotten creative that way.
 
"They may only have kettlebells, dumbbells, or sandbags, so we're trying to be as specific as possible. The other big challenge is finding a place to run or train. Most high school fields — not only the gyms are shut, but the fields are shut off too — but guys can still get the running and their cardiovascular work done. Working on football skills is probably a bigger challenge."
 
It's Kind of Like Vacation, but…
For the first time since 1979, Ferentz isn't in the middle of spring football.
 
"My wife mentioned last week that she can't remember me ever doing yard work in April," said Ferentz. "So that's a good thing or a bad thing. It has been different.
 
"It's kind of like the month of July, but you're not allowed to go anywhere or do anything, so it's not quite the same."
 
Just Look at the Film
A.J. Epenesa ran a 5.04 40-yard dash at the 2020 NFL Combine in February.  Ferentz doesn't put stock in the time — Iowa doesn't even test 40s. 
 
Ferentz says Epenesa's tape does the talking.
 
"What A.J. does on film, you can't teach," said Ferentz. "He has unique skills and abilities and all you have to do is look at his production and his production against guys that are projected as first or second-rounders.
 
"When you get ready for a team in preparation, there are certain players you better fully be aware of what they're doing and where they're at. I think about (Jeffrey) Simmons from Mississippi State (in the 2019 Outback Bowl). It didn't take long to recognize that guy on film and say this is going to be a potential headache for us.
 
"I would imagine if you're playing us, you say the same thing, like we better have a plan for this (Epenesa) guy."