TRAER, Iowa – James Youel, a three-year football letterman at the University of Iowa in the 1940's, passed away on April 9. He was 98.
 
Youel was born February 13, 1922 in Vinton, Iowa, before growing up in Fort Madison. He graduated from
Fort Madison High School, where he lettered in football, basketball and track. He attended Iowa on a football scholarship as a freshman in 1939 and later becoming a three-year letterman. He earned his degree in mechanical engineering.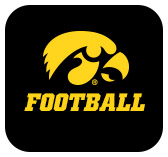 Youel served in the United States Navy from 1944-45. He was stationed at the Great Lakes Naval Training Center, where he played quarterback for Coach Paul Brown, later of the Cleveland Browns. After his time in the Navy, Youel was drafted into the National Football League, where he played for the Washington Redskins and served as the understudy for three seasons to NFL Hall of Famer Sammy Baugh.
 
After retiring from the NFL in 1948, Youel worked in Washington, DC as an engineer. In 1954, Jim returned home to Fort Madison, and started a career at Ft. Madison High School as a mathematics teacher and head football coach, eventually adding athletic director to his duties.
 
Fort Madison has had three undefeated football seasons, including Youel's teams of 1961 and 1966. He finished his teaching and coaching career at Danville High School prior to retiring in 1987. In 1988, Youel was inducted into the Iowa Football Coaches Hall of Fame and the Fort Madison High School Athletics Hall of Fame. In 2008, FMHS honored Youel by naming the high school's football stadium field 'Jim Youel Field'.
 
Youel is survived by four children, seven grandchildren, two great grandchildren, and his long-time friend and companion, Carolyn Elwell of Fort Madison. He was preceded in death by his parents, his daughter, Jolie Youel of Paisley, Florida, in 2019, and his granddaughter, Maggie Youel of Crystal Lake, Illinois in 2015.
 
In accordance with his wishes, Youel's body has been donated to the anatomy department of the University of Iowa and there will be no service or memorial fund. Sympathy cards can be sent to: Josh Youel, 209 Taylor St., Traer, Iowa 50675.
 
A full obituary can be found HERE.