GRINNELL, Iowa — Ned Postels, a three-year basketball letterman at the University of Iowa and a member of Iowa's 1945 Big Ten championship team, passed away on April 8. He was 96.
 
A native of Mankato, Minnesota, Postels graduated from Loyola High School in Mankato. He attended South Dakota State for one year, where he was a member of the North Central Conference championship team. He then transferred to Iowa, where he was a letterman from 1944-46. The Hawkeyes posted a three-year record of 45-9, including a 17-1 mark during the 1945 championship season. Under Hall of Fame coach Pops Harrison the Hawkeyes finished second, first, and third in the Big Ten over the three-year period. Postels served as co-captain on the 1944-45 team.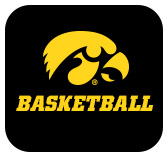 Postels earned his bachelor's degree from Iowa in civil engineering and was a member of the Phi Delta Theta fraternity. During his career, Postels was employed as a civil engineer for Caterpillar in Peoria, Illinois, where he was a part of their College Graduate Program and worked in field research for two years. He was employed by Beatrice Foods from 1949 until 1975. Returning to Grinnell in 1975, he took ownership of Grinnell Beverage, while he and his wife, Reba, also owned and operated Wayside Florist and the Grinnell Nursery. The Postels endowed the Ned & Reba Postels Family Basketball Scholarship at the University of Iowa.
 
During his time with Caterpillar, Postels played basketball for Caterpillar's AAU team, which won an Illinois State AAU championship and competed in the national tournament in Denver.
Postels is survived by his two children, Dick (Bev) Postels of Montezuma, Iowa, and Joanie (Arnie) Heimsoth of Grinnell; six grandchildren, three great-granddaughters, two step-grandchildren, and three step-great grandchildren. He was preceded in death by his wife, Reba; and a brother, Benjamin Postels.
 
Memorials may be designated to St. Paul's Episcopal Church, UICA (University of Iowa Center for Advancement), or to Carver Family Center for Macular Degeneration Enrichment Fund, mailed in care of the Smith Funeral Home, PO Box 368, Grinnell, Iowa 50112. Memories and condolences may be shared with Ned's family online at www.smithfh.com.
A celebration of his life will be held at 10:30 a.m., Wednesday, July 1, at St. Paul's Episcopal Church in Grinnell. Interment will be held at Hazelwood Cemetery in Grinnell. Visitation will be held from 4-7 p.m. Tuesday, June 30, at the Smith Funeral Home in Grinnell. A full obituary can be found at HERE.