By DARREN MILLER
hawkeyesports.com
IOWA CITY, Iowa — It wasn't the start to college Ihmir Smith-Marsette was looking for: he fumbled the first time he touched a football as a University of Iowa true freshman in 2017.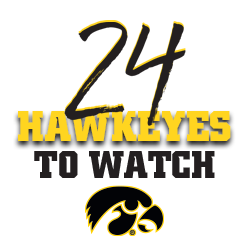 It's not how you start, it's how you finish, and things have trended upward since. In his most recent game, Smith-Marsette turned in an MVP performance in the Holiday Bowl, gaining 203 total yards and scoring on the ground, through the air and by kick return.
What has been the biggest transformation between his first and 37th collegiate games?
"My confidence," said the 6-foot-1, 186-pound senior wide receiver from Newark, New Jersey. "I have gotten stronger over the years and I go out every game believing."
Smith-Marsette didn't stay down long after the miscue in the 2017 season-opening win against Wyoming. The next week at Iowa State, he caught four passes and scored two touchdowns — including the game-winner in overtime.
His most dynamic performance was showcased on a national stage against No. 22 Southern California in the Holiday Bowl on Dec. 27, 2019. The Hawkeyes won, 49-24, and Smith-Marsette made the Trojan defense and special teams look silly. His 6-yard touchdown run put Iowa on top 14-7 early in the second quarter. A 98-yard kick return for touchdown gave Iowa a 21-14 lead midway through the second quarter. A 12-yard touchdown reception from Nate Stanley put the Hawkeyes ahead, 28-14, with 78 seconds left before halftime.
Smith-Marsette was named the bowl's offensive MVP and the nation saw what Iowa fans had seen for three seasons: an explosive, multi-purpose playmaker.
But even Smith-Marsette didn't bat 1.000 against Southern California. He attempted a pass to Brandon Smith, that was incomplete.
"Nobody's perfect," Smith-Marsette laughed. "I gave it a little too much power. If that play comes up again, it will be a touchdown. Count on it."
The Hawkeyes are coming off a 10-3 season that ended with them ranked No. 16 in the nation. Their wide receiver group — once considered a ho-hum part of the offense — has developed into a strength. It includes Smith-Marsette, a preseason third-team All-America and first-team All-Big Ten return specialist by Phil Steele. He caught 44 passes last season for 722 yards and five touchdowns. Also returning at receiver are Nico Ragaini (46-439-2), Brandon Smith (37-439-5), Tyrone Tracy (36-589-3), and Oliver Martin (5-28-1).
"I'm super proud of this group," Smith-Marsette said. "When I first came here, I heard about Iowa having trouble throwing the ball. We changed that and we want to keep passing that down to the younger receivers."
Smith-Marsette credits position coach Kelton Copeland for keeping Iowa's receivers level-headed and hungry.
"He asks if we want to be great or if we want to be regular," Smith-Marsette said. "He wants everybody to be great. If you're not great, you're not moving forward. In our receiver's room, you have to be great."
Whatever emerges from the Iowa receiver's room in 2020 will support a new Hawkeye signal-caller. Stanley, the only starting quarterback Smith-Marsette has known at Iowa, was selected by Minnesota in the NFL Draft. But Smith-Marsette corrects anyone who says the heir apparent Spencer Petras is new to the receivers.
"I chose Iowa because of the people and environment. When you walk down the street people always ask how you are doing; 'Good morning, good afternoon,' that is different from where I'm from and it's special to me."

Ihmir Smith-Marsette
"He might be new to Hawkeye fans, but in practice he used to step in and run with the (first unit)," Smith-Marsette said. "We threw with him all bowl prep and in spring ball. Chemistry is there."
Smith-Marsette helped Weequahic (New Jersey) High School to a 12-0 record and the 2016 New Jersey State Championship in North 2 Group 1 with an 18-8 win over Shabazz. He was the top receiver for the Indians, pulling in 38 passes for 773 yards and 13 touchdowns. Included in his 1,292 all-purpose yards were 197 in punt returns, 192 in kick returns, and 70 in interception returns.
After originally committing to Minnesota, Smith-Marsette changed his mind and became a Hawkeye.
"I chose Iowa because of the people and environment," Smith-Marsette said. "When you walk down the street people always ask how you are doing; 'Good morning, good afternoon,' that is different from where I'm from and it's special to me."
In three seasons at Iowa — that has included 27 wins and a 3-0 bowl record — Smith-Marsette has caught 85 passes for 1,270 yards and 10 touchdowns, compiled 1,344 yards on kick returns and carried the ball 27 times for 224 yards and three touchdowns. Head coach Kirk Ferentz is excited to unleash that versatility again in 2020.
"He loves the game and loves being part of the game," Ferentz said. "He is a high-energy player who has grown physically and also maturity-wise. As we saw last year, he is a dangerous player in a lot of ways."
As a junior in 2019, Smith-Marsette led the Big Ten and was fourth in the nation in kick returns with an average of 29.6 yards on 17 returns. A year earlier, he led the Big Ten and was second in the nation in kick returns with an average of 29.5 yards on 24 returns.
Smith-Marsette wants to close his college career with a bang. He has goals of 1,000 kick return yards, 1,000 receiving yards, more than 2,000 all-purpose yards, double-digit receiving touchdowns, and multiple kick return touchdowns. If he can accomplish that, the Hawkeyes will be tough to beat — and the confident Smith-Marsette knows it.
"I want to get a Big Ten championship and be in the national talk," he said.