IOWA CITY, Iowa — GARY BARTA: Thanks for coming on short notice. Back on June 15 we were here and I spoke to you about some racial issues related to our football program. I announced the separation agreement with Chris Doyle, and I also announced that President Harreld had retained the services of an independent third party to do a review of the football program, and so Coach Ferentz and I are here today to respond to the review and then also just provide some updates and some perspective of things that have been going on since then.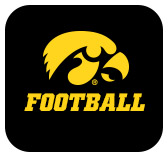 We now have several sources of information, if you will, going back to the diversity task force, some very candid and frank conversations with former student-athletes directly and the same from our current student-athletes, and then now the report from the independent review.
For those of you who have gone through it, I'm sure you would understand when I say that getting direct and critical information, criticism, is sometimes difficult to hear. That said, we needed to hear these things, and we need to get better.
We talked a little bit about it in June, and you'll hear some of the same topics today.
I am grateful for every former student-athlete and current student-athlete who came forward. Two important dates related to this situation, June 3, when James Daniels began, the former player process — and I mention James' name because he's in the report. I'm not going to mention other former players by name, but he spoke up and I'm grateful that he did.
And then on June 8, I referenced when we met the last time about a team meeting where current student-athletes were very candid in expressing their anger and frustration, and these conversations really opened the door to dig deeper.
When you combine those conversations with now this report, it makes it clear where we've fallen short and where we need to get better. It is helpful that all these sources are consistent, that the issues that we've been identifying and had identified going into this review, I certainly feel like there are consistencies in what we knew we had to get better in.
First of all, Kirk and I have had several conversations over the last several weeks, and these are some observations now and thoughts about the review, but they probably spill over into some of the other conversations.
"Within this report, there's some good news. I'm not downplaying the fact that this is very critical of some of the things we have to get better in, but I was grateful to hear that there was uniformity from the current student-athletes that things have significantly improved since June."

Gary Barta, Henry B. and Patricia B. Tippie Director of Athletics Chair
Kirk, first and foremost, is responsible for the football culture. He creates it. He sets the tone for it, and he has to hold people accountable for it, and he's fully accepting of that responsibility, and he's worked hard in recent weeks to help us begin the process to improve the culture.
At one point in the report he acknowledges that he gave too much responsibility, maybe too much unchecked authority to one individual, but beyond that, he acknowledges that it's broader than one person. It's an issue, a cultural issue throughout the program.
That said, on June 15, based on the information I had, based on my 15 years of working with Kirk, I shared that I still had great confidence that Kirk could lead us through this and continue to lead this football program. I take a lot of comfort in the fact that the report, after interviews with former student-athletes and current student-athletes, confirms that they share that confidence in Kirk's ability to move forward and lead this program.
Next observation, the "Iowa way" is described, perceived by many, especially our African-American student-athletes, as the white way. Some of the comments, and by now hopefully you've had a chance to read it, don't feel supported, don't feel welcome, can't be my authentic self, harder to succeed as a black player versus a white player. In the report is also a reiteration of Kirk's desired definition for the Iowa way: Earn a degree, maximize football success and have a fulfilling college experience.
Clearly there's a disconnect between the vision that Kirk has for the Iowa way and what he wants it to mean and the way it was being experienced by some of our student-athletes, and in particular our black student-athletes. That's an area where we need to focus. How do we get the vision that Kirk has for the Iowa way and have it be experienced the way he envisions, and that will be an important thing going forward.
Our student-athletes don't feel, haven't felt and need to feel that they have a place where they can be heard and where they can be listened to. Within the football program, there have been numerous individual conversations, position meetings, team meetings. I'll let Kirk describe those more since I have not been involved. I've been involved in a couple of team meetings. Historically Kirk has relied on a leadership group, and he'll continue to do that, but he's expanded that group and made some changes.
And then specifically one of the things we have to do a better job in as an athlete department is make sure that there are places, outside outlets for football student-athletes who have issues and concerns. They don't feel comfortable expressing them within football, that they have a place to go, and I'll talk about that here in a moment.
Recruiting, making sure that or in this case expressing concern that there's a disconnect between a message that we send in recruiting versus what some student-athletes experienced when they got here, particularly or specifically I think it was mentioned creating a family atmosphere versus then when I arrived not understanding that the Iowa way and the expectations that were connected to that. So a disconnect in that recruiting message.
There are several areas pointed out where we need to improve from these student-athletes, and I won't go into all of them.
Again, Kirk will be able to more specifically speak to some of these. Appearance expectations, whether it's hairstyle, clothing, jewelry, tattoos, sleep bands, weight management, and then a reference to rules, and the number of rules, the way that they felt they're being held accountable to these rules or being called out if they weren't following these rules. As it pertains to rules, I don't think it'll come as a surprise, when you run an organization, when you have a team, you have to have rules. And so having rules isn't the challenge. The challenge is and my expectation is for football and for all of our teams, make sure the rules are fair, and in this case make sure that without any kind of racial bias, make sure that the expectations are well-known in terms of any rules, and then make sure that the follow-through, the carrying out of those rules or any discipline related to those rules is fair and consistent.
So that certainly came out in this report.
Strength and conditioning expectations and treatment. Kirk has already talked about some changes there in terms of job responsibilities, and drug testing was also mentioned and I'll talk about that in a moment.
Among this report or within this report, there's some good news, and again, I'm not downplaying the fact that this is very critical of some of the things we have to get better in, but what I say is good news and what I was grateful to hear is that — and this is from the report — there was uniformity from the current student-athletes that things have significantly improved since June. Now, understandably there are also some student-athletes in the group who are taking a wait-and-see attitude. They want to make sure that these improvements are long-term and not just a short-term reaction.
I'm going to move on to moving forward, and then several things that I'm going to mention moving forward, and then I'll let Kirk come up and say a few things. First of all, moving forward, I have great confidence in Kirk, and it all starts with him. His willingness to improve the culture in the areas that have been identified. He sets the tone, the expectations, and then needs to hold everybody accountable. I have been grateful and not surprised but impressed with the amount of energy and passion and work he's put into this going back to June, and we all agree that this is just the beginning.
A few things moving forward specifically: Strength and conditioning, Kirk can talk about it more if you have questions, but an acknowledgment that maybe some of those job responsibilities need to be spread out a little bit among the staff. From a reporting standpoint, the head strength coach for football does report to the head football coach. It also has a reporting line to assistant athletic director for sport performance Terry Noonan. One of the things we have to do — and we have that throughout the athletic department. We have several dual reporting lines, either in athletics or then to areas on campus. In this case we just have to reinforce that reporting line and that relationship.
All of the strength coaches, the athletic trainers, the sports medicine team, the sports psychology and nutrition are all reporting through that sport performance group, and moving forward just making sure that those reporting lines are reinforced and carried through.
Under the area of the DEI accountability group that was previously named the diversity task force, DEI, diversity, equity and inclusion, was previously called the diversity task force, that's headed up by Broderick Binns. I know most of you if not all of you know we promoted Broderick, went from interim to permanent. He's now the executive director of diversity, equity and inclusion. He reports outside of football. He no longer has an office in football. He'll work closely with football but not report up through football.
He's had that diversity, equity and inclusion accountability group meet a couple of times now, and they've had conversations. You may recall back to June, one of the things we want to do is make sure there is a bridge between a team sport and any resources they may need or desire somewhere else on campus, and one of the things we've talked about with this DEI accountability group is certainly building relationships and trust with student-athletes, making sure they understand it's a place they can go if they have questions — not always concerns, might just be questions, want advice, but certainly if they do have concerns it's a place they can go and create a bridge to some other resource on campus if they need it. Looking at culture, team rules and relationship.
And then annually that group reporting to the president, to myself, to the head coaches, because this position in this group is for all sports, not just for football, but certainly in this case that report will go to Kirk in terms of how things are going in his sport and also the President's Committee on Athletics, the PCA.
Student-athletes having a voice and engagement, again, ongoing conversations individually and in the team environment in football along with the leadership group. Kirk may have already expressed publicly about the leadership group and expanding it, but it is also in the report.
And then continued engagement with the former player advisory committee that Kirk put together, working on getting advice on graduation rates, on recruiting, on culture, team expectations, and then life after football, helping our football players as they get ready to enter the world, whether it's networking, career advice, et cetera.
As it pertains to recruiting, just reevaluating all facets of recruiting, specifically addressing that concern between what we represent and the experience and very specifically talking about that expectations. If we're going to use the term "Iowa way," I don't know if we will or if Kirk will or not, but clearly understanding when you become a Hawkeye, this is what you can expect. And then having those groups, the leadership group, the former player advisory committee and the DEI accountability group, having an opportunity to look at those recruiting changes and give their advice on how that's working.
"We all have a lot of learning to do, and that's No. 1 on the list; good communication and also growth and learning. That's paramount for our whole program."

Kirk Ferentz, University of Iowa football head coach
Drug testing, we have reviewed all of our policies, protocols and procedures. We do feel that those are where they need to be. Just want to make sure that they're transparent, they're consistent, and then making sure — we have not audited them on an annual basis, but for the next several years and maybe ongoing, we'll have them audited again toward that goal of — by somebody outside of athletics toward that goal of just making sure there's transparency, and then the final moving forward, the report does indicate that they provided us with four personnel reports on either current or former employees, and based on that information — it was anything where there was an allegation that was directed toward an individual, and so based on that information, the first thing I'm going to share with you is that there are no personnel changes planned. We will and have begun the process of internal follow-up. That internal follow-up will occur privately and it will follow university HR policies and procedures.
And then more broadly in terms of education and training moving forward, football has been included in and involved in training for the whole athletic department. They will continue to be involved in that, and then Kirk and I have talked about also some specific training just for football in the areas of unconscious bias, micro-aggressions, racial injustice, et cetera.
This has been admittedly a challenging journey, and it will continue to be, but it's also a healthy journey, even though it's obviously been played out publicly and we have a lot of work to do and we've made mistakes. One of the things that I do, every time we hire a new staff member in the athletic department, they within their first couple of months have to meet with me, and we just — part of it is I want to know if you're walking through the hallways and I recognize you. With 250 plus employees I want to know, okay, you work here, tell me a little bit about yourself, I'll tell you a little bit about myself, and I always end with win, graduate, do it right. And as it pertains to doing it right, it occurred to me in thinking about this, one of the things I always say is you will make mistakes. As an employee of this department, you will make mistakes. When you do, admit it, acknowledge it, and then learn from it and get better.
In really a broad sense, that's what's happened in areas of our football program. We've made mistakes. We're working hard to correct them. They're not going to be corrected overnight. I want to again apologize to any former student-athletes, current student-athletes who have had a bad experience within Iowa football, and we're going to work hard to earn everybody's trust moving forward.
This report focuses on football, but the lessons and improvements that we've talked about and that we're learning apply to all of our sports throughout the entire department. We've already had individual team meetings, all-staff Zoom meetings that Broderick has already organized over the past several weeks, and that's important to continue.
Finally, the Big Ten has created an anti-hate, anti-racist task force. We have a couple of representatives. One of the representatives not an Iowa student but a student-athlete from another school said the following, and it just fits perfectly with what we're going through: This is a process, not an event. And the changes need to be long lasting, not just a news cycle.
I agree with those sentiments. I know Kirk shares those, as well, and so a lot of good changes are underway, but realizing that it's going to be a process and it's going to need to be ongoing.
KIRK FERENTZ: Thank you, Gary. Appreciate the comments, and good afternoon to everybody. Appreciate all of you being here to join us. I'm glad to have the opportunity for all of us to be together and talk about the independent report and the findings. As you know, I've not made any public comments about specific issues, just out of respect for the process, and today I'll be happy to address any questions you may have afterwards.
As a coach, I've always considered myself first and foremost a teacher. In the past few weeks I've been committed to being a student. I've spent a lot of time listening and learning from experiences of many of our former players and current players, and the experiences that they've shared.
As the review explains, many of our black players felt that they were not treated the same way as their white teammates. I was saddened and disappointed to learn those feelings. Before June 4, I would have said we had a healthy program. The stories I've heard in the days and weeks that have followed have changed that.
While we've always prided ourselves in running a program based on discipline and accountability, based on my former player conversations and this review, it's shown that many of our black players felt like our program did more than that. I want to apologize to those players for any pain, any frustration that they felt at a time when I was trusted to help develop them as a better player, better person.
The majority of our players that we've heard from are players that were part of our program four years ago or longer. I'm thankful that they shared their experiences with me and spoke to many of them about some of the changes that we have made in the past year. While we have made some strides, we still have a long road ahead of us.
There were a few key takeaways. First of all, I am responsible as the head coach. I've prided myself on running an NFL-style collegiate program, if you will, which means position coaches have autonomy and freedom to develop the curriculum and the coaching style that they choose. The former players' experiences show me the need to be more involved in every aspect of the program so coaches and staff are carrying out the responsibilities in a manner consistent with our expectations.
We're focused on creating a more inclusive culture for everybody, players and coaches. Over the past weeks, I've learned our culture was not as strong as I thought. Many of our black players felt they had to conform to a white culture, and in some instances coaches had crossed the line from demanding to demeaning, and that's never acceptable. We've already made several key changes to our program, most notably with the leadership in our strength and conditioning staff. As Gary hinted at, we've reorganized the department, spreading out the responsibilities across several staff members to diffuse issues of control and feelings of favoritism.
In other aspects of our program, we've instituted player suggestions, starting with just game day protocols, so when we do get the green light to play, we'll be able to institute those. They've also included lifting restrictions on social media, dress code, our approach to body weights, increasing the amount of time that we meet, talk and listen to one another as a team.
Lastly, this review has reinforced my belief that the heart of coaching is relationships. We spend a tremendous amount of time and energy recruiting players to join our program, and we're invested in every player that we bring into our program, and that commitment to them as individuals can and should grow even more once they're on campus.
Everyone's life experiences are different, as are their insecurities and struggles. I'm not different. We can all work harder connecting here, even more with each other to better understand each other's perspectives. This has certainly been a moment of truth for me as a leader and for the program. The release of this independent review will not be the end of the conversation. Really it's just the beginning of our next chapter in the program's history.
Our players always talk about leaving the jersey in a better place, and that's my commitment to do the same thing with this program.