Editor's Note: On Aug. 11, the Big Ten Conference announced the postponement of the 2020-21 fall sports season, including all regular-season contests and Big Ten Championships due to ongoing health and safety concerns related to the COVID-19 pandemic.
By JAMES ALLAN
hawkeyesports.com
IOWA CITY, Iowa —  Hailey Rydberg knew there was an opportunity when she returned to the University of Iowa soccer team in the spring of 2019.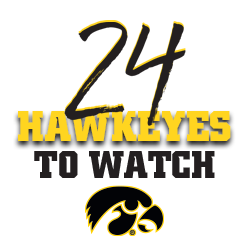 The Hawkeyes were coming off a banner season where they tied a school record with 15 victories and advanced to the NCAA Tournament for the second time in program history. Rydberg's role was about to change following the graduation of a 13-player senior class.
"Once they left, I realized I was prepared for this and looking up to them, I knew I could have a bigger role," said Rydberg, a junior midfielder from St. Charles, Illinois. "I would ask myself, 'What would they do? What did they teach me?'
"With the 13 seniors gone, it was important for me and some of the younger players to step into that role."
From the moment Rydberg returned to campus following winter break, head coach Dave DiIanni saw a focused and determined player.
"She came back and was our best player from the beginning during the spring," said DiIanni. "She has improved every semester she has been in our program. She has gotten stronger, her mentality and her tactical awareness are better and she has gotten more skilled."
Rydberg joined the Iowa program in 2018 as a highly-sought recruit from St. Charles North High School. She was the top player in Illinois following a senior season where she earned Illinois Gatorade Player of the Year and TopDrawerSoccer Spring First-Team All-America honors.
"She came from a smaller program that won a lot," said DiIanni. "They won a lot of games and championships. When you're a winner, that's not by mistake. It was important to get her here because she was the leader of the team, and I felt the possibilities for her were endless."
Rydberg saw the field as a freshman, playing in 18 games with 13 starts. She scored two goals, including the game-winner against Michigan State, and finished with four points. In 2019, Rydberg played in all 21 games with 11 starts and finished with one goal and one assist in 779 minutes.
"It was a huge change from high school to college soccer, mentally and physically," said Rydberg. "I could have done better my first two years, but that's coming from a personal standpoint where I am harder on myself.
"I was small when I came in and got pushed around a little bit. It was challenging mentally, but it was the experience to get me where I am."
Rydberg played behind four-year starters in Natalie Winters and Isabella Blackman during her first two seasons. Winters was a four-time All-Big Ten selection.
"Natalie was an amazing player and I was lucky to have her and Bella to mentor me," said Rydberg. "It was a great experience being able to play with and learn from them."
"I am taking it one day at a time, especially not having games. I am going to practice every day and be the best player I can be so when the time comes to play, I will have that confidence and experience to be able to step up."

Hailey Rydberg
With the 2020 fall season postponed to the spring because of the ongoing global coronavirus pandemic, Rydberg is ready to be a leader on and off the field for the Hawkeyes.
"I am taking it one day at a time, especially not having games," she said. "I am going to practice every day and be the best player I can be so when the time comes to play, I will have that confidence and experience to be able to step up.
"I am excited for this season. We have a good team, a good team dynamic and chemistry and a good group of core players. I think we can do well together to make an impact and carry on a legacy the seniors created for us."
DiIanni says Rydberg's work ethic has her primed for a breakout.
"Hailey is someone that is always working to get better," said DiIanni. "She is always working when practice isn't going on or there is a break. It's exciting to see someone who invests so much. She is invested into her experience in our program and has the mentality, maturity and understanding of what it takes to be a successful Big Ten athlete.
"She has learned from the people before her and is embracing the pressure and stress that comes with being someone that has to be counted on."
The opportunity that awaits Rydberg is motivating. She wants to keep moving the program forward.
"I want to take these next two years and make as much of a difference as I can and be the best player I can be," said Rydberg. "Last year was a huge momentum shift for this program and the players in it. Because we did so well, it's motivation for us to want to uphold that standard that we created."