By MATTHEW WEITZEL
hawkeyesports.com
IOWA CITY, Iowa — The University of Iowa men's basketball team took to the court on Wednesday for its first official practice of the 2020-21 season.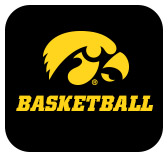 Fran McCaffery, who enters his 25th season as a head coach, has never coached a team with seven players with starting experience, let alone the returning National Player of the Year. Center Luka Garza earned Big Ten and National Player distinction as a junior and is the frontrunner for National Player of the Year entering the 2020-21 campaign.
"Having seven players with starting experience provides us with incredible versatility," said McCaffery. "In a year where you may have a player out for a couple weeks (COVID-19 and contact tracing), depth will be important."
The COVID-19 pandemic canceled last season's postseason and has carried over to 2020-21, delaying the start until Nov. 25. McCaffery said having a veteran team will be beneficial navigating through this unprecedented season.
"You have to stay together and be able to deal with any of the distractions that may come from a potential positive test, game cancellation, or missing a player for a certain length of time," McCaffery said. "We have to maintain our focus each day and not get too far ahead of ourselves. I think veteran teams are typically better capable of handling that."
Returning seven players with starting experience on a team that has led the Big Ten in scoring offense the last two seasons bodes well for another year of scorching the nets. But McCaffery knows that to get to the next level, the team needs to continue to make defensive strides.
"When you have unselfishness, coupled with the skillset and experience we have, it's a team that should run smoothly on offense," said McCaffery. "The key for us is to be able to improve defensively. But considering how great this league is, and the number of good players, you need to be good every night defensively."
Garza was a beast in 2019-20, finishing the 20-game conference schedule averaging a staggering 26.2 points per game. The native of Washington, D.C., scored a school-record 740 points, breaking the program's 50-year old record. Garza was one of three Big Ten players to ever to total 740 points and 300 rebounds in a season. The All-American produced against top competition all season long, scoring 20 points or more a school-record 16 straight Big Ten games, and averaging 26.7 points, 11.1 rebounds, and 1.7 blocks in 12 contests against ranked opponents.
Garza joins Tyler Hansbrough (2008), Dee Brown (2005), Michael Jordan (1983), and Ralph Sampson (1982) as the only players since 1975 to return to school after being recognized as the Sporting News National Player of the Year.
In addition to Garza, starters Jordan Bohannon, Connor McCaffery, Joe Wieskamp, CJ Fredrick, Joe Toussaint, and Jack Nunge return.
Bohannon is back for a fifth season, receiving a medical hardship waiver after undergoing season-ending hip surgery last December. The return of the program's all-time 3-point leader (8.8 ppg, 3.3 apg) should stretch defenses even more with his range and ability to make timely baskets.
"Jordan has trimmed his body down and I think being able to compete without pain has to be a great feeling for him," said McCaffery.
Not only can Fredrick (10.2 ppg, 2.8 apg) and Wieskamp (14.0 ppg, 6.1 rpg) knock down the 3-ball, but they can finish at the basket. Wieskamp, a junior, was a third team All-Big Ten selection last year, while Fredrick was honored on the All-Big Ten Freshman Team.
"CJ and Joe both look good physically," McCaffery said. "They can score a variety of ways and have improved their overall skillset."
Connor McCaffery (6.2 ppg, 4.0 rpg) was vital to the team's success last season. Due to lack of depth, the co-captain played four different positions. He led the country in assist-to-turnover ratio (4.6) and was first on the squad in assists per game (4.0).
"He is so good because he knows where he needs to be at each position and can read defenses," Fran McCaffery said. "Adding to that he has a level of toughness that is necessary in this league."
Toussaint (6.5 ppg, 2.9 apg) was thrust into the starting lineup in the 12th game as a rookie, and never looked back. The New York native was a terrific defender, leading the team in steals per game (1.2). McCaffery has been impressed with Toussaint's growth, saying he is wise beyond his years.
"Joe is playing like a senior right now," McCaffery said. "He studied everything last year, becoming a student of the game. He has blinding speed, is finishing at the rim and shooting well from outside, is a terrific rebounder for someone his height (6-foot) and has tremendous competitive instincts."
Nunge started the first five games last season before sustaining a season-ending ACL injury. He averaged six points and 4.6 rebounds in his abbreviated sophomore season. McCaffery is pleased with his rehab progress and expects him to be ready by the season opener.
"Our medical staff has been really smart with him," said McCaffery. "We pushed him in the weight room and rehab, but haven't pushed him to go up-and-down the court. He will be in great physical condition when that time comes and then he will have ample time to get ready for the games in late November."
If that wasn't enough, the Hawkeyes add six freshmen to the mix. Patrick McCaffery returns for his redshirt season, while true freshmen Keegan and Kris Murray, Josh Ogundele, Tony Perkins, and Ahron Ulis step onto campus.
"The freshmen are picking things up and physically look good," McCaffery said. "They're playing well and complement each other well. I've been impressed with Patrick this summer. He has added muscle, is over 200 pounds, and is ready to go."
McCaffery said to be successful in the Big Ten you have to be mentally and physically tough, and he believes this team has those qualities.
"This team has incredible mental toughness and impressive chemistry," said McCaffery. "In this league, you have to be able to execute, especially under pressure coming down the stretch, and this team does that well."