By DARREN MILLER
hawkeyesports.com
IOWA CITY, Iowa —Practice after practice, Monte Pottebaum shows up on film.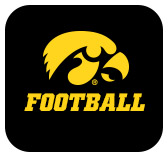 Maybe it's his long arms. Or big hands. Or the fact he competes hard every day. Whatever the reason, the 6-foot-1, 244-pound redshirt sophomore fullback has progressed to the top of the University of Iowa football depth chart. The Hawkeyes open their season Saturday at Purdue with kickoff set for 2:40 p.m. (CT).
Pottebaum came to the Hawkeyes as a walk-on linebacker after leading West Lyon (Iowa) High School to the Class 1A state semifinals as a senior. In 2018, when he redshirted, Pottebaum played linebacker and received a Team Leader Award. He switched to fullback before his second season, learning behind senior Brady Ross.
"Monte is a special player at his position, and he allows us to do multiple things," said Derrick Foster, Iowa running backs coach. "Monte can run the football, he can catch, he is a versatile, big kid."
A multi-sport athlete in high school, Pottebaum was a running back/linebacker in football, wrestling state qualifier at 220 pounds, sprinter in track and catcher in baseball. He attended the same high school as Iowa special teams coach LeVar Woods, who recruited him. Three of Pottebaum's teammates at West Lyon also lettered at Iowa: Brandon Snyder (2015-16), Jake Newborg (2018) and Kyle Groeneweg (2018).
Iowa's winning streak with walk-ons appealed to Pottebaum, who also considered attending Augustana University in Sioux Falls, South Dakota.
"This was my dream; I was watching Iowa Hawkeye football my whole childhood, so to get the opportunity to come play here is nice."

Monte Pottebaum, Iowa fullback
"I knew I had a chance to develop and play a role and contribute," Pottebaum said. "This was my dream; I was watching Iowa Hawkeye football my whole childhood, so to get the opportunity to come play here and do something is nice."
Pottebaum saw action in 12 games last season when the Hawkeyes went 10-3 and won the Holiday Bowl. He has one career carry (for no yards) and one kick return (for 10 yards).
"If you look at some of the things he is able to do, not only at the fullback position," Woods said. "From the special teams standpoint, he looks to be a core contributor in protection and in the back at kick return."
Pottebaum will start at fullback against Purdue and play on punt coverage, punt return, kick coverage and kick return. What does he enjoy most about the fullback position?
"Making blocks and hitting people," Pottebaum said. "Maybe I will have a chance to score once in a while. It is all good."
Saturday will be the first time Pottebaum has earned what he calls "serious snaps." He is the most recent example of a walk-on working hard, improving day-by-day and capitalizing when an opportunity arises.
Iowa defeated Purdue last season, 26-20, but dropped a 38-36 thriller in 2018, the last time the teams met in West Lafayette, Indiana.
"I want to do my job and get a win for the team," Pottebaum said. "I will do everything I can to help that happen."
Iowa has won five of its last seven Big Ten openers. The Hawkeyes are opening the season against a conference opponent for the first time since 1980 when they defeated Indiana, 16-7, in Bloomington, Indiana.