By DARREN MILLER
hawkeyesports.com
WEST LAFAYETTE, Ind. — It has been a long road from Nov. 29, 2019, to Oct. 24, 2020, but Big Ten football has returned, so what did you expect when Iowa and Purdue tangled Saturday at Ross-Ade Stadium? A close game, that's what.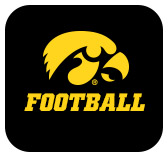 Over the past four seasons, the margin of victory between the Hawkeyes and Boilermakers has been slim. Two points in 2018, six points in 2019, nine points in 2017. Seems fitting that the Big Ten West rivalry was decided by four points Saturday, with the final score coming with 2:15 left.
Yes, for Iowa there were too many penalties (10 for the length of a football field). Yes, there were too many turnovers (two, the first coming at Purdue's 10-yard-line, the second coming on Purdue's 28).
"The obvious story is there is a lot we have to work on," Iowa head coach Kirk Ferentz said. "In particular, turning the ball over, penalties and half those penalties were major penalties."
But that will be cleaned up in the days and weeks to come. Despite a season-opening 24-20 setback — the first season-opening loss for Iowa since 2013 — there was plenty to be pleased about.
"I thought we did a lot of good things," Ferentz said. "I saw a lot of positives, a lot good plays, a lot of good play. We're going to see a lot on the film that is going to be good and good to teach off of, good situational, complementary football."
Iowa gained 195 yards on the ground, 77 by sophomore Tyler Goodson and 71 by senior Mekhi Sargent. Sargent, Goodson, Ihmir Smith-Marsette and Ivory Kelly-Martin all had gains of 14-or-more yards. The Hawkeyes out-gained Purdue by 91 yards on the ground.
"We have total confidence in all three," said Ferentz, referring to Goodson, Kelly-Martin and Sargent. "We plan on playing all three of those guys during the course of the year. I don't see any reason to change that plan moving forward."
We were re-introduced to senior linebacker Barrington Wade, who made his first career sack and first career interception, the latter coming at Iowa's 3.
"Barrington has been a good football player for us, kind of a forgotten player a little bit," Ferentz said. "He did a good job and it was great to see him come up with a pick."
"We'll keep getting better. What counts is what we do moving forward. We have a lot of good guys on our football team who have worked hard and shown a lot of character. There is a lot to be encouraged about as a coach."

Kirk Ferentz, Iowa head football coach
We were introduced to junior transfer Charlie Jones, who's 25-yard punt return set up the first touchdown of the season for the Hawkeyes.
There was a crushing pass breakup by sophomore Dane Belton, an interception by senior Matt Hankins and a beautifully executed downed punt by sophomore Terry Roberts at Purdue's 1. Senior kicker Keith Duncan converted two field goal attempts, giving him six makes in the last two games against Purdue.
And there was offensive explosion; after moving backwards three yards on its first two drives, the Hawkeyes finished the first half with 282 yards and scored three times on the final four drives of the first half. Sophomore Spencer Petras, a first-time starter at quarterback, finished the first half by completing 13 of 15 for 171 yards. For the game, he completed 22 of 39 for 265 yards and no interceptions.
"Nobody is more committed, more prepared and this film will be a good film for (Petras)," Ferentz said. "I thought he played well, led our team and had good control and awareness out there. It was a good start for him.
"The way he operates, I'm confident he will be a better player next week."
And, Ferentz said, Iowa will be a better team next week. The key is how the Hawkeyes clean up their play to give them a better chance to win in the fourth quarter.
"We'll keep getting better," Ferentz said. "It's an eight-game march, plus one. What counts is what we do moving forward. We have a lot of good guys on our football team who have worked hard and shown a lot of character. There is a lot to be encouraged about as a coach."
Iowa takes on Northwestern on Oct. 31 in Kinnick Stadium. Kickoff is 2:30 p.m. (CT) and the game will be televised by ESPN.