IOWA CITY, Iowa – University of Iowa graduate and former Gymhawk Jessa Hansen Parker has been named an assistant coach with the Iowa women's gymnastics program, head coach Larissa Libby announced Monday.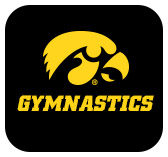 Hansen Parker returns to Iowa City after serving four seasons as an assistant coach and recruiting coordinator at UC Davis. While with the Aggies, Hansen Parker was tabbed as the 2019 Assistant Coach of the Year by the Mountain Pacific Sports Federation (MPSF) and in the West Region by the Women's Collegiate Gymnastics Association.
"I am thrilled to welcome Jessa back to Iowa City," said Libby. "This is the first time I have been in a position to hire someone that has experienced our program and has first-hand knowledge of what it is like to attend and compete for the University of Iowa. I believe Jessa is the total package.
"She was born and raised in Iowa and grew up loving the Hawkeyes. She spent four years in our program where she helped establish a philosophy that she truly believes in. Jessa remains highly connected to her Gymhawk teammates, a connection that will be crucial in helping us create additional opportunities for alums to return to campus."
During the 2019 season, Hansen Parker's beam crew finished with a national-qualifying score of 49.075 to rank 23rd nationally and the team posted two of the program's top six all-time beam scores. Seven of the program's top 10 beam scores (including the top four) and all five of the individual school-record 9.925s came under Hansen Parker's watch.
Hansen Parker coached three NCAA qualifiers and two MPSF balance beam champions — Alexis Brown (2018) and Katy Nogaki (2017) — during her UC Davis tenure. A total of 14 student-athletes garnered All-MPSF honors, including nine first team selections from 2017-20.
"I believe Jessa is the total package. With her background, her coaching ability, and her love for the Hawkeyes, she is the perfect candidate for this position, and we are excited to welcome her home."

Head Coach Larissa Libby
"I am thrilled and honored to return to the University of Iowa as an assistant coach," said Hansen Parker. "I can't thank Larissa and the athletics department enough for this opportunity. It was in this program that I fell in love with collegiate gymnastics and decided to pursue a career in coaching. I am grateful for my time at Cal and UC Davis and eager to bring back my experiences to the Hawkeyes. I can't wait to meet the team and get to work."
Prior to joining the UC Davis staff, Hansen Parker was an assistant coach for three seasons at California Berkeley. During that time, the Golden Bears finished 16th, 18th, and seventh nationally, culminating with a 2016 appearance at the NCAA Championships — just the second in program history.
She helped Alicia Asturias (2014) and Toni-Ann Williams (2015, 2016) to All-America honors, with Williams later becoming the first Cal gymnast to qualify for the Olympic Games.
Hansen Parker also served as a coach for the Emeryville-based Head Over Heels club during her time at Cal. Working with athletes of Levels 3-10, she helped guide teams and individuals to Junior Olympic state, region, and national championships.
"Jessa has grown tremendously since graduating from Iowa," said Libby. "With fantastic mentors in California, it isn't surprising that she was honored as the Assistant Coach of the Year.  With her background, her coaching ability, and her love for the Hawkeyes, she is the perfect candidate for this position, and we are excited to welcome her home."
Hansen Parker was a four-year letterwinner as a Gymhawk from 2008-12, earning two All-Big Ten, three Academic All-Big Ten, and two Big Ten Sportsmanship Award honors. She was also a NACGC Scholastic All-American from 2010-12, a Dean's List honoree from 2009-11, a Big Ten Distinguished Scholar, and was a part Iowa's Student-Athlete Advisory Committee from 2009-12.
Prior to her collegiate career, Hansen Parker was a teammate with 2008 Olympic gold medalist Shawn Johnson at Chow's Gymnastics, the same club that later produced Team USA members Gabby Douglas and Rachel Gowey.
The Des Moines, Iowa, native graduated from the University of Iowa in 2012 with a bachelor's degree in journalism and mass communication and minors in studio art and sport studies. She and her husband, Bryan, were married in 2020.