By DARREN MILLER
hawkeyesports.com
IOWA CITY, Iowa — Some things are worth the wait.
It took guard Alexis Sevillian nearly three years to compete on a college basketball court after committing to the University of Iowa in the fall of her junior year at Goodrich (Michigan) High School.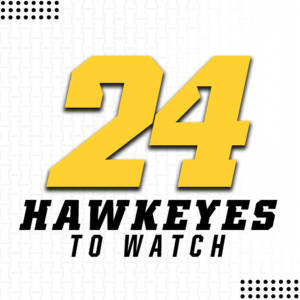 When Sevillian arrived at Iowa for the 2016-17 season, the Hawkeyes were stacked at guard. Seniors Ally Disterhoft and Alexa Kastanek were here, as well as sophomore Tania Davis (a high school teammate) and freshmen Kathleen Doyle and Makenzie Meyer. After talking it over with her parents, Arteka and Clarence, and head coach Lisa Bluder, Sevillian was redshirted.
"That allowed me to adjust to the school, schoolwork, become more comfortable with basketball and the system," Sevillian said. "It gave me confidence and allowed me to learn the offense. I grew so much."
Some things are worth the wait.
Sevillian was a finalist for Michigan Miss Basketball in 2016 when she averaged 22.9 points, 3.6 assists and 3.6 steals per game as a Goodrich senior.
Like most college freshmen who are the go-to option in high school and AAU, it took time for Sevillian to adjust to the Division I setting…and diminished playing time. But that is when she adopted a "we before me" attitude that led to her twice being named a Hawkeye captain.
"I was able to learn in practice and give it my all," Sevillian said. "Not seeing a minute on the court allowed me to be humble and taught me to grow in different aspects of the game."
"I didn't want her to use a year without contributing to our success," Bluder said. "I knew if she waited one more year it would balance our recruiting a little bit."
Some things are worth the wait.
In Sevillian's three seasons in an Iowa uniform, the Hawkeyes have never won less than 23 games and never lost more than eight games in a season. In 96 career games, she averages 6.6 points, 2.3 assists and 1.4 3-point field goals per game. Nine times last season she scored in double figures and handed out a career-high eight assists against Penn State.
"When you hear it is your last season or last time being able to play with a team, it gives you a different feeling. I want to provide whatever I can to the best of my ability knowing this is my last go-around."

Alexis Sevillian
There have been many "Lexi Moments" over the years. Bluder recalls a corner 3 at Minnesota to put Iowa ahead by three points with 0:08 to play in 2020. Sevillian enjoyed a 66-61 victory over Maryland on Jan. 9, 2020, in Carver-Hawkeye Arena, a game where she scored seven points in the final 3:13, including a 3-point field goal to break a 54-54 tie. Oh, how Sevillian enjoys wins over Maryland. Iowa defeated the Terrapins, 86-73, on Feb. 17, 2019, in Iowa City, and Sevillian made another key basket. With 2:31 to play, she sank a 3-pointer that put the Hawkeyes ahead by six points.
"She is somebody that steps up to the challenge in those situations," Bluder said.
Iowa's guard court has transformed since Sevillian arrived on campus. There are seven guards on the roster this season: Sevillian and Zion Sanders are seniors, Tomi Taiwo, Gabbie Marshall and Kate Martin are sophomores and Lauren Jensen and Caitlin Clark are freshmen. Sevillian has the most tenure and is looked to for leadership.
"I have to be more vocal now and lead in a different way than I did last year," said Sevillian, who in 2019-20 was a captain with Doyle and Makenzie Meyer.
There is still uncertainty in college athletics since the coronavirus pandemic hit home in March. A definite for Sevillian is that this will be her final season in a Hawkeye uniform. She has already earned a degree in criminal justice and has begun a two-year master's program for social work.
"When you hear it is your last season or last time being able to play with a team, it gives you a different feeling," Sevillian said. "I want to provide whatever I can to the best of my ability knowing this is my last go-around."
I was just about to head home, but heard some noise in Carver…peered in and saw @alexis_laniece working on her game. That's a 5th year senior…coming back at night…after practicing for 3 hours in morning! That, my friends, is what championship mentality looks like! Let's Go!

— Jan Jensen (@goiowa) October 19, 2020
To Sevillian, 2020-21 is an opportunity to continue building the Hawkeye legacy by being a model teammate on and off the court. Bluder is impressed by Sevillian's growth outside basketball. She is a member of the Iowa Student-Athlete Advisory Committee (ISAAC) and the Big Ten Anti-Hate and Anti-Racism Coalition and a student representative on Iowa's Diversity, Equity and Inclusion Accountability Board.
It pleases Bluder to see Sevillian using her voice off the court.
"I have seen the growth in her game of basketball, but I have seen her growth more in her maturity level, willingness to speak up and share her opinion with other people; to know her opinion matters," Bluder said. "I'm proud of everything she has been doing."
Sevillian credits that development to being an Iowa basketball student-athlete.
"Our program does a great job developing and helping women grow into the person they want to be," Sevillian said.
Her Iowa journey — which is in its fifth year ¬— isn't finished. There are plenty of games to win and plenty of time for personal growth.
Yes, some things are worth the wait.