By SHANE STURTZ
hawkeyesports.com
IOWA CITY, Iowa — Brad Banks and Drew Tate are synonymous with some of the greatest teams and moments in University of Iowa football history. What else do they have in common?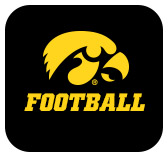 As first-year starting quarterbacks, both Banks and Tate led Iowa to a share of the Big Ten regular season championships. Then offensive coordinator and current quarterbacks coach, Ken O'Keefe, has helped tutor a number of inexperienced quarterbacks to successful seasons and careers.
"You never know what you're going to get until you get out there and start playing," O'Keefe said. "Spencer (Petras) was in that situation. He had very few reps prior to the opener against Purdue. There's a big adjustment. The speed of the game is incredibly fast on gameday compared to most practice situations; especially when you couldn't put any pads on until Sept. 30."
For O'Keefe and his quarterback room, the normal challenges for young quarterbacks like timing with receivers, anticipating reads, picking up blitzes, and handling defensive pressure have all been magnified in an unprecedented offseason and 2020 season.
Nevertheless, in a mostly virtual spring season and preseason, with multiple starts and stops, O'Keefe couldn't be prouder of his players and staff.
"All the credit has to go to our players – they've done a great job of handling all the ups and downs that have come with the virus, and every obstacle we've faced in the offseason, including social injustice," O'Keefe said. "They've persevered through it all and stuck together as a team."
One of the team's best leaders and communicators has been Petras, who has passed for the 481 yards in two starts – the most to begin a season since Jake Ruddock in 2014.
"First of all you're looking for a guy that provides a great example," O'Keefe said of Petras. "He's the first guy in the quarterback room and he's the last guy to leave. He wants to get every detail right and he sets the standard as far as example and working at it. That's critical. All great leaders do that; they provide a great example for people to follow."
O'Keefe acknowledged some first-game jitters from Petras to start the season, and with each game, whether it's footwork or working through progressions, have room for improvement.
Inconsistencies are almost guaranteed for quarterbacks lacking reps.
Look at Tate. The 2004 Hawkeyes started the season 2-2 and in a de facto Big Ten title game against Wisconsin, Tate threw two early interceptions and three for the game, but the defense picked up the slack, Iowa won 30-7, and followed it up with Tate and Warren Holloway's heroics in the Capitol One Bowl against LSU.
O'Keefe remembers that Banks, a Heisman Trophy runner-up, "never really flinched" after a tough home loss to Iowa State in the third game of the 2002 season. The Hawkeyes went on to rattle off nine straight wins to earn a trip to the Orange Bowl.
Those bumps in the road stood out to O'Keefe when talking about Banks and Tate, as did each of his quarterbacks' poise and attitude.
"Those guys knew how to fight their way through different situations," O'Keefe said. "They knew they're going to face adversity at some point along the way. You have to keep your head up and keep working."
Petras' adversity came a little earlier, but there is 80 percent of the Hawkeyes' season left to be played.
Iowa hosts Michigan State Saturday at 11:00 a.m. (CT).  The game will be televised on ESPN.