By DARREN MILLER
hawkeyesports.com
IOWA CITY, Iowa — The University of Iowa women's basketball schedule is a work in progress.
So are the Hawkeyes, who after a 23-7 showing in 2019-20, graduated Big Ten Player of the Year Kathleen Doyle and fellow starters Makenzie Meyer and Amanda Ollinger. Iowa returns first-team center Monika Czinano, sophomore McKenna Warnock, who was on the Big Ten All-Freshman Team, and two-year team captain Alexis Sevillian, who started 29 games last season.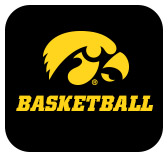 "We're a very young team. We're optimistic, but we also realize what other people in the Big Ten have returning and they are senior-dominated teams and we're not," Iowa head coach Lisa Bluder said Monday at a news conference in Carver-Hawkeye Arena. "We could possibly not have any seniors in our starting lineup."
It is still up in the air as to who, where and when Iowa will play. Games can be contested in three weeks, but the only thing certain is that the Big Ten slate will increase from 18 to 20 games and Iowa is working to schedule five nonconference opponents. Three of those will be in-state foes Drake, Iowa State and Northern Iowa.
"I can't really talk about our schedule, we still don't have one," Bluder said. "It is kind of an unusual situation; never have we gone into a season not knowing who we were going to play, where we were going to play or when we were going to play until this year. It is what it is. We just have to be ready for everybody."
"We're a very young team. We're optimistic, but we also realize what other people in the Big Ten have returning and they are senior-dominated teams and we're not."

Lisa Bluder, Iowa head women's basketball coach
Those familiar with Iowa women's basketball under Bluder know better than to sell the Hawkeyes short, even if the roster appears to have taken a hit to graduation (and the WNBA).
"All of our returners made significant progress over the summer," Bluder said.
The center of attention will be Czinano, whose productivity from her freshman to sophomore seasons was, as Bluder says, "nothing short of remarkable." She averaged 16 points and five rebounds a game and was second in NCAA Division I with a 67.9 field goal percentage.
"Monika continues to improve," Bluder said. "She is very physical and more of a vocal leader this year. She knows the team is counting on her putting the ball in the basket."
Iowa's four-member freshman class was ranked 17th in the nation by espnW HoopGurlz, and 2020-21 has the makings of another successful run by the Hawkeyes. They have won 20-or-more games 11 times in the last 13 seasons.
Leading the way among rookies is point guard Caitlin Clark from Wes Des Moines (Iowa) Dowling. A five-star recruit, Clark was ranked as the fourth-best prospect and second-best point guard in the Class of 2020.
"She is coming here expecting to contribute right away and she will be contributing right away," Bluder said. "You better be ready to guard her when she crosses the half court line. She is a player that loves to shoot the ball, has tremendous range.
"Her passing gets overlooked. We have had so many 'oh wow' moments in practice already — highlight-type passes. Sometimes I think people overlook how good of a passer she is because she is such a tremendous scorer."
The biggest void from a year ago has been the emotional leadership supplied by Doyle, who is now a member of the Indiana Fever in the WNBA. Bluder said players like guard Kate Martin (team captain) and Czinano have done a good job filling that.
Sevillian, Martin and senior guard Zion Sanders are captains.
"Those three have done a terrific job of leadership in this uncertain time," Bluder said.
Iowa has won 36 straight games on Mediacom Court in Carver-Hawkeye Arena. This season will be an adjustment if no fans are allowed.
"Our home-court advantage was based on our very vocal, knowledgeable fans, and not having that is going to take a little bit of our energy away," Bluder said. "We haven't lost here for two and a half years. Part of that is because we've had good teams. Part of that is because we have a great home-court advantage."