By JAMES ALLAN
hawkeyesports.com
IOWA CITY, Iowa – The University of Iowa men's basketball team is preparing for a 2020-21 season unlike any other. The Hawkeyes are a preseason top-five ranked team by The Associated Press.
"You have to embrace it and enjoy it," said head coach Fran McCaffery during a Monday news conference. "I think (the players) do, but they also understand it and respect it."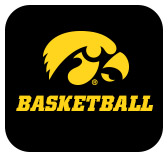 The Hawkeyes are a trendy preseason pick with seven players returning with starting experience from a team that went 20-11 overall and 11-9 in Big Ten play. Among the returnees is National Player of the Year and All-American Luka Garza. Garza was tabbed as the preseason Big Ten Player of the Year and a unanimous All-Big Ten selection on Monday.
Iowa also returns all-conference honorees Jordan Bohannon, Joe Weiskamp (who was also named to the 10-player preseason All-Big Ten team), and Connor McCaffery. CJ Fredrick, who was a All-Big Ten Freshman team honoree last year, Joe Toussaint, and Jack Nunge also have starting experience.
"We're much deeper, substantially deeper," said McCaffery. "We have veteran guys coming back who have produced at this level, but at the same time it won't change in terms of our ability to share the ball. It's a very unselfish group. We have a lot of guys that can score, a lot of guys who want to score, a lot of guys who can carry a team on any particular day.
"We have enough weapons offensively and we have enough depth to keep fresh bodies on the floor defensively. I think we have enough size and most importantly, we have enough 3-point shooters because you can't have enough of those, especially the way the game is being played today, and especially the way we play."
Fredrick shot 46.1 percent from 3-point range as a freshman, while Wieskamp connected at a 34.7 percent clip. Garza had a 35.8 percent clip from long range and don't forget about Bohannon. He enters his senior season with 273 career 3-point field goals, while shooting 40.3 percent.
With the world being in the midst of the Covid-19 global pandemic, fans will likely not be allowed in Carver-Hawkeye Arena and crowds will be limited in road venues.
"It's interesting because you have to just deal with whatever comes before you," said McCaffery. "We've been doing that now for months, and hopefully being a veteran group we'll be better capable of handling that."
On NPOY Garza
"I think you'll see a better player, just because he's worked that much harder since the season ended because he was in the gym, even though it was hard to find gyms. He found one and he would be in there by himself and when he could be in there with some others, he'd be in there. When he was on vacation, he was doing sprints on the beach. The guy is just relentless, and that's why he's great."
On Wiesy
"The thing about Joe, he's an incredibly hard worker and he's smart. What you're going to see now is a guy as a junior who started for two years, been a really good player, not only in our league but nationally, and he's just going to be better.
"He's stronger. He has really worked on his ball handling, his attacking the basket, his shooting. He's a great shooter, but he really works on it, so he's even shooting the ball better. He's just going to be an aggressive offensive player in his junior year, and now he's physically ready to be one of the elite players in the country."
The Frosh?
"The only guy that's a little bit behind right now is Josh (Ogundele), and that's not his fault. He had an interesting journey just to get here, so he's catching up. The other four guys were here in the beginning, and all four of them, the Murray twins (Keegan and Kris), Aaron (Ulis) and Tony (Perkins) have been tremendous. All those guys are ready to play. It's not going to be easy to find minutes for them if everybody else stays healthy, but we'll see where it ends up because we're going to need everybody at some point."
Temper Expectations? Nah…
"I think it's important that when you have older guys that have proven that they can be successful at this level, and we have one, the challenge is can we win more. Can we win more against a tougher schedule? That's what competition is.
"I think it's foolish to kind of create any kind of guise that we're going to — we're not going to be as good, I have this guy hurt, I have that guy hurt, there's not going to be any crowd, it's going it be a weird year, the game might get canceled at the last minute. You know what, we're going to show up and play, and we're going to be ready to play whoever shows up to play against us, and if the game against canceled then we'll prepare to play the next game. It's going to be a goofy year. It is, but we have a good basketball team. We have good players and we have character on this team.
"At the end of the day, that's what they signed up for. You come to the Big Ten, you want to take on the big boys. We're scheduling the No. 1 ranked team in the country (Gonzaga) preseason, and we're going to play them on CBS. That's why you come to Iowa, because you want that competition, and you want that challenge.
"I think, like I said earlier, you embrace it and you enjoy it, you don't run from it."