By DARREN MILLER
hawkeyesports.com
IOWA CITY, Iowa — Only three NCAA Division I women's basketball teams shot higher than the University of Iowa's 48.5 percent from the field last season. Despite losing three starters, head coach Lisa Bluder expects that proficiency to continue in 2020-21.
"We talk about what is a good shot, what is a great shot, and boy, do we love to pass the ball," Bluder said Friday during a Big Ten Conference Preseason Zoom conference.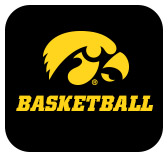 Because of time restrictions, Bluder was only able to answer three questions. It was plenty of time to touch on these topics:
1) Having limited or no fans in Carver-Hawkeye Arena will be a disadvantage to a program that has won 36 straight on its home Mediacom Court. Iowa was 10th in home attendance in 2019-20, averaging 7,102 for 15 games. The season before, Iowa was ninth, averaging 6,797 for 17 games.
"Our fans show up and they are vocal," Bluder said. "They know when to be vocal and when to bring that enthusiasm in our arena. It will be unfortunate playing without them this year because they have been a factor for us. They have contributed to our home court winning streak.
"We talk about what is a good shot, what is a great shot, and boy, do we love to pass the ball."

Lisa Bluder, Iowa head women's basketball coach
"We're going to have to learn as a young team to bring our own energy and to not count on (fans), but boy, I cannot wait until they are back in Carver."
2) The lack of a typical nonconference schedule does not benefit the Hawkeyes, who have nine letterwinners returning, but only two starters.
"We need those experiences, we need to be on the floor before we face the amazing talent that we are going to face in the Big Ten," Bluder said. "For veteran teams, it doesn't hurt them as much; for a young team such as ours, I think it is a detriment. I think you have to get out there and play, be put in those situations, build confidence and learn from your mistakes before you get into the competition of the Big Ten Conference."
3) Sounds like a broken record but the Big Ten Conference is once again loaded with elite teams and individuals. The Associated Press preseason poll ranks Maryland 12th, Indiana 16th, Northwestern 17th, Ohio State 20th, Michigan 25th and Rutgers receiving votes.
Last season Iowa was 23-7 overall, 14-4 in the Big Ten. The Hawkeyes were 13th in the final NCAA tournament seed reveal and in position for a top four seed in the NCAA Tournament before the season was canceled because of the coronavirus pandemic.
"I was disappointed we weren't able to represent our university with the team we had last year," Bluder said.
Junior center Monika Czinano was named preseason first-team All-Big Ten after averaging 16.0 points last season while shooting 67.9 percent from the field. Czinano was second in the NCAA in field goal percentage, making 201 of 296.
"I am so proud of her continued improvement this year," Bluder said.
Bluder said she is excited about this "talented, young" group that surrounds Czinano and the other returning starter, fifth-year senior guard Alexis Sevillian.
"We're very talented young, but we don't have the experience we need yet," Bluder said. "We'll get there, but we may have growing pains."
Because of the pandemic, there is no question that 2020-21 will be a unique season. Bluder is proud of the way her team is handling a not-so-normal college experience.
"They have not complained once about wearing a mask; they have not blinked," Bluder said. "It has been business as usual and I am proud of the way they have handled the situation. They are mission-focused and they come ready to go every day."