DES MOINES, Iowa – University of Iowa junior Aleksey Tarasenko won the 200-meter freestyle at the 2020 Toyota U.S. Open Championships on Nov. 13 at the YMCA of Greater Des Moines. Tarasenko was one of 10 Hawkeyes competing at the championships unattached.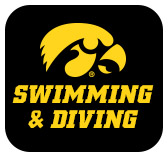 The 2020 U.S. Open took place from Nov. 12-14 across nine locations around the country.
Tarasenko, a native of Uzbekistan, Kazakhstan, won the 200 free with a time of 1:51.99. He also tallied a third-place finish in the 50-meter free in 22.89.
Sophomore Mallory Jump was runner-up in the 200-meter fly (1:00.85), while placing fifth in the 200-meter IM (2:18.91).
The Hawkeyes also got third-place showings from former Hawkeye Hannah Burvill (200 free, 2:03.82); sophomore Evan Holt (400 free, 4:05.60; 200 free, 1:55.04) and sophomore Will Myhre (100 breast, 1:03.45).
Sophomore Ryan Purdy placed fourth in the 100-meter back (56.86), while senior John Colin and junior Preston Planells were sixth (57.15) and ninth (58.86), respectively, in the same event.
Freshman Seth Miller placed ninth in the 100-meter butterfly (55.95) and 11th in the 50 free (23.50), while sophomore Kennedy Gilbertson was ninth in the 100-meter back (1:04.46) and 10th in the 50 free (26.97).
The Hawkeyes' 2020-21 schedule will be released when available.