By JAMES ALLAN
hawkeyesports.com
IOWA CITY, Iowa – Jordan Bohannon can finally be free again on the basketball court.
The last time the University of Iowa senior has been this healthy was during his final season at Linn Mar (Iowa) High School. It was a year when Bohannon led Class 4A with 593 points, averaging 25.8 points, en route to Iowa Gatorade Player of the Year honors.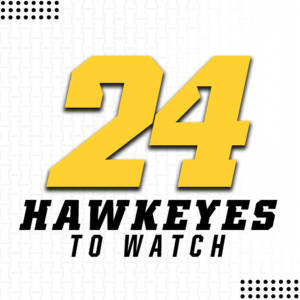 A lot has happened since.
Bohannon battled plantar fasciitis for parts of two seasons before his discomfort went to his hip. That led to a first surgery following the Hawkeyes' 2019 NCAA Tournament run; he played 10 games last season before shutting it down to undergo the same procedure on the other hip.
"It's one of the greatest feelings to have that feeling back in my body where I know every time I step on the floor I don't have to worry about my foot hurting or my hips bothering me when I am making a move or a cross over," said Bohannon.
"After this long road of rehab and recovery, it's nice to know that the hard work I have done to come back from two surgeries to get to this point has helped so much. I have had a lot of people that have helped me get through these tough two years."
Bohannon confidently says he is 100 percent. On top of that, he says his conditioning is back to where it should be.
"I was finally able to work out and I made a lot of changes in my nutrition this offseason," said Bohannon. "I cut around 15 pounds, trying to slim down. That has helped me mentally, knowing I am going to be in top physical shape heading into this year.
"My senior year of high school was the last time I felt as good as I do now. It's a great feeling and I am looking forward to seeing what I am able to do on the floor."
Iowa head coach Fran McCaffery sees a difference in a healthy Bohannon.
"I think he feels good to be able to go out there and compete the way he wants to compete without pain," said McCaffery. "Having the confidence to know that every time he drives to the basket and falls down, plays a lot of minutes, or fights through screens that he's not going to be in discomfort is huge."
Bohannon enters his fifth year with 1,310 points. In three-plus seasons, the sharp-shooter has broken Iowa's 3-point field goals record (with 284 makes) and he enters 2020-21 with the Big Ten record within reach.
"It's crazy to think about, the guys I looked up to growing up – Jeff Horner, Matt Gatens," said Bohannon of the record. "You go down the line and look at everyone I have passed. It's surreal to say I am at the top and knowing I am able to close the gap on the top 3-point leaders in the Big Ten as well. There have been so many great names that I have watched growing up."
Bohannon needs 90 3-point field goals to pass Ohio State's Jon Diebler for the all-time Big Ten record.
Bohannon has been more than a shooter in his career. Along with averaging 11.7 points per game, Bohannon has handed out 4.5 assists per game. That has put him in a position to surpass a who's who in Hawkeye history – Mike Gesell, B.J. Armstrong, Dean Oliver, Andre Woolridge, Jeff Horner — in the assist ledger in 2020-21.
Bohannon needs 108 assists to tie Horner (614 assists) for the top spot in Hawkeye history.
"I was telling coach McCaffery that I feel more comfortable breaking the assist record (this season) than the 3-point record knowing the guys I have around me," said Bohannon.
"I can feed Luka (Garza) inside, CJ (Fredrick) on the perimeter, and Wiesy (Joe Wieskamp) on the perimeter. We have all these guys that can shoot the ball and it's nice knowing I can load everyone up like I did my freshman year with Peter Jok. I have all these high assist games because we had good shooters around me."
"It has meant everything to me to set foot on the floor as an Iowa basketball player. I get goosebumps talking and thinking about the last four years and how surreal it has been."

Senior Jordan Bohannon
Bohannon was born in Iowa City in 1997 — 16 years after his father, Gordy, led the Iowa football team to the Rose Bowl as the starting quarterback. Bohannon grew up loving the Hawkeyes when he was staring at Linn Mar. When McCaffery extended a scholarship offer for Bohannon to officially become a Hawkeye, it was everything he wanted.
"It has been a dream come true in the most simplistic way I can say it," said Bohannon. "I grew up an Iowa fan, my dad was the quarterback at Iowa and was on the first team to change the tide around the Iowa football team and create a tradition.
"With me coming to Iowa and trying to do something at the same university was full circle for our family. It has meant everything to me to set foot on the floor as an Iowa basketball player. I get goosebumps talking and thinking about the last four years and how surreal it has been."
Bohannon has big aspirations for his final college basketball season. The Hawkeyes are the preseason darling, being ranked fifth by The Associated Press and sixth in the USA Today Coaches' Poll. The team returns seven players with starting experience, including consensus preseason All-American Luka Garza and Wieskamp, a preseason All-Big Ten selection.
The Hawkeyes have played in two postseasons during Bohannon's career — the National Invitation Tournament and one NCAA Tournament. Iowa was poised for a deep run last season before the coronavirus pandemic forced the cancellation of March Madness. This year, Bohannon has bigger goals.
"Something that my class — I am the last one that came in the class of 2016 — kept saying is we wanted to continue the legacy of the senior class before us," said Bohannon. "When they got highly ranked (as high as No. 3 nationally), we wanted to carry that tradition on and change the tide of the program for basketball at Iowa.
"That was our focus the last four years and we went through a lot of ups and downs, but a lot of it has to do with the team before us and the team before that and the team before that."
Bohannon has never shied from being vocal with his goals. This year, he has his sights set on a Final Four and a National Championship.
"It has always been national title and with the team we have this year, I know whole-heartedly, without a doubt, that there is the opportunity to get to that title game and win it all," said Bohannon. "We have everyone in the locker room locked in and ready to accomplish something that hasn't been done in a long time.
"I see us being the top team in the country and thinking every time we step foot on the floor, we should win."
A healthy Bohannon will be a big part of that equation.