By JAMES ALLAN
hawkeyesports.com
UNIVERSITY PARK, Pa. — It ended as a happy Hawkeye Saturday in Happy Valley.
The University of Iowa football team scored 28 unanswered points in the second and third quarters en route to a 41-21 win over Penn State on Saturday afternoon at Beaver Stadium. The victory is Iowa's third straight and it gives head coach Kirk Ferentz his 100th career Big Ten win.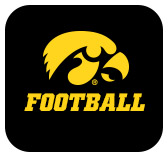 "Coach got the game ball and a standing ovation," said sophomore Spencer Petras.  "There is no one we'd rather play for. He's an outstanding coach and this is a great accomplishment and for it to come at an historic place like Penn State.  What an accomplishment."
The Hawkeyes out-gained Penn State, 361-342, in a balanced offensive attack. Iowa rushed for 175 yards on 46 attempts and all four offensive touchdowns came on the ground. Petras completed 18-of-28 attempts for 186 yards.
Senior Mekhi Sargent notched his first 100-yard game of the season, rushing 15 times for 101 yards and two touchdowns. Sophomore Tyler Goodson had 78 yards on 20 carries and one score, and Petras scored via a quarterback sneak.
Petras spread his 18 completions to eight different receivers with Nico Ragaini leading the way with four catches for 46 yards.
Defensively, the Hawkeyes surrendered the 342 yards, but the unit created havoc. Iowa forced four turnovers and had five sacks and 10 different Hawkeyes combined for 10 tackles for loss. Defensive linemen Chauncey Golston and Daviyon Nixon had interceptions – Nixon returned his for a 71-yard touchdown – and Zach VanValkenburg had two fumble recoveries.
"My first mindset was to run through the quarterback, but I saw that the right tackle was close to me, so I was like I have to go score," said Nixon. "If I get the ball in my hands, my first thing is I want to put the ball in the end zone, so that's what I did."
Niemann had 17 tackles (six solo) and one tackle for loss – the most by a Hawkeye since Anthony Hitchens had 19 stops against Iowa State in 2012. Thirteen of Niemann's 17 tackles came in the first half.
"The defensive line played a big role in (my tackles)," said Niemann. "When you have guys up there doing their job, keeping the linemen off the linebackers, it's easy for us to make plays. I give a lot of credit for them."
Penn State's Sean Clifford finished 13-of-22 for 174 yards with two touchdowns and two interceptions. Will Levis – the starting quarterback – was 13-of-16 for 106 yards and he was also the Nittany Lions' leading rusher with 34 yards. Jahan Dotson had eight receptions for 139 yards and one touchdown.
QUOTING HEAD COACH KIRK FERENTZ
"This was a good team win for us. I am proud of our guys.  It has been awhile since we have won up here; I almost forgot how good it feels to come out of here with a victory. It's not easy, never is, and tonight was no different.
"It was a hard fought game and an important win for us to move forward. Our guys played tough out there, they showed up ready to go, played tough and made plays when we needed to and forced some errors.  That was good to see.
"We're doing a good job with our turnover takeaway margin — I am not happy with our turnover — but our defense is doing a good job with the takeaways and if you can score off that, that's good. Daviyon (Nixon) took care of that for us and the other ones we converted into touchdowns and they got a fourth down stop at midfield also, and we took the ball and scored on that.  That's good team football and I am happy to see our point production continue to be healthy.
"Bottom line, this was a good step for us. It wasn't smooth or easy in the second half, which is what you'd expect in a Big Ten contest, with a team that has the talent Penn State has.  Our guys fought through that and hopefully in the long run that will be a good experience for us.  It isn't quite the same as 2002, but similar in that way.  To experience adversity, the bumps, everyone kept playing and stuck together. Hopefully that's something that will pay off for us as we move on. That's the key thing.
"The players have every reason to enjoy the ride home and feel good about it."
HOW IT HAPPENED
The Hawkeyes went 55 yards over nine plays to set up their first scoring drive. Petras connected with Sam LaPorta and Brandon Smith for 16 and 11 yards on back-to-back completions into Penn State territory.  After a 25-yard Goodson run to the 24, the Nittany Lions' defense held, limiting Iowa to a 40-yard Keith Duncan field goal.
Penn State used a heavy dose of Levis running to take a 7-3 lead. The quarterback kept the ball seven times on the drive, gaining 44 yards before Keyvone Lee scored from 6-yards out to cap the 75-yard drive with 2:12 left in the first quarter.
Iowa answered with a six-play, 75-yard drive. Petras opened the series with back-to-back completions to Tyrone Tracy, Jr., and Shaun Beyer for 12 and 16 yards before turning it over to the running game.  Sargent ran for 28 yards to the Penn State 5 on the final play of the first quarter before Goodson found the end zone from 10 yards out (after an illegal formation penalty) to give the Hawkeyes a 10-7 lead.
The Hawkeyes force the game's first turnover midway through the second quarter. On third-and-1 from midfield, Levis fumbled a pitch to Lee on the option and VanValkenberg recovered in plus territory.

Iowa followed with an eight-play, 41-yard scoring drive to push the Hawkeye lead to 17-7.  Petras hit Ragaini for 26 yards to the 15 and LaPorta for 12 yards to the 1 before Sargent found the end zone to give Iowa a two-score lead.

Iowa's defense forced consecutive turnover on downs late in the second quarter and the Hawkeye offense made the Nittany Lions pay just before half.

Taking over at midfield, the Hawkeyes needed seven plays to cover 49 yards to make the score 24-7. Goodson started the series with an 8-yard rush before Petras has four consecutive completions – a 18-yarder to Smith-Marsette, 8 yards to Goodson, 7 to Ragaini, and 7 more to Smith-Marsette – to the 1.  Sargent then bulldozed his way into the end zone for his second touchdown of the game.

The Hawkeyes forced their second turnover on Penn State's first possession of the second half. On the first play of the drive, Dane Belton sacked Levis and stripped him in the process where VanValkenburg recovered at the Iowa 46.

Iowa needed 12 plays to cover the 54 yards to push its lead to 31-7. The Hawkeyes converted three third downs during the series, including a 3-yard touchdown run from Petras on a quarterback sneak.

Iowa committed its first turnover late in the third quarter when Petras fumbled a snap from Tyler Linderbaum and Nittany Lion Lamont Wade recovered and returned it 2 yards to the 28. On the first offensive play, Clifford connected with Brenton Strange for a 28-yard touchdown to make the score 31-13.
Three Sargent rushes for 12, 17, and 9 yards moved the Hawkeyes into Penn State territory on Iowa's next possession before the drive stalled at the Nittany Lion 32. The Hawkeyes came away empty when Duncan missed a 50-yard field goal.

Clifford provided Penn State with another quick strike, hitting Dotson for a 68-yard touchdown. The Nittany Lions converted the two-point conversion on a quick screen to Lee to cut the Iowa lead to 31-21 with seven seconds left in the third quarter.

After a Tory Taylor punt pinned Penn State at its own 10-yard line, the Hawkeye defense tallied its third interception. On second-and-9, Nixon batted a Clifford pass into the air and Golston snagged the interception, giving Iowa possession at the Penn State 23.

Petras hit Ragaini for nine yards to the 14 before three Goodson runs got Iowa to the 6. After Petras misfired on a quick pass to Ragaini, Duncan connected on a 24-yard field goal to give Iowa a 34-21 lead with 7:14 to play.

Iowa put an exclamation point on the victory with a defensive touchdown late in the fourth quarter. On second-and-10 from the Iowa 26, Nixon snagged a Clifford pass out of mid-air before using a Eurostep and turning on the jets to score a 71-yard touchdown to make the score 41-21 with 1:58 to play.
POSTGAME NOTES
Kirk Ferentz now has 100 Big Ten wins as Iowa's head coach, the fourth most of any coach in Big Ten Conference history. He joins Woody Hayes (153), Bo Schembechler (143) and Amos Alonzo Stagg (115) in the 100 Win Club.
INDIVIDUAL NOTES
Niemann had a career-high 17 tackles, the most by a Hawkeye since Anthony Hitchens had 19 tackles against Iowa State in 2012. He had 13 tackles in the first half. He is the third Hawkeye this season to register at least 13 tackles in a single game (Koerner 13 vs. Purdue; Benson 13 vs. Northwestern). The last time Iowa had three different players record at least 13 tackles in a single game in the same season was 2015 (Cole Fisher, Josey Jewell, Jordan Lomax).
VanValkenburg recovered two fumbles today. Iowa scored touchdowns on both possessions following the turnover. VanValkenburg has three fumble recoveries this season.
Golston recorded an interception in the fourth-quarter, his first of the season and the third of his career.
Nixon recorded his first career interception in the fourth quarter and returned it 71 yards for a touchdown. The 71 yard return ties for the 14th longest in program history.
Sargent rushed 15 times for 101 yards, his first 100-yard rushing game of the season and the third of his career.

Sargent had two 1-yard rushing touchdowns in the second quarter. It is his fifth career multi-touchdown game. He has six rushing touchdowns this season (1, 2, 6, 14, 1, 1), and five in the last three games. Sargent has 20 career touchdowns (19 rush, 1 receiving). He is the 17th player in program history to score 20 or more career touchdowns.

Duncan scored 11 points to raise his career total to 221, sixth most in program history.
Goodson had a 10-yard rushing touchdown in the second quarter. Goodson has started the last nine games at running back and has 10 rushing touchdowns during that stretch.
MISCELLANEOUS NOTES
Iowa had two interceptions in the game. The Hawkeyes have at least one interception in 12 straight games. They have 17 interceptions during that stretch. The last time Iowa had a stretch of at least 12 games with an interception was 2008, when the Hawkeyes intercepted a pass in each of the 13 games.
Iowa scored 24 points on four takeaways.
The Hawkeyes are averaging 33.0 points per game, their highest total since 2002 (36.5).
Iowa has held leads of at least 17 points in each of the last four games.
Iowa had a season-high 24 first downs.
Iowa has scored 30-plus points in three straight Big Ten Conference games for the first time since 2015 (5 games). Iowa had four rushing touchdowns in each of the last three games.
Today was the third time in 30 series meetings Iowa scored 30 or more points (42 in 1983 and 42 in 2002).
Kirk Ferentz won his 165th game as a member of the Big Ten Conference. Ferentz is one of five coaches in Big Ten Conference history to win at least 150 games as a member of the Big Ten Conference. The top five includes Woody Hayes (202), Amos Alonzo Stagg (199), Bo Schembechler (194), Kirk Ferentz (165) and Joe Paterno (162).
UP NEXT
The Hawkeyes return to action Nov. 27, hosting Nebraska in the Heroes Game at noon (CT) inside Kinnick Stadium.