By DARREN MILLER
hawkeyesports.com
IOWA CITY, Iowa — Saturday marks the 76th meeting between the universities of Illinois and Iowa in football, a back-and-forth series since Iowa won the opener, 58-0, in 1899.
The game played 95 years ago — on Oct. 17, 1925 — is remembered for being a stunning Hawkeye win, compliments of pregame motivation from an Iowa letterwinner who was not in attendance.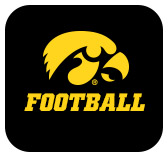 His name was Ledrue Galloway and he was Black, which has a lot to do with why he came to Iowa City. Because of the accomplishments of lineman Duke Slater at Iowa from 1918-21, other Black football players showed interest in becoming Hawkeyes.
"Kudos to Iowa," said John A. Schmidt of Alexandria, Minnesota. "I root for the black and gold when they play Illinois because of that (1925) game. I did research on the University of Iowa and how open it was in the 20s to accepting Black student-athletes. In the rest of the country, it was not good in the 20s for racial justice."
Schmidt's grandfather, John "Pop" Schmidt coached Galloway at Omaha (Nebraska) Central High School. In those days, there was a pipeline of athletic talent that trickled to the University of Nebraska from Omaha Central, but since a couple teams on Nebraska's schedule would not compete against Black student-athletes, Galloway attended Iowa to play under coach Howard Jones.
"There will be 12 Iowa men on the field to beat Illinois. I am with you."

Ledrue Galloway, Iowa football letterwinner
Galloway graduated from Omaha Central in 1923 and was a member of Iowa's freshman team that fall. Burt Ingwersen replaced Jones as Iowa's coach in 1924 and Galloway was on varsity when the Hawkeyes finished 6-1-1. The only loss was to Illinois, 36-0.
In the fall of 1925, Galloway left school after he contracted tuberculous, an infectious disease that attacks the lungs.
Even without Galloway, Iowa won its first two games in 1925 — 26-0 over Arkansas and 41-0 over St. Louis. The third game was Homecoming against Illinois, and the Illini featured senior Red Grange, the Big Ten Most Valuable Player the previous season.
While recuperating in Arizona days prior to the 1925 Illinois game, Galloway sent his teammates a telegram. It read, "There will be 12 Iowa men on the field to beat Illinois. I am with you."
Grange, a three-time All-American, returned the opening kickoff 89 yards for a touchdown. But Iowa buckled down and prevailed, 12-10.
This is from the University of Iowa News Service:
"Illinois had Grange. The redhead ran back the opening kickoff 80 yards for a touchdown and later in the game the Illinois team was ahead, 10 to 6. Then Nick Kutsch broke through for a long run to the 1-yard line, where he was brought down by Grange. On the next play he smashed over the winning touchdown."
Galloway, who lettered in 1924, passed away from tuberculosis in California on Sept. 8, 1926.
"There was never a harder worker than 'Lee,'" said John "Pop" Schmidt in 1926. "He always worked for cooperation with the players and he always was an obliging player. His actions on the field were most sportsmanlike and his conversation with either opponents or teammates was unquestionable."
In 1922, a 12th Man tradition unknowingly spawned at Texas A&M. But the University of Iowa had a 12th Man as well — he was Ledrue Galloway, a courageous Hawkeye whose spirit — and motivational words — willed Iowa to victory 95 years ago.