By JAMES ALLAN
hawkeyesports.com
IOWA CITY, Iowa – Shaun Beyer isn't ready to compare himself to Cleveland Browns star wide receiver Odell Beckham, Jr., but that doesn't make Beyer's first quarter catch in the Heroes Game victory over Nebraska any less spectacular.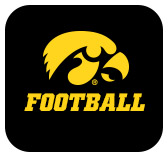 On the second offensive play of the 26-20 Hawkeye victory, Iowa quarterback Spencer Petras checked Beyer's route at the line of scrimmage before putting the football where only Beyer could catch it in the seam.
Beyer, a senior tight end from Shellsburg, Iowa, then turned his body toward Petras mid-route and extended his right hand in the air to haul in the 22-yard completion. Beyer got up and emphatically signaled for a first down before Iowa went on to take a 3-0 lead courtesy of Keith Duncan's 32-yard field goal.
"I ended up making a good play on it," said Beyer. "You never plan on getting a one-handed catch, it just happens. You focus on trying to catch the ball with two hands. In the instance where you can't get two hands on it, you throw one up and hopefully come down with it.
"I got lucky last week. Hopefully I can catch the ball with two hands from now on. It was nice to send up a prayer and come down with it."
Beyer and sophomore Sam LaPorta have given the Hawkeyes a strong one-two punch at the tight end position this season. LaPorta has a team-high 22 receptions for 203 yards, while Beyer has nine grabs for 121 yards.
Beyer is rated as the fourth-highest graded tight end in the nation by Pro Football Focus with a grade of 88.5 through six games.
"I came here to play at a high level," said Beyer. "It has been a blast this year and I want to continue on the path that I am on. I am trying to continue to improve every day whether that is out on the field or watching film and trying to get down the little things that are going to help me improve as a player."
When Beyer joined the Iowa tight end room as a freshman, he had a who's who of tight ends to watch and learn from. There was George Kittle, T.J. Hockenson, Noah Fant, and Nate Wieting – all who are on current NFL rosters or a member of an NFL practice squad.
"Coming in as an athlete and not knowing what they were going to do with me, having those guys ahead of me helped a lot," said Beyer. "Watching George handling guys in the blocking game and in blocking drills, that impressed me and that's what I keyed in on with him.
"Sitting behind T.J. and Noah, those guys got after it in both aspects of the game in passing and blocking. Watching film on all those guys and sitting in the shadows and keying in on what they were doing and learning from them helped me a lot."
After starting the season with consecutive losses, the Hawkeyes rolled through November with a 4-0 record. The offense has come alive, outscoring the opposition, 151-55, during the stretch. Iowa averaged 37.8 points per game during the four-game winning streak and have a 31.8 average for the season.
The Hawkeyes will look to continue the streak Saturday at Illinois. The game will kickoff from Memorial Stadium at 2:30 p.m. (CT) and it will be televised on FS1.
"We try to take it week to week," said Beyer. "We want to win the week and win the day."