By SHANE STURTZ
hawkeyesports.com
DES MOINES, Iowa – The University of Iowa women's basketball team erased an 11-point, third-quarter deficit and raced their way to a 103-97 comeback victory over the Drake Bulldogs Wednesday night at Knapp Center.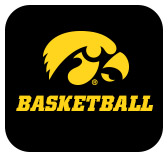 Freshman Caitlin Clark put on a show, recording her first career double-double, besting her season debut with 30 points (12-19 FG), 13 assists, four steals, three rebounds, and one block. Junior Monika Czinano poured in a career-high 27 points (11-13 FG), including 13 fourth-quarter points, and sophomore McKenna Warnock scored 20 points and grabbed eight rebounds.
The trio combined for 77 of Iowa's 103 points, but it was Gabbie Marshall's defense who sparked the comeback and defensive uptick. The sophomore stole an inbound pass after a Czinano layup for a quick two points, followed by another steal and coast-to-coast layup.
"We needed a spark," Marshall said. "I thought I could bring that defensively. That's what we needed being down seven."
Marshall's two steals spurred an 8-0 run that gave Iowa a 77-76 lead with 6:51 left to play – its first since leading 8-7 early in the first quarter.
The Hawkeyes trailed by couple possessions throughout most of the game as an experienced Drake team shared the ball well, assisting on 27 of its 38 made baskets, while draining 14 three-pointers.
But Clark's 22 first-half points kept Iowa in the game, and Iowa started to click on both ends of the floor in the fourth quarter.
The Hawkeyes funneled the ball into Czinano in the post every possession they could in the fourth, got stops and forced turnovers when they needed to on defense, and outscored Drake 38-29 in the final frame.
Iowa's comeback effort extends its series winning streak to five games against Drake.
CLARK BACK HOME
The reigning Co-Big Ten Freshman of the Week one upped her season debut with a smooth 30-and-13 double-double, and it was extra special for the West Des Moines, Iowa, native with 13 close friends and family in the stands.
Clark's 30 points were scored at all three levels, but her five fourth-quarter assists and 13 total meant more in the close contest.
"The 13 assists, for sure," Clark said when asked if the scoring or dishing meant more. "Most of those came in the second half and got us going."
Clark got shutout in the fourth quarter, but still scored or assisted on 56 of Iowa's 103 points.
HEAR FROM COACH BLUDER
"To be able to battle back on the road with a young team is pretty special. It started on the defensive end. All of a sudden you're in the game. That's what you have to do against a team like Drake. It says a lot about our leadership to battle back like that."
OF NOTE
Iowa's 103 points and the 200 total points scored in the game were a series record.
Redshirt senior Alexis Sevillian knocked down two-of-three free throws and a corner three in the final seconds to seal the game away and junior Logan Cook scored four clutch points down the stretch.
Junior Tomi Taiwo drained three free throws in her season debut off the bench.
UP NEXT
Iowa opens Big Ten play Saturday at home against Wisconsin. Tip-off is set for 2 p.m. (CT) inside Carver-Hawkeye Arena.