By DARREN MILLER
hawkeyesports.com
DES MOINES, Iowa — Trailing most of the night and by as many as 11 points in the second half, Game 2 and Victory 2 for the University of Iowa women's basketball team was of the comeback variety.
The Hawkeyes hopped on a bus for the first time and rallied for a 103-97 win Wednesday at Drake. As Iowa head coach Lisa Bluder said, "there were some pretty special things out there…there were so many good pieces to the puzzle."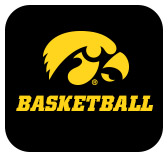 Like a combined 57 points (on 72 percent shooting from the field) from Caitlin Clark and Monika Czinano. Or amazing fourth-quarter defense from Gabbie Marshall. And there was reliable McKenna Warnock, who a week after posting her first collegiate double-double, scored 20 points with eight rebounds.
"To be able to battle back on the road with a young team is pretty special," Bluder said.
In the final 10 minutes Warnock outscored everyone on the court with 15 points, making a 3-pointer and 8 of 10 free throws; she also drew five fouls.
"McKenna Warnock did a great job getting to the free throw line," Bluder said.
"To be able to battle back on the road with a young team is pretty special."

Lisa Bluder, Iowa head women's basketball coach
In their second outing, the young Hawkeyes enjoyed another growth spurt. Don't lose sight of the fact Iowa starts a junior, three sophomores and a freshman. Warnock is one of the super sophs.
A season ago, she made three starts in 30 games, averaging eight points, 4.5 rebounds and 1.7 assists. That was good enough to earn a spot on the Big Ten Conference All-Freshman team, but it was a mere precursor of what was to come. Last week against Northern Iowa, Warnock scored 14 points with grabbed 13 rebounds (five offensive). She handed out six assists.
Pretty much every day since the Hawkeyes' 2019-20 season was cut short in mid-March because of the coronavirus pandemic, Warnock received a message from the coaching staff.
"They told me I had to be a spark," Warnock said. "Every practice they told us to get after it."
So far, so good. In 31 minutes on the floor of the Knapp Center, Warnock shot 5 of 12 from the field, 2 of 3 from distance, 8 of 10 from the line with eight rebounds (two offensive). What won't excite her is finishing a game with zero assists. For Warnock, it's more about rebounds and assists than points.
"Especially since we lost Amanda (Ollinger) and some of our really good offensive and defensive players from last year who could rebound well," Warnock said. "That is something we are lacking a little bit this year, so I was told in practice over and over again I had to be one of those sparks. That was a focal point."
On Wednesday, Iowa trailed by seven points (76-69) with less than nine minutes to play. In the final 35 seconds, Warnock made 5 of 6 free throws, drew three fouls and pulled down a rebound.
"She battled today for us and I'm really proud of her efforts," Bluder said.
As a sophomore, Warnock feels calmer and more comfortable than a year ago. It helps in stressful situations, like Iowa faced in Wednesday's road test.
"I can be there to calm some of the young players or anyone who might be frustrated on the floor," Warnock said. "Everyone needs that at some point."
Wise words from someone who has played just 32 college games.
Next up is the Big Ten opener Saturday against Wisconsin on Mediacom Court inside Carver-Hawkeye Arena. Warnock is from Marshall, Wisconsin.
"I know McKenna is so excited about playing Wisconsin again," Bluder said. "Her hometown team, she grew up right outside Madison."
Preparation for league play has been faster and more intense because of limited nonconference games. Warnock and her teammates know there is no time to waste and they take every practice seriously.
"We need to be ready," she said.
If the first two games of 2020-21 are any indication, that won't be an issue for Warnock.