By SHANE STURTZ
hawkeyesports.com
IOWA CITY, Iowa — The University of Iowa women's basketball team won its Big Ten opener in an 85-78 victory over Wisconsin on Saturday afternoon on Mediacom Court inside Carver-Hawkeye Arena to improve to 3-0 on the season.
"The bottom line is that we started 1-0 in the Big Ten," head coach Lisa Bluder said. "Every win is important and maintaining that home court advantage is important."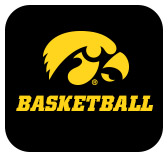 Iowa's home winning streak is extended to 38 games — the second longest streak in the country.
Turnovers and three-point field goals were the difference maker in a game that will serve as a stepping stone for the rest of the Big Ten season.
The Hawkeyes scored 23 points off 17 Wisconsin miscues, while Iowa committed only eight turnovers and assisted on 22 of 34 made field goals.
Offensively, Iowa used a balanced attack with four Hawkeyes reaching double figures.
Sophomores Gabbie Marshall (15 points; 6-10 FG) and McKenna Warnock (12 points; 5-9 FG), and junior Monika Czinano (18 points; 9-14 FG) were efficient from the floor. Czinano was one rebound shy of her first double-double of the season.
Iowa made 11-of-28 field goals from behind the arc compared to Wisconsin's 4-of-20 shooting from three-point land. The Badgers were 1-of-17 before sinking their final three treys, but it was too little too late.
After a sloppy second quarter for Iowa, the Hawkeyes held a five-point advantage at halftime, leading 40-35. Iowa separated itself with a 13-2 run to start the fourth quarter to lead 74-55  with 5:49 left to play.
Freshman Caitlin Clark put the finishing touches on the win, scoring seven of Iowa's last 10 points. An off night for Clark, the point guard finished with a team-high 23 points (8-23 FG), five rebounds, and five assists to record her third straight game with 20 or more points.
3-POINT BARRAGE
Six Hawkeyes combined to make 11 3-pointers to tie a season high (UNI). Sophomore Gabbie Marshall (3-for-5) and Clark (3-for-10) each drained three, followed by Warnock's (2-for-4) two 3-point field goals. Redshirt sophomore Kate Martin, redshirt senior Alexis Sevillian, and freshman Lauren Jensen all added to the 3-point barrage.
HEAR FROM COACH BLUDER
"This year, there are no gimmes on your schedule. Every game is important. Every game we've played has been highly emotional. We played two in-state rivals and a Big Ten game. These are games that they identify it's easier for them to get ready for those."
OF NOTE
Iowa extends its winning streak to 23 games against Wisconsin, dating back to the 2006-07 season.
Marshall set season highs for points (15), assists (3) and tied her season-high steals (3).
Martin recorded career highs in steals (3) and assists (6), Czinano tied her career-best steals (2), and freshman Sharon Goodman tied her career-best in rebounds (5).
UP NEXT
Iowa faces Iowa State on Dec. 9 at 6:30 p.m. (CT) in the Iowa Corn Cy-Hawk Game inside Carver-Hawkeye Arena.