By JAMES ALLAN
hawkeyesports.com
CHAMPAIGN, Ill. – It's not how you start, it's how you finish.
The 19th-ranked University of Iowa football team scored 35 straight points, rallying from a 14-0 second-quarter deficit to down Illinois, 35-21, on Saturday afternoon at Memorial Stadium. It is the Hawkeyes' fifth straight win this season and the seventh consecutive victory over the Illini.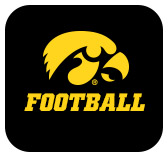 It is the first time Iowa has rallied from a 14-point deficit in a win since 2013 in a 24-21 victory over Michigan. It is the first time the Hawkeyes have accomplished the feat on the road since 2007 at Northwestern.
The Hawkeyes' defense gave up 148 yards and two touchdowns on the Illini's first three possessions before buckling down. Iowa forced three consecutive three-and-outs (and didn't allow another yard) in the first half and it forced six straight punts in the second and third quarters.
Illinois gained 348 total yards for the game with 205 coming over the final three quarters. The Illini had 138 yards over their final two drives.
After a slow start, sophomore Spencer Petras had his best game as a Hawkeye. He finished 18-of-28 for 220 yards and a career-high three touchdowns and he guided the Iowa offense to 424 total yards.
"It was a slow start, we all felt it, I felt it, missing some throws," said Petras. "It started with the run game, we were able to run the ball well.  That one series we started going and the rest offensively, we were good from there on.  I need to get into a rhythm faster and get it going."
Petras spread the ball to six different receivers with three having four or more catches. Senior Brandon Smith made five receptions for 58 yards, while Sam LaPorta and Ihmir Smith-Marsette had four receptions for 57 and 32 yards, respectively. LaPorta, Smith-Marsette, and senior Shaun Beyer had touchdown receptions.
Iowa's rushing attack churned out 204 yards, helping the Hawkeyes pick up 22 first downs. Sophomore Tyler Goodson had 19 rushes for 92 yards and senior Mekhi Sargent carried the ball 10 times for 54 yards. The wide receivers combined for 65 yards on three carries and a touchdown on jet-sweep action.
Seniors Nick Niemann and Chauncey Golston had eight tackles apiece to lead the defense and Golston had half a sack and half a tackle for loss. Iowa finished with four tackles for loss in the game, including 1 1/2 from junior Daviyon Nixon, who entered the game leading the Big Ten with 11 1/2 tackles for loss.
Brandon Peters completed 10-of-18 passes for 116 yards and two touchdowns before being replaced by Isaiah Williams in the fourth quarter. Williams was 7-of-16 for 83 yards and one touchdown. Chase Brown led the Illini rushing attack with 83 yards on 18 attempts, while Josh Imatorbhebhe had four receptions for 48 yards and one touchdown.
Quoting Head Coach Kirk Ferentz
"How you start is not as important as how you finish. I am proud of our guys for how they handled today's game and the adversity we faced in the first 17, 20 minutes.  It was rough there for awhile.  We knew coming in road games are tough and Illinois has been playing good football, two straight wins, and looked good last time out, so we had a lot of respect for them.  It's great to leave here with a victory, our fifth straight victory and Big Ten win.
"We knew it was going to be hard and a challenge, but we tried to encourage our guys going back five weeks to take it one step at a time. Let's not get over our skis, let's try to focus on what's in front of us and see what we can do. I am proud of the way our guys have worked and responded out on the field. I think they're having fun playing and we're thankful to get the win today. It makes the ride home easier."
How It Happened
Illinois drove down the field on its first drive of the game, moving 70 yards over nine plays to take a 7-0 lead. The Illini completed all three third downs on the series – an 18-yard pitch-and-catch from Peters to Brown to move Illinois into Iowa territory, a 13-yard designed Peters run to the 25 and a 24-yard touchdown pass to Daniel Barker.
The Illini pushed their lead to 14-0 with an eight play, 75-yard touchdown drive early in the second quarter. After taking over at their own 25, Reggie Love III had three rushes for 22 yards into Iowa territory.  Peters closed out the drive with consecutive completions to Imatorbhebhe, including a 12-yard touchdown pass on a play that initially ruled out-of-bounds.
The Hawkeyes took advantage of strong field position, starting at their own 48, and went 52 yards over eight plays to find the end zone for the first time. Iowa converted a fourth-and-3 from the Illinois 33 with an 11-yard completion from Petras to Smith-Marsette. On the next play, he found LaPorta in the seam for a 22-yard touchdown to make the score 14-7.
Iowa turned another strong starting field position into a six-play, 32-yard scoring drive. After taking over at its own 46, Petras connected with Smith for a 13-yard competition before Goodson had two runs for 18 yards to the Illini 23.  After Illinois stopped a Sargent rush on third-and-4, Keith Duncan hit a 40-yard field goal to cut the Illini lead to 14-10.
Iowa's defense forced its third straight three-and-out and the offense turned it into points just before halftime. Petras had two 20+ yard completions on the series – a 24-yarder to LaPorta to the 22 and a 21-yarder to Shaun Beyer to the 4.  After three straight incompletions, Duncan hit a 27-yard field goal with 14 seconds left to make the score 14-13.
The Hawkeyes scored for their fourth straight possession on their first drive of the second half, covering 70 yards over nine plays. Goodson ran for 22 yards on the series and the big play was a 19-yard completion to Smith-Marsette to the 20.  Iowa found the end zone three plays later on a 4-yard touchdown pass to Smith-Marsette and Iowa converted the two-point conversion with a pass to Goodson to take a 21-14 lead.
Iowa pushed its lead to 28-14 with a two-play, 32-yard touchdown drive. Junior Charlie Jones' 18-yard punt return jumpstarted the drive before Goodson had a 16-yard burst on first down.  On the next play, Petras hit Beyer for a 16-yard touchdown pass – his third touchdown pass of the day — with 12:40 remaining.
After Illinois turned it over on downs in the red zone, the Hawkeyes grounded and pounded their way to their fourth touchdown, a 10-play, 88-yard drive that lasted more than 5 1/2 minutes. Smith Marsette had a 31-yard gain on a jet sweep into Illinois territory and Tracy, Jr., had a jet sweep for 21 yards into the red zone. Three runs later, Smith-Marsette found the end zone on jet sweep from 13 yards out, diving and hitting the pylon for the score to give Iowa a 35-14 lead.
Illinois drove for a touchdown on its final series against the Hawkeye reserves. Williams had an 18-yard completion to Dalevon Campbell on fourth-and-10 and on the next play, he hit Carlos Sandy for a 29-yard touchdown with 24 seconds left.
Game Notes
Iowa extended its winning streak to five games. Iowa has won five straight in the same season for the first time since 2015, when it opened the season 12-0. Iowa has outscored its last five opponents, 186-76, averaging 37.2 points per game during the winning streak.
The win was Iowa's seventh straight against Illinois.
Iowa trailed Illinois, 14-0, in the second quarter. The last time Iowa won a game in which it trailed by at least 14 points was Nov. 23, 2013. The Hawkeyes trailed Michigan 21-7 in the second quarter, and scored the final 17 points of the game to win, 24-21. The Hawkeyes scored on four straight possessions after trailing 14-0 (TD, FG, FG, TD).
Individual Notes
Spencer Petras threw a career-high three touchdowns (24 yards to Sam LaPorta, 4 yards to Ihmir Smith-Marsette, 16 yards to Shaun Beyer).
Ihmir Smith-Marsette's 9-yard reception in the first quarter was the 100th reception of his career. His is the 24th player in program history to have 100 or more receptions. Smith-Marsette had two touchdowns today, a 4-yard reception and a 13-yard rush.
Sam LaPorta scored his first career touchdown, a 22-yard reception from Petras.
Shaun Beyer scored his first career touchdown, a 16-yard reception from Petras.
Brandon Smith had a season high five receptions and a season-high 58 yards. His 7-yard reception in the third quarter put him over 1,000 career receiving yards. He is the 43rd player in program history to reach 1,000 career receiving yards. Smith has 88 career receptions for 1,016 yards.
Matt Hankins had three tackles today, including two solo stops. He has 161 career tackles (100 solo).
Chauncy Golston matched a career high with eight tackles.
Daviyon Nixon had 1.5 tackles for loss. He entered the game leading the Big Ten with 11.5 TFL.
Keith Duncan connected on a 40-yard field goal in the second quarter. It was his 19th career field of 40 yards or more, tying Nate Kaeding for the most in school history. Duncan's 27-yard field goal in the second quarter was No. 50 of his career. Duncan has 50 career field goals, fifth all-time.
Miscellaneous Notes
Iowa has played 21 straight games without surrendering 25 points, the longest streak in the nation among Power 5 teams.
Up Next
The Hawkeyes host Wisconsin on Saturday, Dec. 12 at Kinnick Stadium. Kick time and TV information has not been announced.