By DARREN MILLER
hawkeyesports.com
CHAMPAIGN, Ill. — The seed was planted, the cement poured in 1999 when Kirk Ferentz began his tenure as head coach of the University of Iowa football program. Among the many lessons Ferentz learned from his father was this: if you can play defense, you can be competitive.
"If I could pick one thing we were trying to stay consistent, it starts with defense," Ferentz said Saturday after another victory and another defensive gem. "From Day 1 we wanted to build a good defense here. Norm (Parker) was the architect behind that, not unlike Bill Brashier on coach (Hayden) Fry's defenses going back 40-plus years ago. Then I can't say enough about the job (defensive coordinator) Phil (Parker) has done since Norm retired."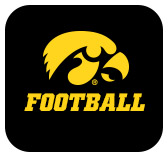 After a spotless November, No. 19 Iowa opened the month of December with an impressive 35-21 win at Illinois. It is Iowa's fifth win in a row and it has been five seasons since it has been on such a prosperous path. You remember 2015, it concluded with the Hawkeyes in the Big Ten Championship game and Rose Bowl.
When a seventh consecutive win over the Illini looked in doubt early, Iowa searched for and found tight ends Sam LaPorta for its first touchdown and Shaun Beyer for a score that extended the margin to a two-possession game. An equally important reason the Hawkeyes were able to climb out of a 14-0 hole — on the road — was its mean, feisty and stingy defense.
"If I could pick one thing we were trying to stay consistent, it starts with defense. From Day 1 we wanted to build a good defense here."

Kirk Ferentz, Iowa head football caoch
"We settled down and played well," Ferentz said. "The defensive coaches made good adjustments and the players responded. Ultimately it's about the players making plays on the field."
The first three Illinois offensive drives resulted in 148 yards and 14 points. Drives four through eight? Zero points and 110 yards, with 63 of those coming on a 15-play series that resulted in a turnover on downs. Iowa has played 21 straight games without surrendering 25 points, the longest streak in the nation among Power 5 teams.
"After that second scoring drive, we had a lot of three-and-outs in that first half and came out in the second half ready to go, too," Ferentz said.
Five of Illinois' seven drives in the first 30 minutes were three plays or less. In the 43-plus minutes between Illini scores, Iowa tacked on 366 yards and 35 points.
"How we play offensively affects our defense, too," Ferentz said.
The 25-points-or-less streak appeared in jeopardy when Illinois scored twice in the first 16-minutes, 30-seconds. It was nearly a mirror image to the way Iowa started the game. Iowa's first four drives produced 45 yards and no points. Then it was touchdown, field goal, field goal, touchdown, punt (you have to let Tory Taylor show his mastery once in a while), touchdown, touchdown, game over.
Thirteen Hawkeyes were in on at least three tackles. Linebacker Nick Niemann and defensive lineman Chauncey Golston led the way with eight apiece. Defensive lineman Zach Van Valkenburg had two tackles for loss.
"How you start isn't as important as how you finish," Ferentz said. "I'm proud of our guys with the way they handled the game and the adversity we faced the first 17-20 minutes, whatever it might have been. It was rough there for a while."