By JAMES ALLAN
hawkeyesports.com
IOWA CITY, Iowa – The Hawkeyes were raining 3-pointers Tuesday night on Mediacom Court.
The third-ranked University of Iowa men's basketball team drained 17 3-pointers in a 93-80 victory over No. 16 North Carolina in the ACC/Big Ten Challenge contest inside Carver-Hawkeye Arena.   The win moves Iowa to 4-0 this season.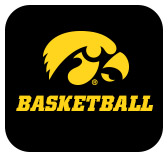 All 17 Iowa 3s came from three Hawkeyes and the total is the most all-time in ACC/B1G Challenge history. The 17 triples are also tied for the third-most all-time against North Carolina.
"When you give open shots to our shooters, we have some of the best shooters in the country," said senior All-American Luka Garza. "Jordan Bohannon, CJ Fredrick, Joe Wieskamp… those guys are going to kill you and they did tonight."
Bohannon made seven 3s (and eight field goals) en route to a team-high 24 points to go along with six assists. Fredrick scored 16 points in the first half and finished with 21 points with five 3-pointers, while Wieskamp scored 19 on 7-of-12 shooting – 5-of-7 from long range – to go along with nine rebounds and five assists.
Garza posted his 24th career double-double, finishing with 16 points and 14 rebounds.
The Hawkeyes led 43-31 at half before North Carolina upped its energy to start half two. The Tar Heels scored eight quick points – all on point blank looks – over the first 90 seconds to cut the lead to seven to force an Iowa timeout.
North Carolina kept chipping away, closing the gap to three (first at the 16:04 mark), one (55-54) at the 13:22 mark before taking its first lead with 9:52 left.
"We are an experienced team and we know what we need to do to get things done and win games," said Bohannon. "We have a lot of experienced guys and veterans. We knew they would make a run, it was nothing we were shocked about."
Trailing by one with 9:30 left, Iowa reeled off 14 straight — sophomore Joe Toussaint had driving layup, freshman Keegan Murray had a put back and one and Wieskamp and Bohannon nailed 3s to push the lead to 81-68 with 6:57 left.
Iowa stormed out of the gates, hitting seven of its first nine 3-pointers to jump out to a 25-9 lead a little more than seven minutes in. The Hawkeyes doubled up the Tar Heels at 30-15 courtesy of a Fredrick jumper at the 8:20 mark.
North Carolina cut the first-half deficit to eight points before Fredrick hit a 3-pointer at the buzzer to give Iowa a 43-31 lead.
The Hawkeyes posted a higher field goal percentage (42.9 to 40.6) and made 11 more 3-pointers than the Tar Heels. Iowa assisted on 22 of 34 field goals and forced North Carolina into committing 18 turnovers.
Five Tar Heels reached double figures with Garrison Brooks leading the way with 17 points.
QUOTING HEAD COACH FRAN MCCAFFERY
"We performed like I hoped and expected. We have a veteran club and we were playing a good team. You know they're going to make a run; they always do.  We didn't wilt, we made some mistakes, but we stayed together in that stretch where they took the lead.
"We were getting good shots, they were rolling off, missed a couple of free throws, but we stayed the course and got consecutive stops and got hot again.  It comes back to our ball movement and maturity.  We have a team when you're playing a team like North Carolina, there was no panic on the bench or anyone on the floor."
THIS WAS AN OFF NIGHT?
Bohannon was big shot JBO that the Hawkeyes are accustomed to seeing.  The senior guard entered the game with three 3-point field goals this season.  He made seven Tuesday, while taking a career-high 16 attempts.
"I didn't think I shot the ball well, I just hit some pretty big shots," said Bohannon.  "I still think I had an off day shooting to be honest with you."
X-FACTOR
Freshman Keegan Murray was on the floor for 6 1/2 minutes, but they were big, productive minutes. The Cedar Rapids, Iowa native, finished with three points on a put back and an one and he had a steal and block.
"He's one of the X-Factor guys that we need to have to be great this year," said Bohannon. "We have guys that know their roles and are OK with playing sparing minutes.  When they're out there, they're going to give 110 percent. That offensive rebound, put back for an and one was a big momentum shift in the game.
"We have a lot of guys that know their roles and are willing to sacrifice a lot to get to the end goal of winning a game."
LUKA – CRAZY T
North Carolina head coach Roy Williams compared Garza to Tar Heel great Tyler Hanbrough in his postgame news conference.  That's high praise for Garza.  Playing for Williams, Hansbrough was an ACC Rookie of the Year, ACC Player of the Year, and he swept the National Player of the Year Awards in 2008 before leading UNC to a national title as a senior in 2009.
"That means the world to me," said Garza. "When I was growing up UNC was my dream school.  Tyler Hansbrough was a guy I watched every day after school and I loved to see him play.  That means the world to me coming from him and it means the world to me to play against North Carolina and get a win. I am so proud of our guys."
OF NOTE
• All-American Luka Garza recorded his 24th career double-double, totaling 16 points, 14 rebounds, and four blocks. Garza's totals tonight moved him past Ronnie Lester for seventh all-time in Iowa scoring.
• CJ Fredrick netted a season-high 21 points, 16 of which came in the first half. He equaled a personal best with five 3-pointers.
• Iowa made a season-high 17 3-pointers tonight, starting the contest making seven of its first nine attempts. The 17 3-pointers tie the most by a team in the history of the 21-year ACC/Big Ten Challenge event (16 by Virginia versus Northwestern in 2007).
• Iowa has won its last four ACC/Big Ten Challenge home games: Notre Dame (2013), Florida State (2015), Pitt (2018), and North Carolina. The Hawkeyes have won six of its last eight Challenge games, including two victories over the Tar Heels.
• Jordan Bohannon tallied a season-high 24 points tonight to move into Iowa's top 20 in career scoring passing James Moses. The senior drained a season-best seven triples, which ties for the second most by an individual player in any ACC/Big Ten Challenge contest.
• Iowa opened its season with 93+ points in each of its first four games for the first time since 1997-98.
• Iowa won its seventh straight home game against a ranked opponent, the longest such streak in program history during the AP Poll era (since 1948-49).
• Iowa has won 16 of its last 17 games inside Carver-Hawkeye Arena, dating back to last season.
UP NEXT
Iowa returns to action Friday against instate rival Iowa State (1-1) in the Iowa Corn Game. Tipoff is set for 8 p.m. (CT) on Mediacom Court at Carver-Hawkeye Arena.