By SHANE STURTZ
hawkeyesports.com
IOWA CITY, Iowa – Behind timely defensive stops and freshman Caitlin Clark's 14 fourth-quarter points, the University of Iowa women's basketball team erased an 18-point deficit to stun Iowa State, 82-80, on Wednesday in the Iowa Corn Cy-Hawk Game on Mediacom Court inside Carver-Hawkeye Arena.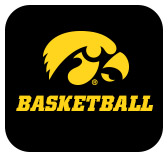 The comeback victory is Iowa's fifth-straight win in the rivalry and extends its home-winning streak to 39 — the second longest streak in the country. The win also captures a de facto state championship for Iowa since the Hawkeyes previously defeated Northern Iowa and Drake.
"The fourth quarter and dramatic finish was amazing," Iowa head coach Lisa Bluder said. "We only led for one minute, but at least we picked the right minute."
Clark, who scored a career-high 34 points, put her mark on the rivalry, draining a game-winning, step-back, fallaway 3-pointer with 22 seconds remaining to complete Iowa's unthinkable comeback.
"If you're going to take (that shot), you better be confident," Clark said. "I didn't think twice. I just pulled it and it went in."
Clark struggled in the first half but stepped up in crunch time. She was 4-of-5 from behind the arc in the fourth quarter and shouldered the offensive attack when the Hawkeyes needed it most.
"I don't think we're ever out of the game with the ball in her hands," Bluder said. "Those are NBA 3s. She believes in herself, and that is a good thing. You want that confidence and swagger out there on the floor."
Despite never leading in the game and trailing 73-56 to start the fourth quarter, the Hawkeyes nailed four straight 3-pointers to begin a 17-0 run and tie the game at 75 with 3:37 left to play.
Iowa's offense clicked on all cylinders and so did its defense. The Hawkeyes limited the Cyclones to 2-of-10 shooting and forced six turnovers in the fourth quarter.
"Our mentality changed," said redshirt sophomore Kate Martin, who drained the game-tying 3-pointer and sparked Iowa's fourth-quarter defense. "Everyone was locking down on defense. We told ourselves that we're not going to let them score."
Like Iowa State did all game, the Cyclones answered with the nation's leading scorer, Ashley Joens, who scored a game-high 35 points. She banked in a deep 3-pointer to give Iowa State a 78-75 lead.
That didn't stop Iowa's comeback effort. Layups by sophomore McKenna Warnock and Clark gave Iowa its first lead of the game (79-78) with 1:30 remaining.
Again, it was Joens with the answer, nailing a pair of free throws to put Iowa State on top 80-79.
But after Clark's go-ahead 3-pointer in the final seconds, Iowa got its biggest defensive stop of the game, preventing Iowa State from a good look in its final possession
QUOTING COACH BLUDER
On team's resilience:
"They have grit and they play with a chip on their shoulder. They want their respect and they deserve it. They're working hard. I hate all those coaching cliches, but they're true. You don't win this game without mental and physical toughness."
OF NOTE
• Clark is the first freshman in the country since 2015-16 to record 34 points, seven rebounds and six assists.
• Warnock (14) and junior Monika Czinano (16) scored in double figures for the fourth straight game and each grabbed seven rebounds. Warnock put the finishing touches on her scoring night with five clutch points in the fourth, while Czinano had a fast start with eight first-quarter points.
• Iowa State was 10-of-21 on 3-point shooting in the first half, but 2-of-15 in the second half.
UP NEXT
Iowa returns to action in its first Big Ten road contest against Michigan State on Saturday at noon (CT). The game will be streamed on BTN+.