By DARREN MILLER
hawkeyesports.com
IOWA CITY, Iowa — It's the season to believe, that's for sure.
Down by 17 points with 10 minutes to play Wednesday at home, the University of Iowa women's basketball team alternated stops on defense with conversions on offense to stun in-state rival Iowa State for a fifth consecutive time, 82-80.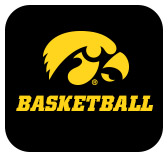 "Pure bliss" is how Iowa junior center Monika Czinano described a 17-0 run in the final quarter. The Hawkeyes clawed back from a 75-58 deficit to knot the score at 75 on sophomore Kate Martin's 3-point field goal with 3:37 remaining.
Czinano said the Hawkeyes were locked into the game, not the score, as they roared back during their crucial and most productive five-minute stretch.
"It was a huge adrenaline rush," she said. "I could feel us chipping away but I didn't realize how much we were chipping away. That speaks to how involved we were. We just knew that every possession mattered."
By multiple accounts, a pep talk delivered by associate head coach Jan Jensen before the Hawkeyes left their stools for the final 10 minutes was one to cherish.
"You want to run through a wall after coach J talks, you feel empowered," Czinano said. "We were super amped up."
"Coach J came to our huddle and said believe in yourself, believe in yourself, we believe in you," said freshman Caitlin Clark.
Empty your tank, the Hawkeyes were told.
In the fourth, Clark emptied four 3-point field goals through the net. Martin had three rebounds and two assists. Senior Alexis Sevillian had two assists. Seven Hawkeyes saw the floor in the final quarter and the result was an offense that scored 26 and a defense that allowed seven.
"It was like they were fueling each other," Bluder said. "The offense was fueling the defense and defense was fueling the offense. They got their confidence. It was nice to see in the fourth quarter that they kept believing and turned it around."
"We only led in this game for one minute, but at least we picked the right minute."

Lisa Bluder, Iowa head coach
Iowa won for a 39th straight time on Mediacom Court inside Carver-Hawkeye Arena. That seemed unlikely when Iowa State opened an 18-point lead in the third quarter. Or when the Cyclones regained the lead twice after Martin's game-tying 3.
"The second you believe you are going to lose, you start to lose," Czinano said.
There's that word believe again. After four games — all wins — the Hawkeyes are getting the impression that all things are possible with the ball in Clark's hands. The freshman averages 28.5 points and 3.5 3-pointers per game. On Wednesday, in the most significant 10 minutes this young team has played this season, Clark responded with 14 points and four 3-point field goals.
"I don't think we're ever out of a game with her because she is capable of being explosive like that," Bluder said.
For the game, Clark totaled 34 points, seven rebounds and six assists. Twenty-six of those points came in the second half.
"It is impressive we did that bringing our own energy," Clark said, referencing the fact that only parents can attend games.
With 22 seconds remaining, Iowa's No. 22 (Clark) sank a step-back 3-pointer to provide the final points in an epic showdown. Of all the clutch shots Clark has made in her career, she said this one is close to the top if not at the top.
"We only led in this game for one minute, but at least we picked the right minute," Bluder said.
With these young Hawkeyes, it has already been a season to believe.