By SHANE STURTZ
hawkeyesports.com
IOWA CITY, Iowa — The third-ranked University of Iowa men's basketball team (6-0) took care of business Sunday afternoon, doubling up Northern Illinois (0-5), 106-53, on Mediacom Court inside Carver-Hawkeye Arena.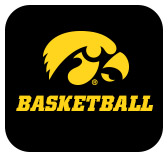 The victory was head coach Fran McCaffery's 200th career win at Iowa. Iowa's second all-time winningest coach has 451 career wins as a Division I head coach.
"It makes you reflect a little bit on the great ones we had, the guys that fought for you, and took great pride in wearing that jersey," McCaffery said. "This is a proud, storied basketball program. I was very thankful to Gary Barta, Sally Mason, at the time, and Fred Mims for giving me the opportunity to get this thing rolling again."
"I am so happy and excited for our student-athletes and coaches for getting off to a strong start this season," Henry B. and Patricia B. Tippie Director of Athletics Chair Gary Barta said. "I know he is more focused on each game in front of us this season, but I am excited to pause and celebrate this great moment and terrific accomplishment."
Congrats to McCaffery on 200 wins. I remember playing his first season and what he was able to do with little. Knew a season like this was coming.

This will be a fun year!

— Jarryd Cole (@Jarryd_Cole) December 13, 2020
Congrats to head coach Fran McCaffery on his 200th career win at Iowa. Here's to many more! #Hawkeyes | #FightForIowa pic.twitter.com/gtTtOdhNZW

— Iowa Basketball (@IowaHoops) December 13, 2020
Northern Illinois led 8-6 after the first media timeout, but then it was all Hawkeyes the rest of the way. Iowa outscored the Huskies, 27-4, over the next eight minutes to lead 33-12 with 6:05 left in the first half.
Senior All-American Luka Garza, who finished with 23 points (8-10 FG) and eight rebounds, scored eight straight points to start the run. Garza has topped 20 points in five of six games this season and shot 75 percent or better in four of six contests.
Freshman Keegan Murray also had a personal 8-0 run of his own at the end of Iowa's scoring run. Murray recorded his second career game in double figures and stuffed the stat sheet with 10 points, five rebounds, two assists, two steals, and three blocks.
"He's going to keep getting better," McCaffery said of Murray. "He has done it every day this year. He has done it every day in practice. He's a prime example of recruiting not being an exact science. Some guys get on lists and some guys produce. That kid produces every time you put him on the floor. I don't care who it's against."
Iowa led 51-27 at halftime and that lead quickly blossomed to a 71-33 advantage as the Hawkeyes started the second half on a 20-5 run over the first five minutes.
Junior Joe Wieskamp scored eight straight points during the run, capped off by a two-handed slam. Wieskamp finished with a season-high 20 points on 9-of-13 shooting.
At the under 12-minute media timeout and a 79-35 lead, Iowa emptied the bench. All 16 Hawkeyes saw the court in the win, and 11 individuals played double-digit minutes.
QUOTING HEAD COACH FRAN MCCAFFERY
"Everybody that has played for me has character. There's a lot of character in that locker room right now. That's the standard the guys before them set. Ultimately, it's fun to come to work every day. It's fun to coach this group. It's a team that our fans can be proud to cheer for."
FRESHMEN SHINE
On top of Keegan Murray's stellar play, freshmen Ahron Ulis and Tony Perkins, produced in their most minutes played as a Hawkeye.
Ulis got some run with the first team in the first half and pushed the pace in the second half. He scored four points and dished out two assists in the win, but there's more to like about the guard beyond the stat sheet.
"He's good," McCaffery said. "He's a guy in a different year that could be starting. He's that good. He's smart, tough, versatile, understands the game, and he can score. With this particular class and team, we have (Jordan Bohannon, Connor McCaffery and Joe Toussaint). In time, he's going to be a terrific player in this league."
Perkins grabbed a personal-best seven rebounds – one shy of a team-high – and scored four points and added two assists.
OF NOTE
• Iowa, who leads the country in scoring, scored a season-high 106 points. The Hawkeyes have topped the century mark in three of six games. Iowa has opened its season with 93+ points in each of its first six games for the first time in program history.
• Iowa has scored 50+ points in the first half in three of its six games, including the last two.
• Iowa won by 53 points, tying the 18th-largest margin of victory in program history.
• Iowa sank 12 3-pointers today, marking the fifth time in six contests that the Hawkeyes have made 10+ triples.
• Iowa has won all nine meetings against Northern Illinois, including an 8-0 record in games played in Iowa City.
• Iowa has won 19 of its last 20 games inside Carver-Hawkeye Arena, dating back to last season.
UP NEXT
No. 3 Iowa faces top-ranked Gonzaga (3-0) Dec. 19 in Sioux Falls, South Dakota, at the Sanford Pentagon. Tip-off is set for 11 a.m. (CT) and the game will be televised nationally on CBS.