By JAMES ALLAN
hawkeyesports.com
IOWA CITY, Iowa – Saturday's top-five battle in Sioux Falls, South Dakota, is a date the Hawkeyes have been eyeing for some time.
The third-ranked University of Iowa men's basketball team will face top-ranked Gonzaga at 11:06 a.m. (CT) at the Sanford Pentagon. It is the program's sixth game all-time featuring two top five teams.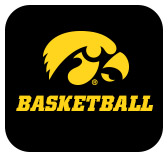 "(My dad) told me about it early on," said junior guard Connor McCaffery. "I was excited because playing a game like this on CBS is going to be a blast. It's going to be a highly competitive game because they're a good team.
"Playing this game is something everybody on the team has looked forward to. Now that it's here, we're going to be locked in."
Senior guard Jordan Bohannon sees a lot of similarities in the two teams. Iowa is leading the nation in scoring, averaging 100.5 points per game; Gonzaga is tied for ninth at 93.0 points. He says both teams want to get out and go in transition.
Gonzaga has five players averaging in double figures, including Drew Timme (23.3 points) and Corey Kispert (22.3), while the Hawkeyes have six players averaging 7.3 points of more. Senior Luka Garza is the nation's leading scorer at 29.2 points per game.
"We have a lot of shooters on each team and we score a lot of points," said Bohannon. "That's going to make for a fun game to watch at the end of the day for the fans."
"If you want to keep teams out of the 100s, transition is the first thing you have to stop," said Connor McCaffery. "There are games where I don't think we've played well on offense and we scored 95. It comes from playing fast and having a good game plan. If we can slow them down in transition, that will be key."
Gonzaga brings a 3-0 record into Sioux Falls, but the Bulldogs have been on a coronavirus pause since Dec. 2. Their last game came 14 days ago in an 87-82 victory over West Virginia in Indianapolis.
"They have a really good team and have really good players," said head coach Fran McCaffery. "They have a post game with Timme, they have depth, and a tremendous point guard in Jalen Suggs.
"They have shooters and slashers, they have so many good players, are veteran, and lose nothing when they go to the bench. They share it, they play it fast and move it. There's a reason why they're ranked No. 1."
Bohannon sees the game as a possible late-March Madness preview.
"It's going to be a sneak peak of what a Final Four or National Championship game could look like," said Bohannon. "It's the most important game on our schedule with the next game mentality we're going to keep having.
"At the end of the day, we think we're the best team in the country and we want to go out and show it. We have shown the type of team we have and what we're able to do this year. This is another opportunity to continue to build our resume for the end of the year."
Saturday's game is the type of game Garza relishes.
"It is what you dream about when you're a kid working out," said Garza. "It is what I have worked toward in my whole career and what I will continue to work to get in these types of moments the rest of my life."
The No. 1 vs. No. 3 will be televised to a national audience on CBS with Tom McCarthy and Clark Kellogg on the call. Due to the pandemic, there will be no general admittance for this game.