By DARREN MILLER
hawkeyesports.com
IOWA CITY, Iowa — Tyler Goodson was near the end of his junior season at North Gwinnett (Georgia) High School before recruiting interest gained momentum. Meanwhile, five defensive players on his team had already picked up "every offer you could think of."
Goodson wondered, what about me?
Then, during the Class 7A state playoffs, he ran for 898 yards in four games. The Bulldogs won a state championship and Goodson began hearing from Michigan State, Wisconsin, Indiana, North Carolina, Clemson, Syracuse and Louisville.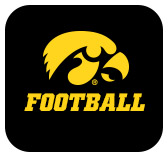 Soon after the season, he joined friends at a basketball game. It was a night he will never forget, and it had nothing to do with what happened on the court.
"I looked at my phone and it was a call from Iowa (running backs) coach (Derrick) Foster," Goodson said. "It was an exciting moment for me."
Jayden McDonald, a high school teammate, was a linebacker for the Hawkeyes at the time.
"He told me to check Iowa out for myself," Goodson said. "When I did, I felt like I was home, it was so family-oriented, and the people made me feel welcome."
"All coaches like to show you the glamour and fancy stuff, but the Iowa coaches were straight forward. That is what I was looking for in a school. Everything I imagined about this coaching staff was true. The coaches are helpful, family-oriented and help me improve as a player and as a man off the field."

Tyler Goodson, Iowa Running Back
Iowa head coach Kirk Ferentz liked what he saw of Goodson on film, then liked him even more after a personal meeting.
"Obviously Tyler is a good running back, but I think of his attitude," Ferentz said. "That's something in recruiting. If you get the right guy with the right attitude, he has a chance to come in and play pretty well."
Goodson verbally committed in the spring of his junior year. The next season, after running for 1,180 yards and 25 touchdowns, he was named Player of the Year in the state of Georgia. His character shined less than a week before signing day in December of 2018. Goodson's friend was going to Michigan and the Wolverines had a decommitment at running back. They asked Goodson to stop by his friend's home for a sales pitch.
"I knew I wasn't going to flip," Goodson said. "I made my mind up on where I wanted to go. That made signing day for me hectic, but it was exciting at the same time."
North Gwinnett hosted a ceremony for its football signees that included friends, teachers and family.
"The process of signing day is fun," Goodson said. "You get your Letter of Intent, you sign that, then you know it is official. Then you just have to finish (high) school and your opportunity is waiting."
The 5-foot-10, 200-pound Goodson was one of eight Iowa true freshmen to play in 2019, then became the first true freshman to lead the team in rushing yards with 638. This season, he is currently second in the Big Ten with 762 rushing yards and tied for third with seven rushing touchdowns.
"I was looking for a place where I would be safe and I could be myself, it was also to find a place I could play early, contribute to a team and help it win," Goodson said. "That was another reason I picked Iowa, I felt I could come here and play early, but I didn't imagine it would be as much as I did. I just hoped I would play a little bit."
When Goodson was a freshman, Iowa went 10-3 and won the Holiday Bowl. He had a game-high 48 rushing yards in the bowl and scored on a 1-yard run in the third quarter to give the Hawkeyes an 11-point lead in a game they won, 49-24. Iowa (6-2) has won six straight games and three traveling trophies this season.
The longest run of Goodson's college career came on his most recent carry Dec. 12 during a 28-7 win over Wisconsin. He took a handoff up the middle, made Collin Wilder miss, regained his balance and juked Caesar Williams 10 yards up field. Nine yards later, Goodson made Nick Herbig miss and then he outran everyone else for an 80-yard touchdown.
Two years ago, Goodson made similar plays on high school fields, not in nationally televised Big Ten games. Who will be the next high school-to-Hawkeyes star? Iowa welcomes several new gems Wednesday during the early signing period for #Swarm21.
"All coaches like to show you the glamour and fancy stuff, but the Iowa coaches were straight forward," Goodson said. "That is what I was looking for in a school. Everything I imagined about this coaching staff was true. The coaches are helpful, family-oriented and help me improve as a player and as a man off the field."