By MATTHEW WEITZEL
hawkeyesports.com
IOWA CITY, Iowa — The fourth-ranked University of Iowa men's basketball team won its conference opener Tuesday evening, posting a 70-55 victory over Purdue on Mediacom Court at Carver-Hawkeye Arena.
Luka Garza and Joe Wieskamp led the Hawkeyes for the second straight game, combining for 39 points and 18 rebounds. Garza tallied a game-high 22 points, bolstered by sinking four 3-pointers, while Wieskamp contributed 17 points. The Hawkeye duo each grabbed nine rebounds.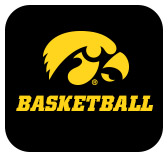 "We wanted to send a message in our conference opener tonight against a good Purdue team," said Wieskamp. "Collectively, we were locked in and we need to continue to do that moving forward."
Head coach Fran McCaffery was proud of his team's effort tonight.
"We had to stay connected and we had to keep the effort and intensity," said McCaffery. "I think you look at what the game plan was coming in, it was defense and rebounding, and tonight was probably our best effort of the year."
Purdue (6-3, 1-1) entered tonight's game as one of the Big Ten's leading rebounding teams, averaging 9.8 more rebounds per game. Iowa won the rebounding battle, 37-35.
"I thought we had a solid overall effort tonight," Garza said. "We communicated and had the edge on the boards. Getting second shots fuels their offense and we were able to limit them to one shot tonight."
Garza shouldered the offense in the early stages, scoring 10 of Iowa's first 16 points. A 10-0 scoring burst gave the Hawkeyes an eight-point (21-13) midway through the first half. The Boilermakers answered Iowa's run with an 8-0 run to even the contest (21-21) with six minutes left in the half.
Iowa (7-1, 1-0) outscored the visitors by ten over the final six minutes of the half to take a 37-27 lead into halftime.
Garza scored five quick points to start the second half to move the All-American center into third place on Iowa's all-time scoring list surpassing Greg Stokes and Acie Earl.
After being held to a season-low four 3-pointers against top-ranked Gonzaga last weekend, the Hawkeyes regained their stroke, sinking 12 triples. Iowa's aggressive approach both inside and outside earned the Hawkeyes 14 trips to the free throw line compared to just three for Purdue.
Iowa led by 15 points with eight minutes left, but Purdue closed the gap to seven with 3:50 remaining scoring eight consecutive points. The Hawkeyes reestablished a double digit led with a Connor McCaffery put-back and Garza's fourth triple of the night with 2:28 left.
Trevion Williams and Brandon Newman paced the Boilermakers tonight with 14 and 11 points, respectively.
The Hawkeyes return to action Christmas Night against Minnesota (7-1, 0-1) in Minneapolis. Tipoff is scheduled for 7 p.m. (CT) at Williams Arena.
OF NOTE
Luka Garza extended his streak of scoring 20+ points to 17 straight Big Ten games, dating back to last season. The 17-game streak against Big Ten opponents is the longest streak by a player since Ohio State's Dennis Hopson (17) in 1987.
Iowa has won 20 of its last 21 games inside Carver-Hawkeye Arena, dating back to last season.
Jordan Bohannon sank three 3-pointers, including the 300th of his career in the final minute of the game. Bohannon now ranks 10th in Big Ten career 3-pointers made.
Iowa shared the basketball tonight, assisting on 21 of its 24 field goals.
Iowa made 12 3-pointers tonight, make 10+ triples for the sixth time in eight games this season.
Tonight was the only regular season meeting between Iowa and Purdue.
Iowa has held two of its last three opponents to 55 points or less (Northern Illinois, 53).
Iowa recorded its first win in a conference opener in five seasons. The last time Iowa won its conference opener was on Dec. 29, 2015, against top-ranked Michigan State (83-70) in Iowa City.
Iowa has won 10 straight games on Dec. 22, dating back to 2005.